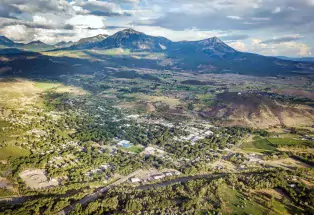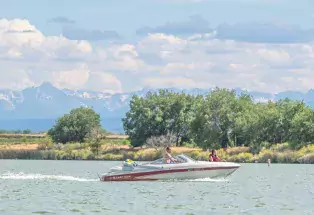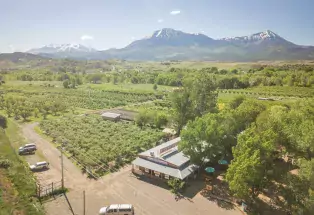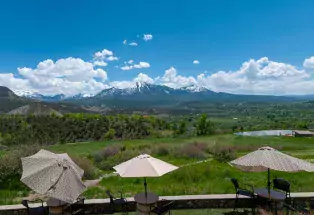 Sublime and the active pursuits combine in Delta County, an organic-food and wine region with winery and farm tours, tastings and farm dinners, as well as easy access to spectacular canyon­lands for hiking and biking, including Escalante Canyon and Big and Little Dominguez canyons. Spend a few days hitting up each side of the area's vacation spectrum.
Start with the West Elks Wine Trail, which meanders past nine wineries — keep an eye out for spots to buy fresh, organic fruit and veggies. As you go, savor treats from restaurants that highlight the local produce and meats, including Root & Vine Market and nido in Paonia, or 133 BRGR in Hotchkiss.
Paonia, Hotchkiss and Crawford form a Certified Colorado Creative District, where artists' studios, musicians, writers and other creative folk mix among the mesas, and Delta's historic Main Street is lined with colorful, large-scale murals by local artists.
For history, Fort Uncompahgre brings an 1820s fur-trading post to life and the Delta History Museum's big draw is a collection of dinosaur discoveries from nearby Dry Mesa quarry site. Visitors can now also follow signs to the Eagle Rock Shelter Access from Hwy. 92, where evidence of the earliest humans known to inhabit North America found shelter on a ledge above the Gunnison River.
For active diversions, serene Sweitzer Lake State Park near Delta is a relaxing place for boating and birdwatching, as are Paonia and Crawford state parks. Western Slope SUP can get you set up paddleboarding on the area's calm waters. Gunnison Gorge National Conservation Area is popular with hikers, backpackers and trout fishers on the Gunnison River's Gold Medal waters.
Mountain bikers find uncrowded paradise on the challenging Delta Drop Off mountain-bike trail and other trails (namely the Flowing Park Trail, Sidewinder, Smith Mountain and Jumbo Mountain), County Line trail system, Escalante Rim Loop and the North Rim Entrance to the Black Canyon of the Gunnison National Park, as well as 4 miles of singletrack and a skills and pump track in Delta's Confluence Park.
To literally go above and beyond, Ultimate Skydiving Adventures in Delta can get you a bird's-eye of those trails and canyons.
Antique shops in Delta and the old-school TruVu Drive In Theater should scratch the itch for nostalgia. Other favorite spots to visit include Paonia's charming Cirque Boutique (specializing in gifts and accessories made by local artists), the Creamery Arts Center, Paonia United Brewing Co., Delicious Orchards & Big B's Cidery and a handful of new wineries, brewpubs and cideries.
For a truly unique adventure, visit Western Culture Farmstead & Creamery to sample small-batch goat cheese, tour the farm and meet the goats themselves.
Stop into the Delta Area Chamber of Commerce for maps and advice about all the area has to offer.
Insider's Tip:
Delta County is a place to disconnect. Be prepared to be off the grid, as cell service can be iffy. You'll find being one of few on the trails, quiet travel amid farmland and nighttime cricket chirps are just the antidote for a constantly buzzing and busy life. 
Want More?
Check out our Colo-Road Trips itineraries: A Farm & Winery Tour of Paonia & Hotchkiss, North Fork Valley Tour and A Grand Tour of the Mountains & Mesa's Region.