Play, Soak & Stay: 9 Hot Springs & Adventure Getaways
Immerse yourself in the ultimate Colorado experience: laid-back adventure with a hot-springs basecamp.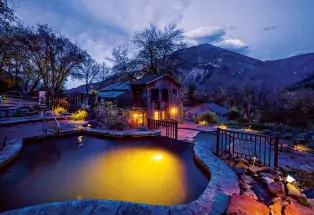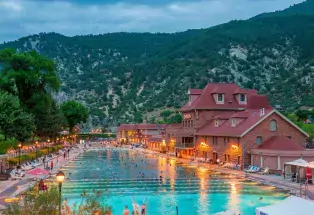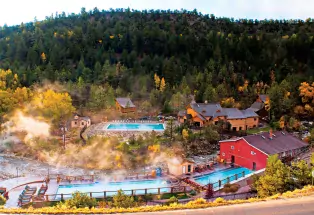 Though the healing waters the Ute called yampah (big medicine) have been bubbling up in Glenwood for eons, they didn't officially become the world's largest hot-springs pool until 1888. Today, the mineral-rich springs and resort welcome visitors year-round with a full-service spa and other amenities. 
Unlike your typical amusement park, where the thrills are manufactured from the ground up, Glenwood Caverns has built upon the park's existing attributes — hillside caves, abandoned mine shafts, steep slopes and deep-drop canyons — to create a signature series of adrenaline-rush experiences 
With this quintessential Colorado retreat as your personal headwaters, you'll have a wealth of natural hot-springs pools to explore. Charming log-cabin-style accommodations sit creekside, hillside or cliffside — plus there are three options for on-site eats and a variety of heavenly spa treatments to try.
Play: Arkansas River Whitewater
Meandering 150 miles from its source in the mining town of Climax, the Arkansas River is one of Colorado's most versatile liquid playgrounds. Rent an inflatable Paddilac kayak from Dvorak Expeditions in Nathrop, or a hard-shell Pyranha from CKS Main Street in Buena Vista — then strap on your PFD and get after it! 
This cozy upscale resort leverages the heat of its mother spring to relax its guests and warm its accommodations. The Springs Resort is one of Colorado's first LEED Gold-Certified luxury hotels — and the only escape offering 23 geothermal mineral pools of varying temperatures. 
Fed by snowmelt trickling from the 10,000-foot peaks towering all around, the unspoiled waterways of the San Juan National Forest offer some of the most intimate fly-fishing in the country. Explore these remote areas with High Country Fishing Charters and expect to land fish averaging 8–15 inches on the regular. 
With 11 quirky lodging options ranging from the Gamekeeper's Cabin to the Gypsy Wagon, Avalanche Ranch is like a tiny all-inclusive nature retreat — with three natural mineral pools (92–104 degrees), canoeing and paddleboarding on picturesque Avalanche Pond and more than 10 trailheads within a short drive. 
Play: Redstone Rock Climbing
While we're admittedly proud of resident night-sweater Nathaniel Rateliff, Colorado's incredible climbing culture also attracts "rock stars" of a different ilk. About 20 minutes along Hwy. 133 from Carbondale, Redstone Boulders offers 32 different free-climbing routes of varying difficulties — from beginner to "Whoa Nelly."
Just a few minutes up County Road 36, you'll find this portal to another world. Set up camp in your reserved cabin, caboose or covered wagon, then cruise around this al fresco hot-springs wonderland — where 104-degree, rocky-bottom mineral pools cascade through the tranquil mountain valley. 
This combination working ranch/recreational equestrian facility encompasses nearly 6,000 acres of prime meadowland near Steamboat Springs. During your leisurely morning "moving dogies" with the family who's worked this land for four generations, you'll help bring in strays and re-pasture the herd.
With a volcanic source 35,000 feet beneath the Earth's surface, the seven springs of this rustic resort feed 21 pools with 200,000 gallons of mineral-rich water every day. Splurge for lodgings in The Apartment, and you'll also gain after-hours access to the hot springs — ideal for an after-dinner dip in the mountain moonlight.
Play: Grand Lake Angling
Just a stone's throw from one another, Grand Lake and Lake Granby are inhabited by five kinds of trout (rainbow, cutthroat, brook, brown and lake) as well as kokanee salmon. With five marinas between them, all offering a bounty of boat/gear rentals and other services, there's no excuse not to have fresh trout for dinner.
Dunton Hot Springs is just across the mountain from Telluride and totally off the grid — a miniature gold-rush ghost town elevated to lavish resort splendor. Thirteen perfectly appointed cabins (either upcycled from or inspired by original ghost-town dwellings) offer thoroughly unique digs. Locally sourced, artisan-crafted meals are served in the old saloon; the eponymous hot springs can be enjoyed a variety of ways, including inside the restored 19th-century bathhouse.
Play: All-Inclusive Excitement
The concierge at Dunton Hot Springs can arrange a full spectrum of unforgettable pursuits, from photography and archaeology excursions to private mountaineering tours in the surrounding San Juan Mountains. Or opt for a peaceful afternoon of fly-fishing on the resort's private 9-mile stretch of the Dolores River.
Cottonwood's gravity-fed pools, set in the dappled shade of an aspen grove, range in temperature from 65–102 degrees. Whether you want to slumber in a historic lodge or pitch a tent at a campground, the resort has you covered. For an extra-special hideaway, request a creekside cabin, some of which have their own wee hot-springs pool for private soaking bliss.
Play: Off-Road Gold
Named for a '49er who carried his daily ore score around in a coffee mug, the tiny ghost town of Tin Cup just happens to be surrounded by the best off-roading terrain in the state. Rent an ATV at Buena Vista Adventure Hub, then spend the day exploring the restored structures (and cool ruins) of this old-timey gold-rush settlement.
Want More?
Read about all 31 of our hot springs >>