Colorado Ski Resorts Are Going Green: Feel Good About Skiing & Snowboarding in Colorado This Winter
In Colorado, we recognize what sets us apart as an internationally known ski destination.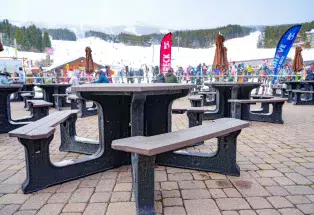 Sweeping mountain views, bluebird skies and deep powder mean winter shines a little brighter in the Centennial State, and our area resorts are working to ensure that magic stays alive for generations to come. 
With sustainable initiatives underway, big and small, learn why skiers and boarders can feel good about choosing Colorado as their winter destination and rest easy knowing that their favorite slopes aren't going anywhere.
Vail Resorts
Colorado-based Vail Resorts is chasing massive sustainability goals at Vail Mountain, Beaver Creek Resort, Breckenridge Ski Resort, Keystone Resort and Crested Butte Mountain Resort.
Through its EpicPromise and Commitment to Zero, Vail Resorts is moving full steam ahead to reach a net-zero operating footprint by 2030. As a member of Ceres Business for Innovative Climate and Energy Policy, as well as RE100 — a global collaborative initiative of influential companies committed to using 100 percent renewable electricity — it's also committed to minimizing its greenhouse-gas footprint. Shred happily knowing that the Plum Creek Wind Project is powering your winter experience and helping the ski group meet its goal. This is coupled by Vail Resorts' efforts to significantly reduce its snowmaking energy, while directing runoff from pure melted snow back into local watersheds — such as creeks, streams and rivers — for a healthy ecosystem, which translates into beautiful views for visitors to enjoy. Meanwhile, the resort chain is also working to eliminate its landfill waste and impacts to forestland so that visitors will be able to enjoy the slopes for generations to come with reduce, reuse, recycle and composting efforts in effect across all of its properties.
At Breckenridge Ski Resort, your snack break is reimagined as they creatively upcycle food wrappers into picnic tables and Adirondack chairs used at their base areas; and they even built a custom terrain-park feature made of recycled PET bottles and flexible snack-packaging materials. At Crested Butte, the Gunnison valley resort has partnered with Sustainable CB to divert hard-to-recycle materials from the landfill through their Recycle Train program, as well as to host waste-free event rentals and consulting. They also donate land and funds to the Crested Butte Land Trust to help preserve their breathtaking surroundings. At Beaver Creek, trees killed by pine beetles are harvested, then made into gorgeously hewn, hand-crafted signs used across the mountain. To the east, their Keystone counterpart strives to maintain healthy forestland by planting up to 1,500 trees each year to replace dead and dying ones in partnership with the U.S. Forest Service.
Arapahoe Basin Ski Area
Nestled in the Arapahoe National Forest near Dillon, Arapahoe Basin is a leader in sustainability, having recently won the National Ski Areas Association's Golden Eagle Climate Change Impact Award for its push to achieve carbon-neutrality by 2025.
To accomplish carbon neutrality, each A-Basin department and employee is tasked with achieving their own sustainability successes — whether minimizing waste through the products A-Basin uses and sells, taking public transportation and even bringing in personal kitchen waste for composting. A-Basin is also working toward operating off of 100 percent renewable electricity and is partnering with the Summit Stage to limit its fossil fuel footprint with car-free transportation for its employees and guests. Additionally, special care is being taken in preserving the resort's most valuable resource — the terrain. A-Basin has recently finished restoring the area around the now-removed Norway Chair lift by constructing 3,000 square feet of naturally functioning wetland. As they move forward in development, careful consideration is being taken on A-Basin's land-management projects, using helicopters whenever possible during chairlift installations, rather than uprooting precious lands to build access roads.
Aspen Snowmass
Aspen Skiing Company has made some major environmental commitments of its own, including eco-focused operations at Aspen Mountain, Snowmass, Buttermilk and Aspen Highlands.
The four resorts are keeping their operations earth-friendly by composting, using solar energy and prioritizing LEED-certified green-building projects like Aspen Mountain's Sundeck Restaurant, Snowmass's Elk Camp Restaurant and Limelight Hotel Snowmass. To harness the power of the sun and reduce CO2 emissions, Aspen Snowmass installed solar panels across its properties, while  a coal plant in Somerset is converting waste methane into usable, carbon-negative electricity for these Aspen-area resorts.
Looking forward to many more powder-filled years to come, Aspen Snowmass has partnered with Colorado nonprofit Protect Our Winters and the climate-change-focused Give a Flake campaign to raise funds and awareness for climate-change issues. They also help fund Aspen's The Environmental Foundation, a nonprofit employee organization dedicated to protecting and preserving the regional environment.
POWDR
POWDR's Play Forever pledge is a commitment to protecting the environment and supporting its local communities to ensure an adventure-filled future for all. From EV car charging, upgrades to LED lights and the installation of energy efficient snowmakers to composting and recycling efforts, trees being planted and repurposing timber harvested from trail expansions, POWDR is working hard to meet its goals.
Making the trip to Eldora Mountain in Nederland has never been easier for those staying in the Boulder area. The resort offers free round-trip shuttle rides to minimize car travel between Boulder and Eldora on most Saturdays in winter.
Find your perfect run with ease using one of Eldora's trail maps printed on stone paper, a sustainable paper alternative made of recycled materials. The Nederland resort hosts annual volunteer mountain clean-up events, while working year-round to completely eliminate unnecessary waste from the property. They have stopped using plastic straws in partnership with the Inland Ocean Coalition's Suck the Straws Out campaign and offer water-bottle-refill stations throughout the resort.
Additionally, Eldora participates in energy audits to determine a Climate Action Plan for reducing its greenhouse gas emissions and uses renewable energy to power its Timbers and Indian Peaks lodges, making for an eco-friendly aprés.
Over in the White River National Forest, Eldora's sister resort Copper Mountain is meeting its own environmental pledge. The resort installed 16 solar panels at the top of the Three Bears Chairlift on the Tucker Mountain Ski Patrol building, while an additional 50 solar panels were installed on the mountain Eagle Vehicle Maintenance Shop. Wine and dine at the mountain's offerings knowing that the resort has made efficiency upgrades to 18 walk-in coolers and freezers across the resort, reducing energy consumption by 220,000 kilowatt-hour (kWh).
As for land management, Copper Mountain is going above and beyond by gathering over 100,000 native seeds from local plants to restore vegetation in resort areas in partnership with the Friends of the Dillon Ranger District.
Wolf Creek Ski Area
Ski happily at the United States' first ski destination to run entirely on renewable energy. The Environmental Protection Agency has recognized Wolf Creek Ski Area in Pagosa Springs as a 100 Percent Green Power User nearly every year since 2013. Three water-free restrooms are maintained on the mountain and bi-annual water sampling is conducted by a third-party organization of all major streams in the area. The resort uses 100 percent biodegradable hydraulic oils made of grapeseed oil in all heavy equipment and is guaranteed to break down naturally in just four weeks.
Powderhorn Mountain Resort
With a focus on preserving the natural resources of the Grand Valley, Powderhorn Mountain Resort near Grand Junction is taking meaningful steps to reduce its environmental impact. Start the fun early by traveling with friends and narrow down time spent finding parking by heading straight to the resort's designated carpool parking lot for groups of three or more. In an effort to improve ski terrain and consistency, the resort deployed a gravity-fed snowmaking system in 2020 that is boasted to be one of the most energy-efficient man-made snow operations in North America. So snag a renewable energy powered lift and hit the slopes with ease without worrying about snow quality. Refuel after a day on the slopes at the Sunset Grill, Powderhorn Pub or the Umbrella Bar, where the resort has expanded its use of biodegradable packaging.
Purgatory Resort
Purgatory's leadership involvement with Colorado Ski Country USA upholds its commitment to help fund the Colorado Water Plan, explore new water storage options, support reduced water consumption incentives and implement the use of efficient snowmaking systems. To achieve the latter, Purgatory Resort near Durango underwent major upgrades for the 2022–23 season by integrating modern, energy-saving equipment to its snowmaking systems. The new additions will make Purgatory's terrain more reliable and enjoyable for visitors, however it's not the only consumer-facing perk. Catch a ride with friends and reap the benefits of free parking on weekends and holidays at the Main Village parking lot for carpools of four or more people.
Steamboat Springs
Steamboat Resort has recently embarked on its largest logging phase to-date, removing approximately 100 acres of dead lodgepole pine trees lost to mountain-pine-beetle infestation on the lower mountain and participated in ReTree Colorado to reforest the area. The resort is also a member of the Colorado Native Plant Society and regularly maintains re-vegetation practices on the mountain.
Shred the slopes maintained by airless snowmaking technology and eco-friendly GPS and snow-sensored grooming machines or explore mountain trails that have been mostly hand-built to reduce impacts to the land.
Stay hydrated in Colorado's dry climate without the waste of straws as Steamboat's Doing Good Program eliminated the annual use of nearly 200,000 drinking straws at its resort. Steamboat also works to offset 3 percent of its total electricity requirements with renewable energy and financially supports environmental nonprofits in the community through the Steamboat Resorts Environmental Fund.
Nearby Howelsen Hill Ski Area is owned/operated by the city, whose sustainability efforts include a plastic-bag ban.
Want more?
Learn about Colorado's 28 ski resorts >>
Ways to Do Colorado Right with sustainable travel >>
Photo courtesy of Breckenridge Ski Resort/Sarah McLear