Colorado Winter Resorts with Fabulous Amenities
Everyone knows that Colorado has unparalleled skiing terrain, but it's easy to overlook those extra-special amenities that put a stamp on an unforgettable vacation.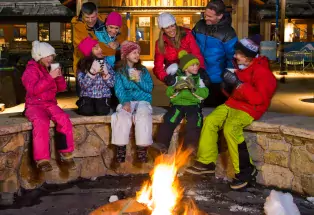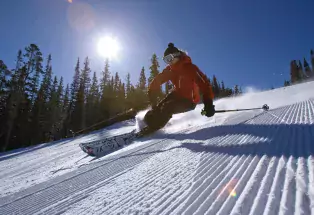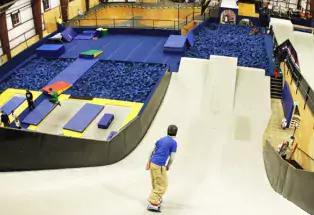 From upscale shopping and mountain-top dining to extravagant family activities and naturalist-led mountain tours, all of Colorado's 28 ski resorts have one-of-a-kind amenities that will exceed a vacation wish list.
Check out these highlights for a sampling before choosing your next Colorado winter destination.
Western Charm at Steamboat Springs
Steamboat Springs has been boasting a vibrant cowboy culture since cattle ranchers first arrived in the 1800s. It's not uncommon to see skiers wearing cowboy hats on the slopes or ranching folk strolling on Main Street looking to purchase some spankin' new boots at F.M. Light & Sons.
Snuggle up for a sleigh-ride dinner through snow-covered meadows or go horseback riding at one of the two ranches closely associated with the resort. Del's Triangle 3 Ranch picks up riders at the base of the gondola transit center for rides through the Mt. Zirkel Wilderness area. Saddleback Ranch also provides transportation to their 8,000-acre cattle ranch for an active day of calf roping and trotting through a winter wonderland of pristine wilderness.
After Hours at Vail Mountain
The real fun begins after the lifts close at Vail. The options are impressive: savor every morsel at Sweet Basil (just one of many decadent dining options in Vail); sip a craft beer at après ski hot spots like Garfinkel's; or catch some live music on the heated patio at Pepi's.
For those exuberant kids (or adults) that never stop, Vail's Adventure Ridge is a must. Accessible by the gondola, this stadium-size terrain park boasts some of the best nighttime tubing in the state in addition to a wide array of activities like ski biking, snowmobiling, ice skating and steamin' fireside hot chocolate. Read about other nighttime activities at Colorado ski resorts >>
Naturalist-Led Ski Tours at Aspen/Snowmass
One way Aspen/Snowmass takes the environment seriously at its four mountains is educating visitors on the uniqueness of high-alpine environments. Wapiti Wildlife Center's naturalists offer free skiing tours showcasing the area's wildlife, ecosystem, avalanche zones and other nature tidbits that you normally miss when barreling down a run.
Give the Yoga for Skiers a try on Tuesdays, Thursdays and Saturdays atop Aspen Mountain on the Sundeck. The classes are free and have an added bonus to helping perfect ski turns: taking a moment to enjoy the luxurious blue skies and fresh mountain air.
Family-Focused at Copper Mountain
Copper Mountain's laid-back charm and beginning-to-expert terrain is the ideal resort getaway for families with varying interests. In addition to premier skiing and snowboarding, this resort features an ice-skating rink in the center village, a cozy fire-pit where kids (and yes, even adults) roast marshmallows and a speedy tubing hill right above a cozy lodge with hot toddies and wood-fire pizzas standing at the ready.
Daredevils in the family can't pass up Woodward at Copper, an enormous indoor complex (aka "The Barn") where instructors assist all levels of skiers and riders conquer rails, pipes and jumps. Those a little less inclined to get some air are welcome to stop by and watch the next Shaun White doing a 720˚ cork into the foam pit. 
Easy Access to Winter Park
Thrilling Denver dwellers and visitors, Amtrak has reintroduced its route between Denver's Union Station and Winter Park Resort for skiers and boarders looking for a relaxed ride to the slopes. Running Saturdays and Sundays, plus some holidays, the trip takes only two hours.
The Winter Park Express is an excellent way to top off a Denver vacation with a quick trip up to the slopes and all Winter Park has to offer, from world-class skiing to an amazing tubing hill, acess to off-piste terrain via The Cirque Sled, free guided mountain tours, Sunday-morning yoga on the mountain and more.
Pristine Nature at Telluride
At Telluride, it's all about pushing the envelope. Telluride Ski Resort is proud of its location, and it's no wonder why. Surrounded by the dynamic, rugged peaks of the San Juan Mountains and covering 2,000 acres of skiable terrain, you'll feel like an expert skier just by standing in the lift line.
Telluride's Eco Adventures takes beginner to expert explorers of all ages on naturalist tours, guided hikes to backcountry terrain, snowmobile adventures through ghost towns, powder-haven heli-skiing trips, snowshoe treks through wilderness areas and thrilling ice-climbing excursions. The kids eco-adventure program teaches youngsters about local wildlife and the 411 on snow cave building. Read more about visiting Telluride in the winter >>
Intimate & Affordable at Ski Cooper
Located near Leadville and nestled between Colorado's largest ski resorts, Ski Cooper has the snow to compete with world-class resorts, often with lower prices and shorter lift lines. Rich in heritage, this snow-heavenly mountain was once the training ground leading up to WWII for 10th Mountain Division.  
Walk from the parking lot (another perk of smaller resorts) to the mountain base and enroll in a ski, snowboard, pipe or Telemark class. Purchase a lesson, equipment, lunch and lift ticket all for under $100 — trust us, skiing doesn't get much more affordable than this.
Want More?
Colorado's ski resorts offer tons of unique classes and experiences for skiers and riders of all levels. Peruse a few of their offerings: Colorado Ski School: Learn to Ski & Snowboard in Colorado and check out 5 Reasons We've Got America's Best Skiing.