Day & Night at Colorado Ski Resorts
When it comes to mountainside activities, winter brings an embarrassment of riches to the Rockies — so Colorado ski resorts have simply extended the fun well into the evening. From sunrise to sunset, here are some of our favorite places (and ways) to play.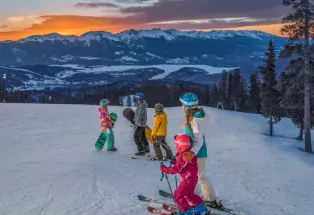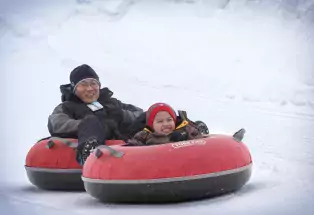 Easygoing Eldora, just 21 miles from Boulder, boasts an incredible variety of groomed terrain within its modest 620 acres — including everything from blue cruisers to double-black diamonds.
Day: Eldora Nordic Center
Eldora's Nordic Center has exclusive bragging rights to "40 kilometers of freedom": an extensive network of trails that begin just a few steps beyond the lift lines. From rentals and lessons for absolute beginners to secluded expert-level escapes, the center is a haven of expansive alpine meadows with dedicated trails for cross-country skiing, skate skiing or snowshoeing.
Night: Brews & Tunes in Nederland
A short drive from Eldora, you'll find the wee mountain town of Nederland, home to more craft breweries and places to hear live music than a town its size has a right to! The Caribou Room, in particular, is known for its excellent music quality thanks to the professional-audio engineers and musicians that run it. 
Tucked away in the rugged San Juan Mountains, Purgatory near Durango is more than 2 miles high at its summit, with an annual snowfall of more than 21 feet and terrain that skews heavily toward intermediate and advanced.
Day: Dog Sledding
Friends, here's the thing about dog sledding: Though your groundspeed will likely top out at around 12 miles per hour, it feels really fast when your view is fluffy tails and flying snow. Purgatory partners with Durango Dog Ranch to offer daily peak-season mushing tours with scenic Engineer Mountain views.
Night: Enchanting Events
Keep an eye on Purgatory's events calendar for a wealth of cool experiences to tack onto your ski trip. We're talking the likes of snowcat dining excursions where you savor five-course meals along with purely magical views of the alpenglow over the Needles Mountains. An optical phenomenon that bathes the mountains in a spectacular rosy glow, alpenglow is an exceptionally Instagrammable real-life occurrence that mere filters can't match. Whiskey tastings and torchlight ski sessions are a couple of other examples of the happenings you can expect. 
Snowmass likes to say it's "never the same mountain twice," and with nearly 3,500 acres of skiable terrain and 150 miles of trails — the longest clocking in at 5.3 miles — they might be right.
Day: Specialty Lessons
From Bumps for Boomers/Ski for Life to the Carv Performance Institute, which uses data and video analysis to level your skiing and boarding up, Snowmass has several specialty programs to invigorate and improve different aspects of your day on the slopes.
Night: Ullr Nights at Elk Camp
The Norse god of snow takes center stage on peak-season Friday nights, transforming Elk Camp into a legit winter wonderland — with live music, gourmet cuisine, tubing and riding the new Breathtaker Alpine Coaster. Get your fill of chill, then cozy up to the bonfire for s'mores.
With more than 300 days of sunshine and 370 inches of snow annually (not to mention majestic views of the surrounding Gore and Sawatch mountain ranges), Vail is indeed "like nothing on Earth."
Day: Vail's Back Bowls
Vail's seven epic back bowls alone comprise more skiable acres (3,017) than the majority of North American ski resorts. Roughly 6 miles of unbounded powder stretch from Ptarmi­gan Ridge to the farthest edges of Outer Mongolia Bowl, and it's possible to ski them all in a single day. If you dare, bring a friend and consult the experts before hitting these ultra-remote slopes.
Night: Winter Sounds and Lights
After a day of blitzing the back bowls, head to Vail Village for so much winter charm that you'll feel like you're in a snow globe. The Magic of Lights offers a family-friendly, half-mile walk-through experience with majestic displays in a winter wonderland. Or check out a silent-disco night, where you and your pals don headphones and dance through Vail Village to your own beat. Note: Check the calendar to make sure your plans align with events.
A quick drive from Denver in Summit County, Keystone is the ultimate family playground. Kids 12 and under ski free with lodging!
Day: Keystone Snowcat Tour
Sometimes, you like your mountain majesty with a side of enclosed transportation. And for those days, the Mountaintop Family Adven­ture Tour is clutch: After a scenic gondola ride to the top of Keystone's Dercum Mountain, you and the crew will board a heated snowcat to Erickson and Bergman bowls for panoramic views and snowy shenanigans.
Night: Night Skiing
Keystone is home to the longest ski day in all of Colorado, with select lifts and lighted trails open 'til 8pm on weekends and select holidays. For a peak night-skiing experience, watch the sunset from the summit and warm up between runs with hot cocoa at the Summit House.
If Colorado's ski resorts were people, Copper would be your friend who's super fun at parties — fizzing with a sun's out, fun's out vibe even during the darkest days of winter.
Day: Rocky Mountain Coaster
Gravity's on your side here, no matter how you prefer to get down. Choose the tubing hill to careen gleefully down one of four meticulously groomed freestyle tubing tracks. Or ride the Rocky Mountain Coaster to take the fast track to high-speed thrills — with a mile-long, gravity-powered descent through the forests surrounding the American Flyer lift.
Night: Glide on the Ice
Rent a pair of blades and enjoy a night of zipping around West Lake, surrounded by snow-frosted buildings that make you feel like you're living inside a postcard. Take breaks to roast marshmallows around the fire pits, then let the kiddos burn off extra energy before bedtime with a game of broomball or hockey — you'll find all the equipment you need for free!
For about half the price of a mega-resort lift ticket, you can enjoy a no-frills day exploring Sunlight's uncrowded trails in Glenwood Springs … before warming up in the nearby hot springs.
Day: Uphill Skiing
Like to do things the hard way? Colorado makes it easy. Uphill skiing, also known as skinning, alpine touring or ski mountaineering, involves skipping the ski lift in favor of climbing to the top of each run. It's called earning your turns, and Sunlight allows you to do it for free — provided you wrap up your last run before lifts open. Early birds … get after it!
Night: Glenwood Hot Springs
If you were up with the chickens uphill skiing, we think you've also earned an epic wind-down. Nearby Glenwood Hot Springs Resort has a natural hot pool that's nearly two city blocks long, brimming with healthy minerals like calcium, potassium, magnesium, iron and zinc. Enjoy a soak, schedule a spa treatment or book a room in the lodge — and start all over tomorrow.
Though its skiable acreage seems modest by most standards, Crested Butte is home to some of the most adventurous terrain in North America — with a thrill-seeking clientele to match.
Day: Crested Butte Terrain Park
With five different terrain parks to play in, Crested Butte is a great place to nail that gnarly Double McTwist (a daredevil trick made famous by Olympian Shaun White). Start with the small, simple features of Ten Peaks Progression Park and work your way up to expert-level Cascade Park, a wonderland of hybrid rails, technical jibs and big air.
Night: Nordic Magic Meadows Yurt Dinner Experience
To fully embrace Crested Butte, you'll have to venture off the beaten path — and there's no better way to do it than the Nordic Magic Meadows Yurt Dinner Experience. Enjoy a guided, groomed snowshoe or Nordic ski jaunt to a secluded backcountry yurt for an artisan-crafted meal featuring small-batch local spirits and the delicious creations of acclaimed local chefs.
Want More?
Night Activities at Colorado Ski Resorts
Family-Friendly Ski Resorts for Families
5 Reasons to Ski & Snowboard in Colorado
Awesome Adaptive Winter Sports in Colorado
Learn about Colorado's 28 ski areas and resorts
 Photo credits: Night skiing at Keystone, Keystone Resort/Jack Affleck; Urll Night, Snowmass; tubing, Copper Mountain