Experience Colorado Luxury This Summer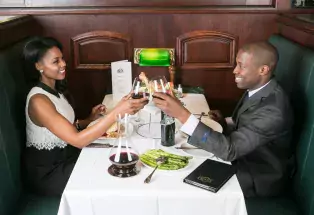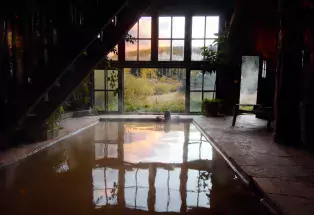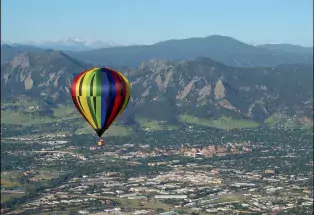 Winding through craggy ravines past crystal-clear mountain lakes and snow-crested peaks, the Rocky Mountaineer takes you on a luxury train ride from Denver to Moab. Sip a freshly made signature cocktail and indulge in a regionally inspired three-course meal while you enjoy incredible views of Ruby Canyon and the Continental Divide. During this two-day train ride, you'll stop overnight in Glenwood Springs where you'll be treated to opulence and comfort at Hotel Colorado, the city's finest historical accommodations. Find other train rides >>
Formerly a small 19th-century mining community tucked away in southwest Colorado, Dunton Hot Springs is reimagined as a luxury getaway. While the cabins at Dunton still maintain their rustic charm, each one provides visitors with a uniquely luxe experience. Christy's Tent, for example, has a glamping feel but provides all the fine furnishings and amenities you'd expect from a high-end resort. Other rooms like Echo are designed like a traditional log cabin with vaulted ceilings and ornate, hand-crafted furniture.
Laze in the curative waters of the private hot springs while you watch the morning haze dissipate; forge lasting memories with a guided horseback tour of the San Juan Mountains or fly fish along an exclusive 9-mile stretch of the Dolores River. Find other hot springs >>
Each summer, the Gerald R. Ford Amphitheater hosts world-renowned orchestras in their alluring open-air venue. Listen to the New York Philharmonic and the Philadelphia Orchestra — two of the United States' "Big Five" orchestras — while you enjoy a glass of wine and the crisp, cool mountain air that Vail is known for. The Linda & Mitch Hart Soirée Series provides a more intimate al fresco music experience with pre-concert hors d'oeuvres, a concert on the Bravo! Vail Music Box and a post-concert reception. Find other seasonal events >>
The Broadmoor is a household name when it comes to Colorado luxury. So, if you're looking for high-end, off-the-grid accommodations, the Cloud Camp is sure to impress. Perched 3,000 feet above Colorado Springs amid winding roads and a dense forest, this spot offers unobstructed panoramic views of Pikes Peak and the city below. Every square inch of the authentic lodge is adorned in Western art and memorabilia. This includes the grand dining hall where you'll enjoy a communal meal of juicy roasted bison tenderloin and savory crab coconut bisque with fellow guests. Find other resorts >>
Meet up with some of the best yoga instructors in Summit County for an all-encompassing SUP-yoga class on Breckenridge's Maggie Pond. Not only will you practice asana (posture) and the alignment and biomechanics of each pose, but you'll also learn the unique history and philosophy behind yoga and why it's practiced today. Be sure to stop by Bhava's clothing boutique for their luxe yoga accessories to bring the relaxing experience home with you. Find other yoga escapes >>
You know those breathtaking shots of vivid polychromatic balloons rising above the foothills? They aren't just for show. With Fair Winds Balloon Flights, you'll soar 3,000 feet in the air as you clink Champagne glasses in an unforgettable luxury experience. Gaze in awe at the beautiful city of Boulder, plus its many natural landmarks like the slatted rock formations of the Flatirons. Find other balloon rides >>
Prior to the invention of the automobile, sleighs and wagons were some of the primary modes of transportation for Coloradans. But nowadays, they're a full-blown deluxe experience. Cozy up in a horse-drawn wagon and traverse the lush, green vistas near Telluride. Then settle in at the authentic summer sheep camp where you'll be served a multitude of charcuteries and cheeses, fresh Rocky Mountain rainbow trout and dessert classics like fire-roasted s'mores or delectable cheesecake. Find other sleigh rides >>
Life's too short to drive slow cars. If you're going to be driving across the state, why not do it in a car that reflects your personality and allows you to take in all the stupendous sights that the Centennial State has to offer? Turn off that AC and let the wind blow through your hair in a classy convertible like the Ferrari California, the Chevrolet C8 Corvette or the McLaren 720s Spider. Or, for a family vehicle that won't cramp your style, opt for an SUV like the spacious Lamborghini Urus or the Maserati Levante S. Find other car rentals >>
Royal Gorge Helicopter Tours will swoop you off your feet to see some of the state's famous natural landmarks from a different perspective. Soar by the Royal Gorge to see the Arkansas River and the highest bridge in the United States. Or take the Pikes Peak tour to see America's Mountain from every angle. Planning a honeymoon or romantic date? Tours can be the perfect luxury escape. Find other aerial adventures >>
This ranch's Western hospitality checks every box on a Colorado vacation wishlist. This 8,000-acre dude ranch has been consistently ranked as one of the top resorts in the country by Condé Nast Traveler. Meet up with one of the top hunting guides in the country and survey the rolling landscapes of the Rockies. Upon your return, you'll be greeted with farm-inspired seasonal meals and a chef-curated wine list with selections from the ranches' award-winning cellar. Find other dude and guest ranches >>
Cherry Creek North is one of the best boutique shopping destinations in Denver. With a concentration of more than 300 businesses (many of them locally owned) and lively events happening year-round, you'll have plenty to do. Visit one of many eclectic clothing stores like Balani Custom Clothiers or Mariel Boutique. When you're ready to wrap up the day, stop by Cherry Creek Grill for some mouth-watering rotisserie lamb and a rich chocolate cake for dessert. Find more shopping >>
Nothing says luxury like the splendor of a mountain spa in the heart of Vail Valley. Avon's Spa Anjali was recognized by Condé Nast Traveler as one of the top 25 spas in the country — and it's not hard to see why. Bask in Spa Anjali's Himalayan Journey, a spa package designed to reinvigorate both the body and the soul through massages, sound therapy and the use of detoxifying minerals to provide focus and energy. Find other spas >>
Want more?
A 5-Star Luxury Day in Denver >>
A Day of Summer Luxury in Vail, Beaver Creek, Avon & Eagle >>
Photos courtesy of Cherry Creek North, Dunton Hot Springs and Fair Winds Hot Air Balloon Flights