Get Outside: 10 Magical Moments on Colorado's Public Lands
There are so many opportunities to get outside and explore Colorado's national forests, national parks, state parks and other public lands.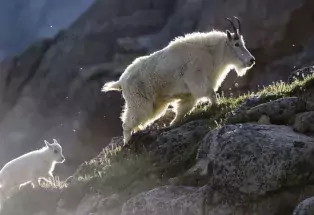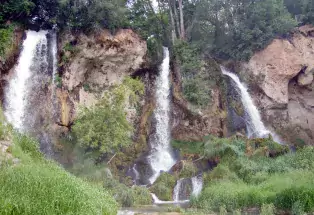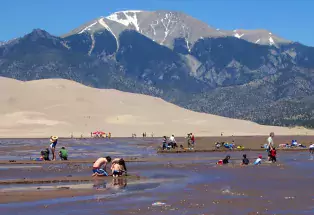 Start exploring with these 10 special experiences, which are just a few snapshots among plenty more amazing encounters you'll have on Colorado's public lands.
1. Swim in Medano Creek at Great Sand Dunes National Park and Preserve
Medano Creek in Great Sand Dunes National Park and Preserve is something of a mystery. Each spring it emerges from the mountains behind the sand dunes to form a wide, shallow and gently flowing stream. Visitors wade into it to cool hot feet after tromping around the dunes, build sandcastles, boogie board and splash around in its rhythmic waves before it retreats back into the mountains just as quickly. The ideal combination of sultry desert and refreshing water is not the Alamosa-area park's only charm — the dunes themselves are quite bewitching as well.
2. See mountain goats scale Mount Blue Sky
It's true that views of the Front Range mountains below you — yes, below — from atop Mount Blue Sky (formerly Mount Evans) are spectacular. There's also no denying that, as one of Colorado's 58 fourteeners, the air up there is a little thin. What really takes your breath away, however, is the sight of a tiny, white baby mountain goat scurrying to keep up with its mama as it crosses rocky outcroppings and beds of green grass and wildflowers. The road to Mount Blue Sky, outside Idaho Springs, is only open during the summer, but that's enough of a window to get a glimpse of these magnificent mountain creatures. Note: Visiting Mount Blue Sky requires a timed-entry permit. Make sure to book ahead of time. Permits are not sold at the gate.
3. Spy bald eagles at Navajo State Park
Fifteen thousand glassy acres of reservoir make the park a popular summer destination for fishers and boaters near the southern town of Ignacio. But the Navajo State Park sings nature's song year-round. Starting in late October, the reservoir, which doesn't get cold enough to freeze, lures many bald eagles to its shores to feast on its rich trout population. Hiking along one of the park's nature trails, you're likely to spot a few of our national treasures sunning themselves majestically in the trees near the water.
4. Walk in dinosaur footprints at Comanche National Grassland
Standing in Picketwire Canyonlands with your foot swallowed by a three-toed impression left in the bedrock by a brontosaurus 150 million years ago, one's imagination runs wild picturing what it might have looked like when dinosaurs inhabited the area. The canyon was home to a lake during the Jurassic period, and the brontosaurus you're tracking now used to frolic along its shores. The footprints are reached after a flat 5-mile hike, bike or horse ride. Stop at the Comanche National Grassland Office in La Junta for directions to the tracks and to get tips for safely navigating this remote area.
5. Picnic amid wildflowers in Golden Gate Canyon State Park
Hiking Golden Gate Canyon State Park's trails between lush meadows scattered with blue harebells, scarlet paintbrushes and blue columbines (Colorado's state flower) in spring and summer is a journey straight into serenity. The park is only 30 miles from downtown Denver in Golden and just a few from the bustling gaming towns of Black Hawk and Central City. But when you spread a blanket next to a gurgling stream to enjoy views of snowcapped peaks and the tinkling music of quaking aspen leaves, it's hard to fathom that skyscrapers and casinos exist. 
6. Raft the tumbling rapids of the Cache la Poudre River
Colorado's only nationally designated Wild and Scenic River, the Cache la Poudre carves down Poudre Canyon through narrow sections flanked by alpine mountainsides and natural rock cliffs west of Fort Collins. The triumph of paddling over a rapid named Devil's Staircase is second only to the views and the chance to spot bighorn sheep and deer scampering along its rocky hills. Rafting outfitters guide groups to rapids of all difficulty levels, so everyone gets just the right amount of adventure. 
7. Experience a snowy Black Canyon of the Gunnison National Park
Stewards of Black Canyon of the Gunnison National Park near Montrose do winter explorers a generous favor each year: they don't plow one of its main roads. When the snow starts falling around November, South Rim Road closes to cars and becomes a track for snowshoers and cross-country skiers. They make their way across the powder to an overlook where they can peer into a canyon so deep that sunlight only makes it down to the river 2,000 feet below for a few hours each day. Without car traffic, the snow stays pristine and incandescently white. And because the canyon's walls are so dark, a strikingly natural juxtaposition emerges. 
8. Feel the pull of walleye at North Sterling State Park
Fishers relish lazy summer days perched on the shore of North Sterling Reservoir, surrounded by wide-open short-grass prairie near Sterling. Being awakened from that reverie by the first mighty tug of The Big One makes it even more enjoyable. One of the state's best warm-water fisheries, North Sterling sends anglers back to their campsites with more than fish tales — walleye, catfish, largemouth bass, rainbow trout, bluegill, northern pike and yellow perch are on the menu for lucky anglers.
9. Hear the triple waterfall in Rifle Falls State Park
On a hot summer day, the mist that drifts from the exhilarating gush of water over 70-foot-high limestone cliffs and the dark caves below them in Rifle Falls State Park are a sublime natural air conditioner. These geologic attractions near Rifle draw photographers, spelunkers, fishers and campers to this singular state park. It's an understatement to say the scene created by the waterfalls is picture perfect, which is why it's no surprise the park is a popular place for outdoor weddings.
10. Marvel at the masonry of Colorado's ancient people at Hovenweep National Monument
So adept were the construction skills of the ancient Ancestral Puebloans who lived in southwest Colorado, that parts of their structures still stand more than 700 years later. Those who tour the area's mesas and canyons today are left to speculate about the purpose of the multistory brick towers. Archeologists think they could have been homes, storage silos for crops, defensive forts or ceremonial structures. Hovenweep National Monument, near Cortez, is an excellent place for quiet contemplation and discovery, where wind whistles through arroyos and ravens soar above red-rock formations.
Want More?
8 Ways to Love Colorado Summers
Quick Guide to Colorado National Parks
Photos: Mountain goats on Mount Blue Sky, Medano Creek in Great Sand Dunes National Park and Preserve, kayaking on the Cache la Poudre River, Rifle Falls State Park.