7 Ways to Experience Colorado's Unrivaled Backcountry Skiing
Cat skiing offers the best of both worlds: access to unspoiled natural terrain while under the guidance of experienced mountaineers trained to ensure safety in extreme (and extremely exciting) conditions.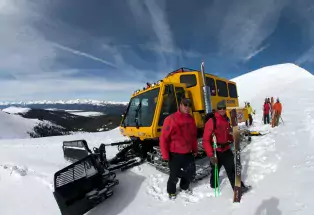 For certain skiers, even the challenge of a double-black-diamond run isn't quite enough. They want to experience Colorado's legendary powder in its purest, most pristine state — and it's because of these adventurous alpinists that a thriving snowcat industry exists. If you've never made first tracks in freshies, here are seven ways to make it happen this winter.
Resort Snowcat Tours
Most resort mountains keep a fleet of snowcats for grooming and maintenance, and many also use them to give guests access to terrain not accessible by lift — or subject to lift lines.
Copper Mountain's Tucker Mountain Snowcats
If you're flirting with the idea of a snowcat excursion but not quite ready to commit, this is an excellent option. Your ride in the heated cat (which is free with your lift ticket or season pass) opens up an additional 273 acres and 12,000 vertical feet of high-alpine terrain for your unguided exploration, including steep chutes and thrilling, above-timberline bowls.
Monarch Mountain
Near Salida, Monarch Mountain enjoys a gorgeous, uncrowded location in the Sawatch Range of the San Isabel National Forest — and the resort's cat tours give guests the opportunity to embrace its finest assets. Full-day tours include about six hours of expert-level skiing on every kind of terrain imaginable, with a break for lunch in the Cat Skiing Lounge and a complimentary bragging-rights beverage in the Sidewinder Saloon at day's end. Conditions can be unpredictable, but guides take safety seriously; if your accomplished teenage (14+) skier is looking for more challenge, this is the place to get it.
Ski Cooper
Leadville's low-key ski area runs Chicago Ridge Snowcat Tours, one of the longest continuously operating backcountry-ski-touring outfits in the world. The company's affordable all-day tours pass through the remote San Isabel and White River national forests, climbing steadily along the Continental Divide before unleashing guides and guests on more than 2,600 acres of open bowls and shady glades.
NOTE: Tours only run when conditions are ideal, virtually guaranteeing guests an average of eight to 12 runs in untracked snow. Fees include the use of powder skis and avalanche beacons, on-mountain hot lunch in a cozy yurt and a traditional après-ski dinner featuring local craft brews.
Independent Operators
There are two basic distinctions between resort snowcat tours and trips run by independent operators: the presence of on-mountain facilities and the remoteness of the location. It's up to you to weigh the pros and cons; for example, does an indoor lunch trump the possibility of discovering totally unexplored runs? Deciding where and how to go is half the fun!
Purgatory Snowcat Adventures
Through day trips that depart from Purgatory in Durango, this outfitter operates under a special-use permit within the rugged San Juan National Forest — covering a 35,000-acre triangle of terrain between Telluride, Silverton and Durango.
Because they're working with more acreage than ALL of the other Colorado snowcat tour operators combined, the company has a unique ability to tailor their tours for the ability level and specific goals of each group. Tours include rental of powder-friendly equipment, avalanche safety gear and a sack lunch.
Silverton Powdercats
With a basecamp that's just a short cat-ride from unblemished backcountry terrain, Silverton Powdercats promises 8–12 runs a day. A plethora of wide-open faces with reliable high-country snow opens the field to what the company calls "advanced intermediate" skiers, and like San Juan Untracked, these guides carefully consider the ability of the whole group before making a game plan for the day.
For the incorrigible thrill-seeker, guided hiking routes are also available. Equipment is not included, but you'll be served a full picnic lunch and be able to ski down to your car.
Jones Pass Guides
If you're a fearless powderhound with a no-frills attitude, try this small-but-qualified outfit that operates under a special-use permit for the Jones Pass section of the Arapaho National Forest near Winter Park. The area's 2,600 acres are blessed with high altitude and northern exposure, which keep the powder light and dry, even into late spring.
Trips include demo skis, safety gear, a sack lunch and two Steamworks Brewing beers to help you wind down from your day of epic pow. For an additional fee, you can bring along a photographer to capture the moment as you catch some serious air.
Irwin Guides
As the only snowcat skiing operation currently accredited by the American Mountain Guides Association, it's a good thing they're legit. Though it's only 10 miles from the funky ski mecca of Crested Butte, the town of Irwin gets three times the amount of snowfall, often more than 600 inches a year. This group provides custom fat skis and boards and can accommodate a wide variety of abilities — even going so far as to groom backcountry runs for their beginner clients.
Yes, Irwin Guides charges more than most Colorado snowcat companies, but they also run a luxury operation in the absolute best sense of the word. You'll travel in posh, meticulously maintained snowcats, savor your gourmet lunch and après-ski aperitifs in a fully appointed cabin, and generally feel as if you're the center of their sparkling, snow-covered universe.
Want More?
Read about other snowcat skiing guides, discover Colorado's Hidden Ski Hot Spots and check out 5 Reasons We've Got America's Best Skiing.
Learn how to steer clear of winter backcountry danger.