Best Places to Stay in Colorado for History Lovers
History buffs can play where they stay at these lore-filled lodgings throughout Colorado.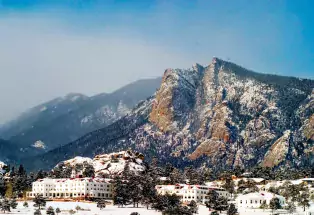 The Stanley Hotel in Estes Park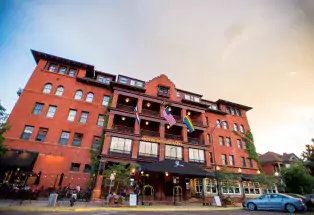 Historic Hotel Boulderado in Boulder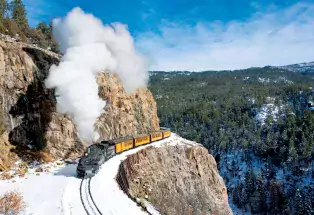 Durango & Silverton Narrow Gauge Railroad in winter
The Stanley Hotel in Estes Park
Famous for inspiring Stephen King's The Shining, this 1903 Colonial Revival queen in Estes Park is as much an experience as a place to snooze. Learn about The Stanley Hotel and its founder — the inventor of the Stanley Steamer car — on the Historic Day Tour. On the Spirited Night Tour, you'll find yourself exploring the hotel's shadowy corners with the help of a storytelling guide. At the cozy Estes Park Museum, peruse antique photos, a homesteader cabin and the original Rocky Mountain National Park headquarters. Then hit the Peak to Peak scenic byway — Colorado's first — to cruise past mining ruins on your way to the former boomtowns (and current casino hot spots) of Black Hawk and Central City.
Hotel Boulderado in Boulder 
Boulder's first luxury hotel flung open her doors on New Year's Eve of 1908 and still welcomes travelers today. Revel in luxe, uber-vintage vibes thanks to Hotel Boulderado's cheerful floral carpeting, swooping chaises and one heck of a stained-glass ceiling. Keep backstepping in time with the self-guided scavenger hunt. Catch a show at the Boulder Theater, where the chunky Art Deco design is Instagram-picture perfect. Dive into the past with Museum of Boulder's exhibits on everything from the city's Arapaho heritage to space telescopes. Then make tracks to Roadhouse Boulder Depot for burgers and craft beers in a cool former railroad terminal.
Nobody's Inn in Durango 
Smack dab in historic downtown Durango, this 1885 bookstore-turned-inn has a name that rings true: The four-suite Nobody's Inn is self-sufficient — meaning there's really nobody in — offering an extra sense of freedom and privacy. (Housekeeping tidies up, of course, but their stealth would put a chameleon to shame.) Board the Durango & Silverton Narrow Gauge Railroad's Cascade Canyon Winter Train for the magic of snow-draped canyon walls as you snake along the winter-mint waters of the Animas River. The Animas Museum is a history-lover's dream with exhibits showcasing cowboy shootouts, old-school schoolrooms and the baskets of pre-Ancestral Puebloan peoples. Or get your steps in with a side of learnin' as you meander around town with Ghostwalk Durango or Horsefly History Guided Walking Tours.
10th Mountain Division Huts near Leadville, Aspen & Vail 
Ski or snowshoe in the figurative tracks of the 10th Mountain Division: U.S. mountain-warfare troops who trained in central Colorado during World War II. The 10th Mountain Division Huts are a high-altitude backcountry hut system spanning 350 miles with an average distance of 6.5 miles between huts (plus some significant elevation gain). Guided tours from area outfitters — like Aspen Expeditions or Paragon Guides — are a solid call, as is making hut reservations well in advance. When you're not on the trail, explore nearby towns for fascinating tidbits of Colorado's past. At the Tabor Opera House in Leadville, peer into the lifestyle of the rich and scandalous silver magnate Horace Tabor. Find out why Aspen's massive one-block Victorian Wheeler/Stallard House went largely unoccupied for 17 years. Or stretch your ski legs on a walking history tour with the Colorado Snowsports Museum Hall of Fame to learn how Vail went from unknown town to world-famous resort.
Want more?
Find more of the best things to do in Colorado.
Learn about Colorado's Hispanic and Latinx history.