Colorado Summer Bike Races
Cyclists around the world over look forward to Colorado's bike-racing season. The physical challenge of our lofty altitude (ideal for bragging rights) combines with amazing alpine views for a cycler's dream destination.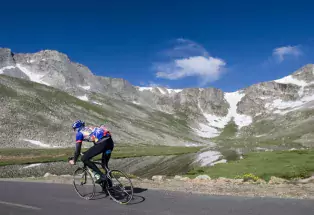 Many of Colorado's road- and mountain-bike races cater to serious competitors, but they also have shorter and less intense routes for more casual pedalers — and you'll get fresh mountain air and a loud cheer at the finish line no matter the length of the ride. Here are bike races to plan for:
Start & Finish: Idaho Springs and Mount Evans summit
This popular but demanding race up the Mount Evans scenic byway, which climbs more than 7,000 feet in elevation in just 28 miles, has been popular with adventurous gear heads for more than 50 years. Riders get an only-in-Colorado view of the Continental Divide from the top of 14,264-foot Mount Evans, Colorado's 14th tallest peak.
Start & Finish: Downtown Steamboat Springs 
This non-competitive ride includes rides ranging from 26 to 100 miles (for both road and gravel bikers) that wind through the Yampa River Valley, culminating with a post-race barbecue and craft beer garden. The scenic ride benefits local charities, including Yampa Valley Sustainability Council, Partners in Routt County, Reaching Everyone Preventing Suicide and South Routt Recreation Association. 
Start & Finish: Copper Mountain, (via Leadville, Vail Pass, Keystone and Ute Pass)
Benefiting Children's Hospital, this two-day, 121-mile tour climbs from Leadville to Summit County and back over quiet, backcountry roads and challenging mountain passes, all with gorgeous Rocky Mountain views. There is also a 12-mile family ride.
Start & Finish: Garden of the Gods
Amped-up riders, tasty snacks, blinking bike lights and other late-night events make this more-than-two-decade-old tradition an exercise in pure fun. Marvel at the stunning rock formations drenched in starlight at this rare opportunity to cycle through the park at night. This race is less about gutting out a first-place finish and more about soaking in the experience. 
Copper Mountain Resort
This alpine road sportive is graced with breathtaking scenery, gorgeous roads and three climbs over 10,000 feet, each with a timed segment. The 79-mile loop covers three passes (Freemont Pass, Tennessee Pass and Vail Pass) for a total elevation gain of 6,500 feet.
Start & Finish: La Veta
Covering 102 miles, 7,500 feet in elevation and following some of Colorado's prettiest scenic highways, the Stonewall Century is all about the joy of riding. End your ride with a party and barbecue. 
Start & Finish: TBD for 2023
The American Diabetes Association hosts this race, with ride, run and walk options for the whole family!
Start & Finish: Shops at Northfield Stapleton, Denver
This fest includes rides from 25 to 100 miles on courses that run throughout the metro area's city streets, mountain trails (including options to climb up Lookout Mountain or Chatfield State Park) and greenways. There are also clinics, the chance to demo dream bikes from leading manufacturers and more.
Start & Finish: Colorado Springs
A three-day mountain-bike challenge on the slopes of famous Pikes Peak along Jeep trails, dirt trails and more than 100 miles of technical runs, crushing climbs and exhilarating descents. 
Want more? 
Find locally loved Colorado cycling and running routes.
Check out five challenging cycling routes in the Centennial State.