Colorado's Craft Cideries
Move over craft beer, Colorado craft cider is here to play. Learn about the best cideries in the state, plus where to pick your own apples if you're feeling like creating your own batch.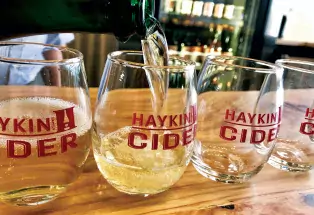 You wouldn't guess it today, but in the late 1800s, Colorado was one of the top apple-growing states in the country, yielding now unheard-of varieties like the Duchess, Winesap and Ladyfinger. But after devastating droughts and the takeover of Washington state's red delicious apple, many of Colorado's orchardists turned to other crops.  
Today, the apple is back in a big way in the Centennial State, and we're here for it. The fruit's latest incarnation is hard ciders, a drink that aptly combines Colorado's love of craft brewing with its knack for growing fresh fruit (while pleasing the gluten-free crowd along the way). There are more than two dozen cideries and counting, located all over the state. Here are just a few hand-picked spots to taste cider and learn more about this burgeoning craft industry.
The Big Apples
A few Colorado cideries have hit the big time, meaning they've scaled up their production and, in some cases, become household names. One such success story is Big B's Delicious Orchards, located in Hotchkiss in the fertile North Fork Valley. Founded in 1973, Big B's has been producing juices from its own orchards for decades. When it wanted to break into the hard cider market in the 2000s, however, it nearly had to beg its way into liquor stores. How times have changed. Hard cider now accounts for nearly a quarter of Big B's sales.
A visit to picturesque Big B's Delicious Orchards is full of fun activities. You'll want to stop by the tasting room, of course, for complimentary hard-cider pours. Visit the orchard store for jams, honey, wines, fruits, art, pottery and more. Grab a bite to eat at the cafe. Listen to some free live music in the orchard on Saturdays throughout summer and fall. Pick your own in-season fruit. And you can even camp on the beautiful farm grounds, with towering peaks on the horizon.
Also Ripe for the Tasting
Stem Ciders is headquartered in Denver, but we think the best spot to enjoy their ciders is from the stunning perch at their own Acreage Restaurant and cider house in nearby Lafayette. Plan to arrive just before sunset for spectacular mountain panoramas, cider slushie in hand. Stem produces nearly 30 varieties, ranging from crisp seasonal delights to regional favorites like their chile guava.  
Established in 2012, Summit Hard Cider has a Fort Collins outlet — Scrumpy's Hard Cider Bar and Pub — where you can sip crisp concoctions starring flavors like blackberry cobbler, strawberry basil and blueberry lavender.
The Colorado Cider Company has been making award-winning ciders since 2011. They serve nearly 20 varieties, including their flagship Glider Cider, and have their own orchard on Colorado's Western Slope. Their Denver tasting room is a chill, intimate space with taster flights on tap.
The Seedlings
It takes tenacity to produce a drink that relies on local crops while adjusting to taste trends, changing weather and advancing science. But several Colorado cidermakers seem to be onto something. Take Fenceline Cider in Mancos: It's fair to say founders Sam Perry and Neal Wight are true apple geeks. Inspired by the uncultivated, "wild" apple tree varieties that can be found growing along the fence lines in southwest Colorado, they work to source fruit right from historical local orchards in the surrounding Montezuma Valley, sometimes using apple varietals that date back a century.
Fenceline has our hearts for its dedication to the area's heritage — not to mention the charming little bird illustrations that adorn their cans and bottles. A visit to the tap room and patio, nestled alongside the Mancos River, is a true summertime treat, with food trucks, music, cider and wine. 
Also Ripe for the Tasting
Firestone's Wild Cider started from a home-kitchen recipe, which spurred a leap of faith and big move to a 14-acre plot north of Denver in what used to be called "the fruit basket of the West." Here, Wild Cider has planted an orchard, and through a hands-on, intensive process, produces small batches of cider with an avid following. Visit their bucolic cider garden in the warm months for tasting flights, yard games, cider-crust pizza and views.
Boxing Brothers Cider House in Colorado Springs takes a unique approach, fermenting its ciders in whiskey and wine barrels. Taste the robust results inside their taproom, which is trimmed in warm woods, leather and low lighting. We love the ginger and elderflower cider, as well as their seasonal pecan-studded sippers.
St. Vrain Cidery, located in Longmont, was started in 2016 and has numerous Great Lakes International Cider Competition medals under its belt. Their cider taproom, the largest in the state, serves ciders from all over Colorado and entertains with live music, food trucks, games and craft nights.
Haykin Family Cider in Aurora is a pristinely shiny spot that opened its doors in 2018. Haykin catches the attention of cider enthusiasts with its high carbonation and crisp, low-sugar profile, which draws comparisons to sparkling wine. The chic tasting room is close to Aurora's beloved Stanley Marketplace. Start there for a variety of gourmet dinner choices and perhaps a little shopping, then head over to Haykin Family Cider's tasting room for a cider flight.
In famously beer-obsessed Boulder, BOCO Cider has bravely hit the scene to rave reviews. Their ciders are unfiltered, naturally carbonated and ready to be swilled at their rustic tasting room in artsy, industrial North Boulder. Bring a picnic or enjoy food-truck fare along with a flight or single pour.
In historical downtown Idaho Springs, find Clear Creek Cidery Tavern & Taps, which lets you try ciders from all over Colorado, alongside a few house varieties, too. Pair it with some yummy food on the beautiful patio and you'll be in high-country heaven.
Visit a U-Pick Apple Orchard
Harvest a bushel or a peck of apples straight from the trees at these pick-your-own fruit farms, best enjoyed in late summer or early fall.
Ya Ya Farm & Orchard, Longmont
Discover a storybook farm with horses to feed, caramel apples to devour, peacocks to photograph and views to drink up. Reserve a u-pick time well in advance.
Adam's Apple Orchard & Country Store, Ault
The friendly folks at Adam's will offer a warm welcome and provide tips for picking the best apples, plums and pears from their rows of trees. 
Fruit Basket Orchards, Grand Junction
Head to the bountiful Fruit Basket, where you can pick apples, cherries, nectarines, peaches and more under the western Colorado sun.
Orchard Valley Farms, Paonia
Fill a bucket with apples, cherries, peaches or berries, and pick up some jams, salsas and salad dressings — all against a dramatic mountain backdrop.
Nelms Farm, Golden
Reserve a spot to gather your own apples from this close-to-Denver family farm, also known for its delicious u-dig potatoes.
Third Street Apples, Penrose
This is wholesome family fun at its best and prices that beat the supermarket. Look for the green ribbons, which indicate trees that are ready for picking.  
Farm-Visiting Tips
Always call ahead to make sure these orchards are ready to welcome you. Prepare for your visit with these tips.
Want more?
Explore farm-fresh Colorado >>