Explore Colorado's Lesser-Known Lands
Skip the crowds and venture off the beaten path to these local secrets throughout Colorado. From state parks to national lands, you'll find all the breathtaking vistas you've been seeking — without the lines and crowds of our super popular parks.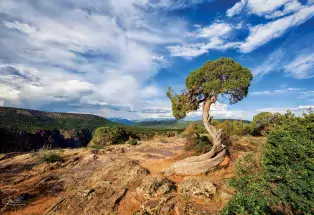 Black Canyon of the Gunnison National Park's North Rim
Crawford
Mind-boggling chasms that plummet thousands of feet down to the rushing Gunnison River are just part of the appeal at Black Canyon of the Gunnison National Park. There are also the pitch-black night skies smattered with dazzling constellations — this is an International Dark Sky Park, after all. And brace yourself for an area known for plentiful wildlife and rugged hiking trails that reward you with astounding canyon overlooks. 
The South Rim is the most accessible and the most visited portion, but — for a more primitive experience — venture to the North Rim (open summer months), 11 miles southwest of Crawford at the end of an unpaved road. For panoramic viewpoints, hike the moderate North Vista Trail to Exclamation Point (3 miles round trip) or continue on to Green Mountain (7 miles round trip) for a more strenuous trek.
Pitch a tent among the pinyon pine and dusty-blue-berry-spotted juniper trees at the first-come, first-served North Rim Campground. Once the sun goes down, enjoy stargazing right from your site. Experienced outdoors enthusiasts (and we mean it when we say "experienced") can get a free backcountry permit to hike the inner canyon routes down to Gunnison River, where you can fly-fish the designated Gold Medal and Wild Trout waters surrounded by spectacular scenery.
Picture Canyon
Campo
Peek into the past when you explore Picture Canyon in southeastern Colorado's Comanche National Grassland, where Native Americans inhabited the land and pioneers handcrafted rustic houses. Marvel at early 20th-century homestead ruins, ancient rock art and craggy stone formations set against wide-open skies. Keep an eye out for abundant birdlife, including scaled quail, wrens, ladder-backed woodpeckers and blue grosbeaks. Be sure to bring plenty of water to hike or mountain bike the 8-mile Arch Rock Trail (the on-site spring water isn't potable). Or, bring everything you'll need to stay awhile — the area has free dispersed camping on the shortgrass prairie.
Canyons of the Ancients National Monument
Cortez
Rust-red desert against crisp blue skies, sherbet sunsets that fade to ink-black nights — the Four Corners region of southwest Colorado is a sensory smorgasbord of natural beauty. And there's no shortage of history here, either. At Canyons of the Ancients National Monument, you'll find 176,000 acres boasting the highest known archaeological site density in the country. Dive into the past and experience the culture of the Ancestral Puebloan people in lands rich with whisper-quiet wonder and solitude.
Trek along the 12.4-mile out-and-back Sand Canyon Trail (there's no need to hike the entire thing — you'll find plenty to see along the way), where you can follow numerous spurs off the route that lead to cliff dwellings tucked beneath sandstone alcoves. Visit during late spring if you can, when the cooler weather means ideal hiking conditions. For your home base, stay in nearby Dolores to pitch a tent or sleep in a glamping tent at The Views RV Park & Campground, or snooze in a Conestoga wagon or log cabin at Dolores River RV Resort.
Jackson Lake State Park
Near Orchard
In Colorado's northeastern plains, spend some time on the beach (you read that right) at Jackson Lake State Park. Ranked one of the Top 15 Park Beaches by ReserveAmerica, this is the spot for swimming, boating, stand-up paddleboarding, fishing and even waterskiing. Bonus: In the fall, it's ideal for birding, due to its location in the Central Flyway for migratory birds. 
Camp on the beach when you reserve a site at the Dunes Group Campground and see what stars and heavenly bodies you can spot once the sun goes down at this recently designated International Dark Sky Park. If land-based adventures are more your speed, bring your motorcycles, Jeeps and 4x4s to kick up some dirt on the 1.5-mile Jackson Lake OHV Track loop.
Flat Tops Wilderness Area
Meeker
In northwestern Colorado, Flat Tops Wilderness Area is home to an impressive variety of landscapes: volcanic cliffs, alpine tundra, groves of fluttery aspen trees, dense firs and more than 100 lakes and ponds. For an easy adventure, take a scenic drive just outside Meeker along County Road 8 — part of the Flat Tops Trail scenic byway, which meanders along the White River. Along the way, you'll see rustic log cabins and waterfront guest ranches, many of which offer guided fly-fishing trips in addition to cozy accommodations. 
For camping, pitch a tent amid aspen trees at Vaughan Lake Campground or North Fork Campground. Seeking something more adventurous? Set up a base camp at Bear Lake Campground or Cold Springs Campground near Yampa, and hike the Devil's Causeway, a 10.6-mile loop with views of lakes and wildflower-dappled tundra, ultimately leading to a dramatic land bridge. 
Tip: Crossing the causeway isn't for the faint of heart — or even necessary. Feel free to take in the views, snap a selfie and make it an out-and-back hike. 
All-Inclusive Outdoors
Our wild lands and natural spaces are amazing — and for absolutely everyone. In Colorado, we're excited to be part of a more diverse outdoors! Check out this 303 Magazine article featuring awesome groups making the outdoors more inclusive.
Colorado Parks
Colorado's parks and open spaces offer endless adventure for all ages, all year long. Here are some good things to know before you go. 
Fishing Licenses
Fishing licenses are required for people 16 years of age and older. Before dropping in a line, purchase a license at one of hundreds of local retailers or buy online at cpwshop.com.
Camping
All Colorado state parks now require camping reservations, and they fill up quickly. Book your campsite up to six months in advance at cpwshop.com.
Must-Bring Items
Whether you're exploring the desert, mountains or plains, you'll want to bring plenty of water and sunscreen. Be sure to pack bug spray for summertime pests, too.
Do Colorado Right
Love our outdoor spaces by following our Care for Colorado Leave No Trace Principles. Learn about trail etiquette, campfire safety and what to do with trash.
Adaptive Outdoors
Our state and national parks also offer excitement for all ability levels. Find summertime adaptive sports offerings here >>
Want More?
Photo: Flickr/Frank Kehren