Hidden Colorado Gem: Grand Mesa Lakes
At 800 square miles, northwest Colorado's Grand Mesa is one of the largest flat-top mountains in the world, and its landscape sets it apart from much of the rest of Colorado — that so many lakes can be found so close together is a bit of an anomaly in this high-altitude state.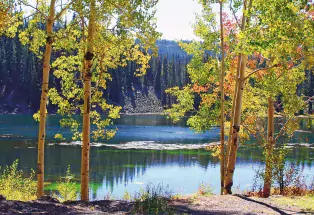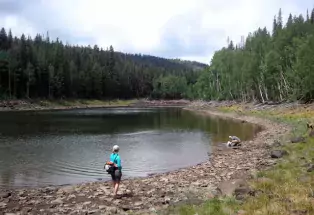 Within the Grand Mesa National Forest are 300 lakes and reservoirs, a network of shorelines and waterside retreats that keeps fishers, boaters, hikers and campers satisfied. The Grand Mesa is particularly popular with anglers seeking fish tales among the area's seven trout species.
The mesa's 10,000-foot altitude means cooler temps in the summer. Because it's below timberline, there's plenty of trees and green vistas around its lakes. Many of the 300 lakes can be reached by RVs and four-wheel-drive, but some can only be accessed by a quiet hike or horseback ride.
Tour the mesa along the Grand Mesa scenic and historic byway. The full drive takes about an hour, but the byway's spur off CO 65 to Land's End is worth taking on an extra half an hour. Perched at the edge of the mesa, the view into the valley can't be beat.
Within the mesa's borders is a choose-your-own-comfort-level span of amenities — from luxurious lodges to backcountry campsites with no amenities at all — perfect for every sort of outdoors person. 
Towns around the mesa, like Grand Junction, Delta, Paonia, Cedaredge and Hotchkiss, are good places to emerge for food and services.
A Few Grand Mesa Lakes to Consider:
The Mesa Lakes area is one of the more popular locales. With eight heavily stocked reservoirs and plenty of drive-up space and campgrounds, it's a great spot for a quick weekend trip. Jumbo Reservoir offers campgrounds, restrooms, picnic tables and a small store.
Dig a little deeper into the Grand Mesa to Bull Creek Basin's backcountry setting. The only way to get to these lakes is via four-wheel-drive, ATV, horseback or foot. The upper portions of Bull Creek offer easy fishing and good pools.
The Granby Reservoir area is heaven for four-wheelers, with plenty of obstacles and narrow corridors to keep the journey interesting. Its natural Clear Lake is renowned for its easiness at spotting cutthroat trout.
Folks with large campers and RVs often make their way to Ward, Alexander, Hotel Twin and Baron lakes, where there are plenty of large campgrounds, cabins, tackle shops and boat-launching areas.
The Trickle Park area has a mix of developed and undeveloped campsites with car and four-wheel-drive access. For a bit of solitude, seek out the Military Park and Stell reservoirs, which don't see as many fishers as the other lakes in the area.
Want More?
The Grand Mesa is listed on our 99 Gorgeous Places in Colorado list. See what else made the list >>
Visit the Grand Mesa National Forest's website for information on recreation on the mesa as well as camping, lodge and cabin rentals.
The Grand Mesa Visitor Center north of Cedaredge can offer tips for exploration, and Colorado Parks and Wildlife can get you set up with fishing licenses.
Read Hidden Colorado Gem: Island Lake >>
Find other scenic hidden gems in Colorado >>
Check out our Colo-Road Trips itinerary: 3 Days, 300 Lakes & 3 Scenic Trails on the Grand Mesa >>
Photos: Kathleen Wilkinson and Courtesy of the Grand Junction Visitor & Convention Bureau.