Lodgings You Don't Have to Leave: Enchanting Cabins, Hotels, Ranches & Campsites in Colorado
From all-inclusive dude ranches to state parks filled with activities, there are plenty of ways to explore Colorado without having to leave your lodgings … or stray too far from them, anyhow.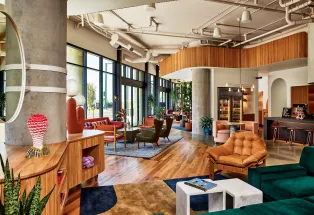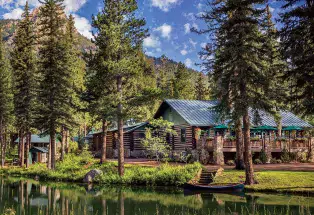 The Broadmoor Fly-Fishing Camp near Tarryall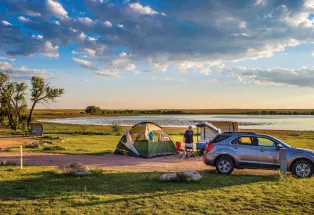 Camping at North Sterling State Park in Colorado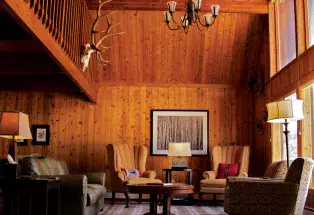 The High Lonesome Ranch in DeBeque
Catbird Hotel in Denver
Catbird is the hotel version of a genie in a bottle. Just wish for something, and it's probably there. Vespa? Find it in the Playroom, along with skateboards, cruiser bikes, GoPros and so much more. You can even rent a Plant Pal for your room. Speaking of rooms, they embody the quirky charm of the surrounding River North Art District (RiNo to locals).
Avant-garde art complements sleek, illuminated loft beds, from which you can watch movies on 6-by-8-foot drop-down projection screens. Head to the roof for city-skyline views and sunsets, along with cocktails and small plates from The Red Barber. If you do decide to venture outdoors, the restaurants, markets, galleries and murals of Denver's RiNo are right at your doorstep.
The High Lonesome Ranch in DeBeque
This dude ranch in DeBeque is the perfect place to live out your Wild Westiest dreams. Along with lots of cows, you'll find carpets of wildflowers and sloping, striated buttes that dance along the horizon as far as you can see. The High Lonesome Ranch's setup evoke straight-off-a-syrup-bottle log-cabin vibes with decks and porches perfect for sittin' and coffee sippin'.
You'll also find more activities than you can shake a stick at: Cast for cutthroat and rainbows, jump in the saddle of a horse or mountain bike or hunt for pheasant and quail — flushing dogs available upon request. If that's not your style, relax with spa treatments or sip until you're giddy on a guided tour of nearby Palisade's wine country.
The Elizabeth Hotel in Fort Collins
This modern gem set in Fort Collins' Old Town Historic District is an all-inclusive retreat for music lovers. Each room at The Elizabeth boasts a record player — not to mention snazzy decor including the works of local artists. Snag some vinyl from the hotel's collection for an in-room listening party. Or strum your heart out with a beaut from The Instrument Lending Library — we're talking the likes of Martin guitars, Fender bass, ukes and banjos.
If catching a show is more your style, you won't have to look far: Jam out on the rooftop Wednesdays through Saturdays with live jazz, cocktails and panoramic views. Also on-site is the Magic Rat — an intimate venue known for rocking late-night shows ranging from local songwriters to big-name acts.
The Broadmoor Fly-Fishing Camp Near Tarryall
Providing exquisite experiences is the name of The Broadmoor's game, and The Broadmoor Fly-Fishing Camp bolsters this street cred. The getaway is snuggled deep in the Lost Creek Wilderness, known for wildlife like bighorn sheep and elk, sparkling granite domes and spires, and even underground streams ... hence the name "Lost Creek." It's also got a reputation for primo fly-fishing. Professional guides lead you through forested canyons, wildflower-dappled meadows and windy bends along the Tarryall Creek in search of brooks, browns, cutthroats and rainbows.
Back at the Main Lodge, The Broadmoor's patented five-star magic takes things up a notch: Enjoy drinks and mountain-inspired appetizers on the wraparound porch while the culinary team whips up fresh-baked breads, trout, succulent meats and desserts like cast-iron-skillet cobbler. This is our kinda camp!
North Sterling State Park in Sterling
North Sterling State Park offers so many activities, it's like a resort for every type of camper — whether you prefer to snooze in a tent, teardrop, campervan or RV. Book a site at the Elks Campground near North Sterling Reservoir, where the gentle lapping of waves and rustling blue grama grasses lull you to sleep.
Hit the on-site marina to rent a kayak, canoe or pontoon and spend your days on the rippling reservoir waters, fishing for wiper, walleye, catfish, carp and pike as you go. Or flip your own fins at the Cottonwood Cove Swim Beach before drying off with a hike on the 3.6-mile South Shoreline Trail. As you stroll, saunter or skip — we don't judge — keep an eye out for owls, eagles, porcupines, pronghorn, badgers, bobcats and turkey. Tip: Stock your camp cooler in Sterling at Family Food Market or Tienda Emanuel.
Eden West Ranch in Cotopaxi
Sweet dreams are pretty much guaranteed on this working lavender farm in Cotopaxi, where furrows of the light-purple aromatic adorn the grounds. At Eden West Ranch, you'll stay in a 1940s log-cabin ranch house with charming features like a stone chimney, a willow grove and outstanding views of the Sangre de Cristo Mountains — arguably one of our most stunning ranges.
Stroll the grounds, laze under the willows, hike to Rocky Point for views or partner up with a local outfitter to raft the Arkansas River. But whatever you do, don't miss the blackberry-lavender ice cream at the farm store.
Want more? 
Find your perfect dude ranch adventure >>
Read our Sleep Somewhere Cool blog >>
Photo credits: Catbird Hotel, The Broadmoor, Colorado Parks and Wildlife, The High Lonesome Ranch