National Park Service in Colorado
The National Park Service celebrated its 100th anniversary in 2016. Colorado has dozens of ways to discover federal lands across the state, including four national parks, nine national monuments, 11 national forests, three national historic sites, two national grasslands and so much more.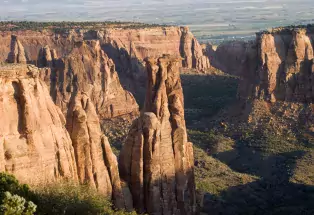 From plains to peaks and mesas, national parks and other federal lands span Colorado's vast and varied landscape. Make a checklist to experience as many of them as you can during your Colorado visit. 
For an overview, read our Quick Guide to Colorado's National Parks, Quick Guide to Colorado's National Monuments and Fun Facts About Our National Parks.
And check out 8 Winter Activities in Colorado's State & National Parks and Magic Moments on Colorado's Public Lands.
National Parks in Colorado
Colorado's four national parks are some of the state's most popular destinations, with activities and programs running year-round. Here are some trip ideas and resources to get your started.
Rocky Mountain National Park
Rocky Mountain National Park Overview
Rocky Mountain National Park 1-Day Itinerary
Trail Ridge Road Through Rocky Mountain National Park
Video: See Rocky Mountain National Park
Mesa Verde National Park
Mesa Verde Itinerary
Trail of the Ancients scenic byway
Great Sand Dunes National Park and Preserve
Great Sand Dunes Overview
Los Caminos Antiguos scenic byway
2 Days in the San Luis Valley
Black Canyon of the Gunnison National Park
Black Canyon Overview
3 Days in Black Canyon Country
National Monuments in Colorado
Our nine national monuments give a glimpse into ancient history and some of the state's best recreational areas.
Colorado National Monument
Colorado National Monument Overview
Ranger Programs
Cyclist & Mountain-Biker Paradise
Browns Canyon National Monument
Browns Canyon Overview
Collegiate Peaks scenic byway
Arkansas River Rafting Trip
Canyons of the Ancients, Hovenweep & Yucca House National Monuments
Trail of the Ancients scenic byway
Hidden Gem: Hovenweep National Monument
American Indian History in Southwest Colorado
Discover Colorado's Four Corners Region
Chimney Rock National Monument
Chimney Rock Overview
Tracks Across Borders scenic byway
Dinosaur National Monument
Dinosaur National Monument Overview
Dinosaur Diamond scenic byway
Florissant Fossil Beds National Monument
Florissant Overview
Gold Belt Tour scenic byway
Camp Hale-Continental Divide National Monument
Designated in 2022, Colorado's newest national monument sits high in the Rocky Mountains, in an area known as an amazing outdoor playground (especially in winter). The monument site is currently under development, and details will be posted as soon as they're available. 
Colorado's National Grasslands
The eastern half of Colorado stretches out into the Great Plains, full of peaceful vistas and pioneer history.
Pawnee National Grassland
Pawnee National Grassland Overview
Pioneer Trails scenic byway
Comanche National Grassland
Santa Fe Trail scenic byway
Highway of Legends
National Wildlife Refuges in Colorado
Eight wildlife refuges across the state protect species and eco systems; many have programs and events to help visitors learn more.
Rocky Mountain Arsenal NWR in Denver
Arapaho NWR near Walden
Alamosa, Baca, Browns Park, Monte Vista, Rocky Flats, Two Ponds NWRs
National Historic Sites in Colorado
Recognizing historical eras and events in Colorado, these two sites are packed with stories.
Bent's Old Fort National Historic Site
Bent's Old Fort Overview
Santa Fe Trail scenic byway
Sand Creek Massacre National Historic Site
National Conservation Areas
Managed by the Bureau of Land Management, these remote and incredibly scenic areas are some of the most vast federal lands — and Colorado is home to three of the nation's 17 NCAs.
Dominguez-Escalante NCA near Grand Junction and Montrose
Gunnison Gorge NCA near Montrose and Gunnison
McInnis Canyons NCA west of Grand Junction
National Forests in Colorado
Eleven national forests cover the state's mountainous western half, hotbeds of activities for camping, hiking, snowshoeing, snowmobiling and much more.
Rocky Mountain Region National Forests
National Recreation Areas in Colorado
Two NRAs blanket parts of Colorado's eastern half, filled with even more opportunities to commune with nature.
Curecanti NRA near Montrose and Gunnison
Arapaho NRA near Grand Lake
National Historic Trails
Five of the nation's national historic trails run through Colorado, all of which played parts in the country's westward expansion.
Old Spanish NHT
Oregon NHT
Pony Express NHT
Santa Fe NHT
California NHT
National Wilderness Areas
A whopping 44 national wilderness areas cover Colorado from north to south.
Explore Colorado's National Wilderness Areas
List of Colorado's National Wilderness Areas
Map of Colorado's National Wilderness Areas