Your Travel Guide to Colorado's Year-Round LGBTQ+ Scene
When we say, "Welcome to Colorful Colorado!," we mean it. From the Denver metro area to the ski villages of Aspen and everywhere in between, Colorado offers a rainbow of LGBTQ+ experiences for visitors. So, get your itinerary straight because your Colorado vacation is about to be very gay!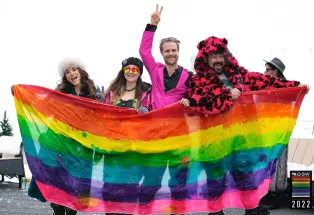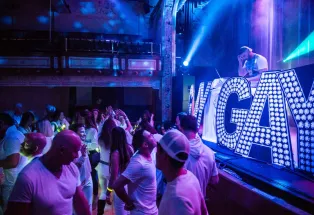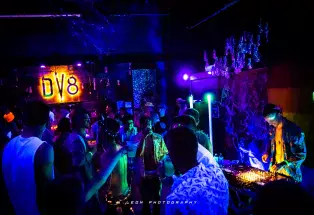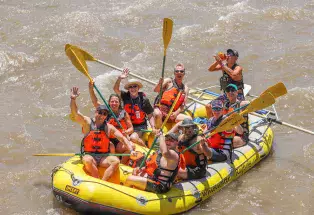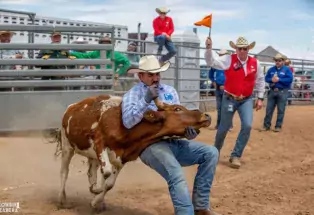 Here are some places to see and be seen when you're out and about in Colorado's LGBTQ+ scene:
Denver
With a national reputation for progressiveness, a perfect score on the Municipal Equality Index (the Human Rights Campaign's evaluation of a destination's laws, policies and services related to LGBTQ+ inclusivity), and one of the largest LGBTQ+ populations in the nation, Denver is tops as a queer travel destination.
Try:
• Blush & Blu. With fewer than 25 lesbian bars left in the country, Denver is proud to be home to one of the best of them. More than just drinks, this is real community.
• Charlie's. One of the oldest and best gay country bars in the nation, Charlie's is located just minutes from downtown Denver. And if you're lucky, you might find yourself doing a do-si-do with a reality TV celebrity.
• The Clocktower Cabaret. One of Denver's favorite venues, Clocktower Cabaret offers top-notch drag and burlesque entertainment year-round. With a 90 percent female staff, it's a safe space to celebrate decadence, diversity and body positivity.
• Hamburger Mary's Denver. Colorado's days are sunny and Hamburger Mary's drag queens are shady. Funky, friendly and flamboyant, the lil' purple house in Denver is where you come to "Eat, Drink, & Be… Mary!"
• History Colorado Rainbows & Revolutions exhibit. See original artifacts — like Governor Jared Polis's trademark blue tennis shoes — that span decades of Colorado's LGBTQ+ history focused on equality and civil rights.
• LGBT Denver Tour. Produced with help from The Center on Colfax, this audio tour showcases 10 historical LGBT landmarks in Capitol Hill, Denver's first "gayborhood," like Cheesman Park, Smiley's Laundromat and Charlie's.
• Metamorphosis Fitness. If your vacation is not a vacation from working out, you'll want to stop into this queer-owned gym where fitness comes first.
• Rocky Mountain Regional Rodeo. Presented by the Colorado Gay Rodeo Association, RMRR is the longest running gay rodeo in the country. This is the place to come to enjoy horsemanship, sportsmanship and showmanship at the highest level … and possibly rope yourself the cowboy or cowgirl of your dreams.
• Tight End. A gay sports bar for a sports town, Tight End partners with many of Denver's LGBTQ+ sports teams like Denver Squid and Colorado Gay Volleyball Association to provide community for gay jocks and their supporters. Everyone is welcome, except haters!
• Tracks. Tracks' queer legacy stretches back for decades, and it remains a deeply rooted institution within Denver's LGBTQ+ communities. The nightlife spot will also be at the center of an upcoming feature film.
• Trade. Located in the Art District on Santa Fe, Trade — a fetish bar — is perfect for those who enjoy their entertainment with an edge.
• The Triangle. Queer down to the foundation, the old Triangle was infamous while the new incarnation is a fabulously classy hotspot and upmarket eatery.
• Xbar. This self-proclaimed "watering hole for the entire community" is a happening hangout with a big outdoor patio right in the middle of everything on Colfax Avenue. On any given night alternative artists are found in the same room as sports queers, burly bears, non-binary folx and adoring allies.
Aspen
Here you'll find world-class skiing in a world-class town, and the finest dining and shopping experiences. Some say Aspen has got it all. And for nearly 50 years, Aspen has welcomed the LGBTQ+ community for the longest running annual gay ski week in the country.
Try:
• Aspen Gay Ski Week. Serving up seven nights of parties, concerts, comedy and skiing, Aspen Gay Ski Week is also the only nonprofit one in the world. All the money raised is given back to the LGBTQ+ community via grants and scholarships. Attracting more than 3,000 people from across the globe, many have been making the scene for decades.
Boulder
Did you know that, in 1975, Boulder County Clerk Clela Rorex issued the first same-sex marriage license in the United States? Named one of 50 Fabulous Gay-Friendly Places to Live, Boulder has a long history of inclusivity.
Try:
• DV8 Distillery. A queer-owned space the founders consider to be a "beacon of color and acceptance and celebration," DV8 embraces and enables an environment of acceptance for the entire queer spectrum.
Colorado Springs
Colorado's second-largest city was once named one of the "Gayest Cities in America" by The Advocate and boasts more LGBTQ+-friendly and -owned businesses than you might expect. 
Try:
• Club Q. A longtime community haven that prides itself on being "gay as hell," Club Q is a lot roomier on the inside than it appears on the outside — kind of like Dr. Who's time machine, the TARDIS.
• Fritzy's Speakeasy. Head to Fritzy's for all types of fun, like themed drag shows, live DJs, dance parties and, of course, karaoke.
• Icons. Owned by former Broadway performers who are partners in life as well as business, Icons is the gay piano bar where every bartender is a professional singer. Life really is a cabaret, old chum.
• La Burla Bee. Join glamorous blonde Bunny Bee at her welcoming cabaret meets nightlife spot meets Italian restaurant. Weekly events span everything from burlesque to tequila tastings.
Glenwood Springs
This resort city known for hot springs and a gay-friendly atmosphere recently celebrated its inaugural Pride event and organizers promise there's lots more to come.
Try:
• Big Gay Raft Trip. The LGBTQ+ community knows that wetter is better! That's why they turn out by the hundreds for the Big Gay Raft Trip's twice annual Colorado River rafting weekends.
Grand Junction
Featured in the Season 2 finale of HBO's drag-queen docu-series We're Here, Grand Junction is home to a small but mighty queer community set amid a breathtaking background of natural beauty.
Try:
• Charlie Dwellington's. Not only is their First Fridays event western Colorado's largest LGBTQ+ party; but they also host Slamming Bricks, the largest queer poetry slam in the state.
Telluride
Tucked away in the heart of the San Juan Mountains and named one of Colorado's best places for LGBT families, Telluride is more than just a ski destination. It's a paradise of quaint shops, award-winning dining and endless opportunities for outdoor recreation.
Try:
• Telluride Gay Ski Week. Going strong for more than 20 years, Telluride Gay Ski Week is an opportunity for travelers to meet new friends, catch up with old ones and make lifelong memories while making some turns. Beyond the epic parties, there are plenty of free events to enjoy, including the daily après-ski hosted at different venues around Telluride and Mountain Village.
Want more?
Find a list of Colorado LGBTQ+-owned restaurants >>
We'd love to hear from you! If you know of more places that should be in this list, email [email protected].
Photos courtesy of Aspen Gay Ski Week, Telluride Gay Ski Week, DV8 Distilling/A. Leon Photography & Cowgirl Camera