5 Glorious Colorado Hiking Trails
Summertime means hiking time. When the snow melts in Colorado, the beauty that lies beneath is brilliantly exposed.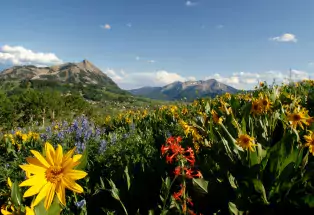 These are some of our favorites, but the COTREX app will guide you to more than 38,000 miles of additional trails in every nook and cranny across the state if these don't scratch your get-out-and-go itch.
Before embarking on any of these Colorado hikes, it's important to research and plan out the details of your trip carefully. Reference guide books, local visitors centers and forest rangers to find out the level of difficulty, the best time of day to hike, how to get to the trailhead, how much water you should bring and proper attire.
1. Ice Lake Basin, San Juan Mountains
Distance: 7.6 miles round-trip 
If its refreshing name isn't enticing enough for a summer trek, listen up: The blue tint of the glacial lakes at the end of this hike is almost unbelievable — like ocean water from a Caribbean resort advertisement. The hike starts near Silverton, and there are two basins waiting for you at the end framed by blankets of wildflowers and jagged peaks. More info >>
2. Star Dune, Great Sand Dunes National Park and Preserve
Distance: 3.8-mile loop
Summit the highest sand dune in North America (750 feet) on a calf-burning triumph within Great Sand Dunes National Park and Preserve near Alamosa. Choose your own path up the dunes (trails don't exist), particularly at dusk when the light gives them a rich gold color and shadows snake across their wind-sculpted ridges. Visit in late spring/early summer and you'll cross Medano Creek, a magically appearing and disappearing creek perfect for cooling hot toes. More info >>
3. West Maroon Pass from Crested Butte to Aspen
Distance: 22 miles round trip
The most photographed peaks in the state, Maroon Bells are just one of the rewards of this favorite — and very long! — hike between two of our most cherished mountain towns. This hike has it all: millions of flowers, towering mountain facades, alpine lakes and waterfalls. The peak blooming time for meadow wildflowers varies every year, but is usually near the end of June. Unless you're a marathon hiker, book a night in Aspen before making the return trip to Crested Butte. More info >>
4. Moonlight Hikes in Colorado Springs
There's one thing for certain about hiking under a full moon: It's awesome. Two state parks near Colorado Springs, Mueller and Cheyenne Mountain, offer moonlit hikes that light up the landscape in a way you rarely experience. Or, take a full-moon hike with the Colorado Wolf & Wildlife Center to meet the wolves that inhabit their sanctuary. If your timing is not right for a full moon, jaw drop in awe while stargazing during a Colorado Springs Astronomical Society public star party. 
5. Rattlesnake Canyon Arches Trail, Black Ridge Canyons Wilderness
Distance: 5 miles round trip 
You don't have to travel to Utah to see the grandeur of gravity-ridiculing red-stone arches. Just outside Fruita, Colorado is home to the second largest concentration of them in the world. Your world will feel topsy-turvey — in the good way — as you wind through these sweeping arches, spires and canyons. More info >>
Want More?
Read 11 Waterfall Hikes and 8 Ways to Love Summer in Colorado