Adventurous Eats: Unforgettable Winter Dining Experiences
Almost-too-perfect scenes of pines silvered by frost and mountainsides blanketed in ivory — the chance to partake in some of Colorado's most epic cold-season pursuits and gourmet eats make these bucket-list dining excursions worth tacking onto your itinerary.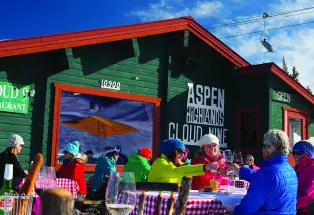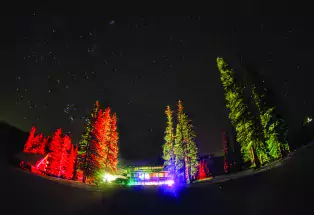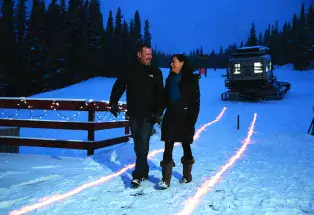 Aspen Peak Cellars
Snowshoe and fondue trips at this intimate winery, Aspen Peak Cellars in Bailey (southwest of Denver), are full-day snowshoeing or winter hiking tours (11am–3:30pm; all equipment is provided) that end with soul-soothing Swiss-cheese fondue, Colorado wine and a winery tour. Reserve your spot early — the popular events are offered on select dates January through mid-March and sell out quickly. 
Beano's Cabin
An open-air sleigh pulled by a snowcat whisks bundled-up guests through Beaver Creek's aspen groves to Beano's Cabin, a swanky log hideaway, for a five-course supper prepared in an inviting, open kitchen. Coffee-spiced roasted venison and crumbly cobbler crowned with seasonal fruits and in-house ice cream are just a couple delights that may grace the menu.
Magic Meadows Yurt
Embark on a cross-country ski or snowshoe trip into the quiet backcountry of Crested Butte to the wood-burning-stove-heated Magic Meadows Yurt, accessible only on skis or snowshoes via a 1-mile groomed trail through the Slate River Valley. Once you're there, warm up with a cocktail made with local Montanya Distillers rum or a brew from Elevation Beer Company and tuck into a Colorado-inspired meal with groovy live music. 
Golden Horseshoe Tour Co.
At Breckenridge's Golden Horseshoe Tour Co., the family-friendly Mining Camp Dinner Theater Sleigh Rides include a 30-minute cruise through the White River National Forest in a cherry-red sleigh pulled by Belgian draft horses, a rustic dinner cooked on an antique wood stove and an interactive dinner show. This'll give visitors the chance to rub elbows with characters from Colorado's frontier (think: mountain men and dance-hall girls played by spirited reenactors). 
Tennessee Pass Nordic Center & Cookhouse
In Leadville, a five-course feast, with options like Colorado rack of grilled elk with creamy potatoes au gratin, awaits those who snowshoe or cross-country ski 1 mile from the Tennessee Pass Nordic Center to the idyllic Tennessee Pass Cookhouse, perched at 10,800 feet. Extend your visit by booking a night in one of their super-cozy sleep yurts to rest your head in a handcrafted log bed. 
Moonlight Dine + Ski at Copper Mountain
Moonlight Dine + Ski at Copper Mountain provides a variety of fun and yum. Start your evening with a ride up the American Eagle chairlift for a gourmet buffet, live acoustics from local artist Beau Thomas and gorgeous vistas dressed in white, then don a headlamp for a moonlit schuss down the mountain under a blanket of stars. Some events commence with skiing, then end with live tunes, drinks, dinner and dessert.
Cloud Nine Alpine Bistro
Book a Snowcat Dinner at Aspen's Cloud Nine Alpine Bistro to be transported by open-air snowcat to an elegant Swiss restaurant in a picturesque cabin high in the Rockies. Ogle panoramas of the Maroon Bells, two of Colorado's most iconic and eye-catching fourteeners (peaks higher than 14,000 feet), while you treat yourself to bites like lobster and king-crab bouillabaisse and chocolate hazelnut cake laced with bananas-foster sauce. 
Purgatory Snowcat Adventures
Take in Durango views of the alpenglow on the Needles Mountains on an enclosed snowcat ride up to Powderhouse Restaurant at Purgatory Resort. Nurse a glass of mulled wine or Champagne, then relish a hearty five-course spread with hors d'oeuvres, fresh salad, a handcrafted soup, main course and dessert. 
4 Eagle Ranch
Cuddle up for a sleigh ride to the soundtrack of horses trotting through fresh powder with bells jingling on their harnesses in Wolcott. After sipping steamy hot cocoa and cider and chowing down on a bowl of chili from 4 Eagle Ranch, cap off the evening with a serenade beside an open-hearth fire or an outdoor campfire (and a s'more or two). 
Brain Freeze: Icy Dessert Spots
Here's where to taste mouthwatering sweet treats that remind us of Colorado's winter magic. 
Delight in snowballs and snowshakes in flavors like wedding cake, dill pickle and lemon lime at Colorado Sno-Balls in Windfield (near Fort Carson).
Try taiyaki ice cream, a Japanese fish-shaped cake filled with a sweet filling and topped with silky soft serve in flavors like milk tea or matcha, at Snowl Cafe in Aurora.
Classic cones, shakes, sundaes and malts bring a smile to ice-cream lovers of all ages at Simkins Parlour in cute downtown Sterling.
High Point Creamery in Denver is known for inventive flavors like basil with blackberry swirl and cookies (three ways) and cream. Bonus: There are three locations around town.
Raspberry hibiscus and watermelon lime are two of the many fresh popsicle flavors at Revolution Artisan Pops in Fort Collins, where you can also get stellar gelato.
The old-fashioned malts and shakes rule at Tutti Scoops in Trinidad, which also delivers velvety homemade ice cream in more than a dozen flavors.
Charlie's Frozen Treat Shop in Winter Park has frozen yogurt, Italian ice, custard, gelato and a toppings bar with dozens of options (we can't get enough of the salted-caramel gelato).
Indulge in shop-made oh-so-creamy ice cream at a neighborhood fave, Bonnie Brae Ice Cream in Denver, where you'll enjoy flavors like peppermint, malted milk ball and cookie dough.
Want more? 
Warm up with these spicy foods
Don't miss these must-eat Colorado treats
Photo Credits: Cloud Nine Bistro, Copper Mountain Moonlight Dine & Ski, Purgatory Snowcat Adventures