Celebrating the Colorado Bounty: 10 Small-Town Food Fests
At first blush, "celebrating agricultural heritage" doesn't really sound like the most fun way to spend a weekend in Colorado. But throw in Rocky Ford watermelon-seed spitting, Palisade peach-inspired cocktails and Olathe sweet-corn-eating contests, and things take a decidedly more interesting turn.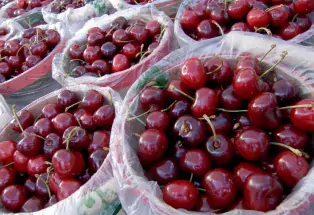 Many of Colorado's communities have summer festivals dedicated to the crops that have been increasing the profile of the state's farm-to-table restaurants. Our chief specialty is fruit — Colorado's warm days and cool summer nights mean everything grows a little bit sweeter than it would at warmer climes. Below are some of the festivals, spectacles and events that make tasting Colorado fun and delicious.
What started as a picnic to celebrate the Glenwood Springs area's strawberry harvest and meet new neighbors more than 126 years ago has grown into a full-on strawberry-themed pageant each June with a parade, a juried arts-and-crafts fair, live music, a farmers' market and free strawberries and ice cream, a tradition that's held since the very beginning.
When you hear the following words, nothing that comes after will matter: cherry cook-off. We can't imagine needing anything else from cherry days, but Paonia piles the festivities high each July with a 5k run, "Cherry Days' Got Talent" contest (get out your baton-twirling outfit!), coal-shoveling, pit-spitting and wood-splitting contents and Fourth of July parade.
The corn from Olathe is often described as melt-in-your-mouth tender. A slathering of butter would only compromise what Colorado's sun and soil have already perfected. Find out what makes people speak so rapturously about it at the August festival's sweet-corn-eating contest. And afterward, while you're putting all those toothpicks to good work, enjoy concerts, parades, water fights, tractor pulls and karaoke competitions.
Scheduled for August, when mushroom growth is at its peak, hundreds of mycophiles descend on Telluride to soak up technical mushroom science, embark on mushroom-hunting excursions, taste the fruits of the hunt at a cookoff.
Much like Olathe's sweet corn, Palisade's peaches have been known to inspire gastric poetry, memorable limericks and devotional dances. Best described as drip-down-your-chin juicy, the perfect peach is celebrated at this August festival in all its incarnations. Restaurants deck out their menus with libations, desserts and other peachy dishes. Peach-lovers revel in the fun with orchard tours, peach-eating contests and loading as many bushels as possible into their trunks. 
Part of the Arkansas Valley Fair, this special day in Rocky Ford honors that sweetest of all melons with 5K and 10K runs, a watermelon-seed-spitting contest (you've been on the amateur circuit for years — it's time to go pro!), watermelon carving, a bingo tournament and a famous "watermelon pile," from which you can take a few free melons to slurp from on the way home.
Greeley's annual celebration in September goes beyond feasting on the versatile spud with living history activities like blacksmithing and adobe brick making, swing dancers, live music and appearances by the Potato King and Queen. Treats for sale include baked potatoes with your choice of delicious toppings, root beer floats, popcorn and a variety of homemade delights.
This September event is your best chance to taste of pride of Pueblo: a special, intensely flavorful variety of green chile. Served smoking on a stick, chopped and tucked into a quesadilla or sprinkled in salsa, it's the star of this show. Cooking competitions, live music, dancing, arts and crafts, and a farmers' market round out the festivities.
This harvest celebration in October honoring the stalwart potato dates back to 1909 and now serves to ring in fall in Carbondale with a 5K Tator/Fossil Trot, farmers' market, live music, horseshoe tournament, a bareback horse-riding competition and an infamous Potato Day Parade with dance troupes, trick horses and marching bands. A community barbecue picnic features, of course, baked potatoes and locally raised beef brisket roasted in fire pits.
Driving into Cedaredge, you'll pass row after heavenly row of trees bursting with shiny red and green apples beckoning you to sink your teeth in — and pick one up for the ol' teacher, "Leave it To Beaver"-style. At October's Applefest, a multitude of vendors share the area's agricultural wealth with visitors, who can also check out an antique motorcycle show, bands and race in a 5K. Another small town, Penrose, has an apple fest of its own on in early October, with a parade, pie-eating contest and an outhouse-stuffing contest.
Want More? 
Find Colorado farm fun for everyone in your brood
Check out summer food and wine festivals in Colorado