The Colorado Culinary Camping Guide
In this part of the universe, we're fools for camping — and nothing elevates a night under the stars like a fireside feast. Consider one of our favorite campsites below, conveniently paired with ideas on where to pick up Colorado-made ingredients to prepare tasty eats.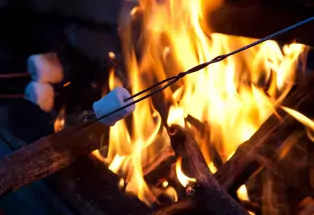 Cradled by Pawnee National Grassland's sun-kissed prairie, Crow Valley's dark skies delight Milky Way chasers and solitude seekers. Choose from 10 spacious sites, and capture Insta-worthy views of the Pawnee Buttes — twin castle-like mesas that rise above the plains — from the nearby Pawnee Pioneer Trails scenic and historic byway.
Supply Stop: Stock up on cans of Denver-based The Infinite Monkey Theorem wine at Pringle's Fine Wine & Spirits in Fort Collins, then pick up some savory brats to char over the campfire from Fresh Foods.
Pearl Lake's placid waters beckon travelers to answer the call of the wild, and nearly all of the park's nearly 40 campsites afford knockout vistas of the lake and surrounding peaks. Activities include kayaking, Gold Medal trout fishing and frolicking in the surrounding forest via out-of-the-way trails.
Supply Stop: Collect cured meats, cheeses and lovingly prepared chocolate bark (for extra-special s'mores) at Steamboat Springs' The Homesteader, adored for its inventory of locally produced goods.
This 26-site locale near Chimney Rock National Monument boasts glimpses of the monument's archeological ruins, home to more than 200 seemingly frozen-in-time homes and structures built by ancestors of the modern Pueblo Indians. Choose a site shaded by soaring pines, and take a guided walking tour of the monument.
Supply Stop: Dazzle your brood with picks from specialty food shop The Choke Cherry Tree in Pagosa Springs. Made on site, delicious homemade fruit syrups in flavors like the namesake wild chokecherry or boysenberry are a perfect topping for campfire pancakes in the a.m., while Grandpa Bill's Caramels make an excellent evening treat.
Tucked in the shadow of always-pretty Great Sand Dunes National Park and Preserve, San Luis State Park and Wildlife Area's campground is an ideal base for spying on shorebirds, songbirds and raptors, and hiking or biking amid the lower sand dunes as the Sangre de Cristo Mountains tower above.
Supply Stop: Grab snack items like delicious deli meats and cheeses or delight in fresh cuts of beef for a campfire barbecue at Alamosa's family-run Valley Meat Market. 
Colorado's Grand Mesa, the world's largest flat-topped mountain, is the holy grail of outdoor playgrounds. Island Lake Campground's sites are situated at 10,000 feet, offering primo access to Grand Mesa's 300 fishing lakes (for real!), 3,000 miles of trails and wildflower-shrouded meadows.
Supply Stop: Whip up a coveted cheeseburger supper with provisions from Homestead Natural Meats in Delta: patties made from their own expertly raised beef and a selection of Rocking W Cheese, an Olathe export.
Want More?
Explore the basics of camping in Colorado >>
Learn how to set up your Colorado campsite >>