Lighten Your Load: Burden-Free Backpacking Trips in Colorado
Explore Colorado's great outdoors without lugging a ton of gear around on these unique backpacking experiences.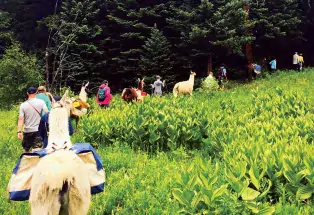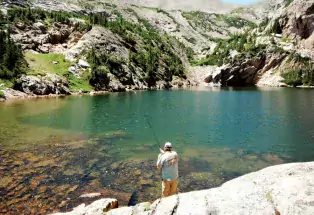 Llama Trekking
Let friendly llamas carry your packs for you as you hoof it through the woods. In addition to being hard working, these tall, wooly creatures are pretty adorable travel companions. A few trips to consider:
10th Mountain Division Huts with Paragon Guides, Vail
Paragon Guides offers five-day guided llama treks between the 10th Mountain Division Huts, a system of 30 huts that shelter backcountry visitors. Each day, you'll make your way through lush national forest land with a different hut as your destination. Paragon also offers a Take a Llama to Lunch program with a short hike and a nosh or wine-and-cheese assemblage that gets you back to your own bed for the night.
Browns Canyon Raft & Llama Trek with Noah's Ark, Buena Vista
Raft one of the nation's most popular whitewater routes with expert guides, stopping for lunch in the canyon. The next day, Frosty or Buster, of the Spruce Ridge Llamas, will join you for a trek into pristine wilderness near Buena Vista. Leave the food, snacks, supplies and first-aid kit to those guys as you explore.
Rocky Mountain National Park with Kirks Flyshop & Mountain Adventures, Estes Park
Like a little fishing with your hinterland excursion? Follow Kirks Flyshop's tackle-toting llama guides to secluded rivers and streams. Tents, sleeping bags and food also magically appear as your head's in the clouds — you enjoy the scenery while the llamas brag about how much weight they can carry (most up to 80 pounds, if you can believe it!).
Horse-Pack Trips
Horses may not have the unbearable cuteness of llamas, but they can be just as lovable and effective at getting you and your gear into the great wide open. A few trips to consider:
Holy Cross Wilderness with Halfmoon Packing & Outfitting, Leadville
You and your trusty steed will wind your way up and off old mining roads to find your camp — including a covered outdoor kitchen — ready for your arrival. Guides will ensure you get where you're meant to go and will saddle up the horses for you.
Flat Tops Wilderness with Colorado's High Lonesome Outfitter & Guides, Yampa
Horses and mules load you up for one- to three-night pack trips to a vast, unspoiled area of the Flat Tops on a network of trails with stunning alpine and lake views around each bend. Photography, fall-color and hunting trips are all on offer.
Wet Mountains and Sangres with Bear Basin Ranch, Westcliffe
Views of the Sangre de Cristo Mountains are endless on this 3,500-acre ranch. Your equine companion will make sure you don't miss a postcard-perfect panorama along the way while carrying all your picnic fixins on a full-day jaunt.
Weminuche Wilderness with Over the Hill Outfitters, Durango
Explore the country's largest wilderness area from atop handsome horses and fine fillies. Over the Hill will also transport your camp and climbing gear to a remote campsite for you. All you have to do is gaze in wide wonder at the glaciated valleys and hanging waterfalls along the way.
Bikepacking
This minimalist approach to camping involves very light, specialty bags that affix to your mountain bike. Then you can go and camp anywhere your bike can. Two Colorado companies manufacture these bags: Bedrock Bags in Durango and Oveja Negra in Salida.
While llama trekking and horse-pack trips come with experienced human guides to ensure things go according to plan, bikepacking is largely a self-directed pursuit. Make sure you research expert tips before rolling out.
For those looking to hit the mountain-bike trails in Colorado, experienced shredders recommend the following bikepacking routes:
Weekend Loop, Boulder & Nederland
While not very remote, it's an excellent trip for bikepacking first-timers, with easy access to excellent climbs, food and water.
Kokopelli Trail, Fruita
They call this "an epic medley of singletrack, doubletrack, sand and tarmac … technical climbs, rugged descents and graded terrain."
Aspen Ridge, Salida
This one is ideal for folks with little ones in tow, with gentle climbs, historic relics and Wild West backstories along the way.
The Colorado Trail, Denver to Durango
For serious adventurers, this difficult, long-distance trail is one of the most rewarding in the country.
If you don't want to go it alone, there is one local outfitter that can help you along your journey. Four Corners Guides in Mancos leads bikepacking trips inside Ute Mountain Tribal Park. They have ladies' intro tours, as well as three- and four-day trips, all of which pass by ancient Ancestral Puebloan ruins amid a canyon-filled landscape.
Want more?
Explore some of Colorado's best mountain biking >>