Unique Outdoor Shopping in Colorado
Want more of a unique shopping experience? Take a look at the state's smaller and more historic shopping destinations and discover one-of-a-kind buys. As you shop, you'll also be treated to fresh air, mountain views and plenty of Colorado sunshine.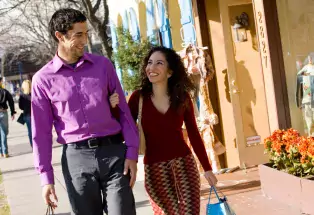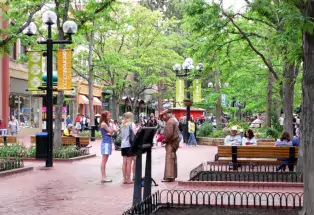 Pearl Street Mall in Boulder
The Downtown Boulder Historic District, listed on the National Register of Historic Places since 1980, encompasses the city's oldest commercial section. In 1976, the city of Boulder closed part of Pearl Street to all automobile traffic and constructed the open-air, pedestrian Pearl Street Mall. In 1980, the mall won a national award for urban environmental design. Craft breweries, cafes, restaurants, boutique design and clothing stores, as well as outdoor stores and other enticing businesses line the brick pathways in this college town. 
Cherry Creek North
Just a few minutes' drive from downtown Denver, Cherry Creek North is comprised of more than 300 shops, spas/salons, home stores, art galleries, restaurants and hotels. Sixteen tree-lined and flower-bedecked blocks set the stage for a veritable Rodeo Drive of independent luxury boutiques. Combined with the adjacent Cherry Creek Shopping Center, home to Colorado's only Neiman Marcus as well as 40 other luxury stores like Tiffany & Co., Burberry and Louis Vuitton, Cherry Creek is the largest and most varied shopping scene between Chicago and San Francisco.
16th Street Mall
Downtown Denver's 1.25-mile pedestrian promenade is often visitors' first stop in the city for shopping, upscale and casual dining, breweries, coffee shops, public art, architecture and — naturally — lots of people watching. In winter, the mall is particularly festive and colorfully lit for the holidays. Free shuttle buses run up and down the strip, making getting around its 250-plus stores a cinch. The mall is also steps from Civic Center Park, the History Colorado Center, the Denver Art Museum and other attractions.
The Village in Estes Park
More than 200 retailers line Elkhorn and Moraine avenues in this mountain town just outside the eastern gates of Rocky Mountain National Park. Most of the independently owned shops and eateries are unique to Estes Park, with Colorado-made gifts, sweet shops, "Rocky Mountain rustic" home decor and sundry boutiques and clothing stores. Many of the buildings along the avenues have been repurposed from Estes' early days —a former Presbyterian church now houses several businesses perfect for window shopping.
Old Colorado City
This area adjoining Colorado Springs was one of Colorado's earliest settlements. In 1861, it became the Colorado Territory's first capital — a home to miners, farmers and outfitters in the gold rush days. Today, it retains a bit of Old West atmosphere with historic brick buildings and tree-lined streets. You'll find Colorado Springs' biggest cluster of art galleries here, mostly with Southwestern collections. Rare jewelry, kitschy gifts and antiques are among the other goods for sale in these boutiques. The nearby Van Briggle Pottery & Tile art studio draws collectors from all over the world.
Breckenridge
Breckenridge hosts distinguished shops, including fashion boutiques, book stores, souvenir shops and even quilting and craft stores that offer regular classes, all within the town's Victorian National Historic District. Perhaps most notably, shoppers discover that the town of Breckenridge is pet-friendly. Doggie bakeries provide treats and trinkets to show pets how much they are appreciated. For visitors interested in expressing their own unique nature, try one of the hat stores that carry anything from sophisticated to downright silly hats. Pick up a free walking tour of the town's historic areas at the visitor information center right along Main Street.
Telluride
Western elegance is found in antique, jewelry and clothing shops sprinkled all over this mountain town. Telluride is rich in history, and its vintage, Victorian-era charm will have you feeling like you're walking through a Western romance novel. Its identity as a 19th-century mining town explains why Telluride houses many beautiful, long-lived antiques. You'll find jewelry, musical instruments, collectibles, prints and mining memorabilia. Antique markets around Telluride also present plenty of vintage finds, such as American Indian and folk art, Western prints and decorative collectibles — all with amazing views of the town's box-canyon walls.
Vail Village & Lionshead
Between the ski-mountain base areas of Vail Village and Lionshead, the year-round resort town of Vail hosts hundreds of shops, selling everything from high-end jewelry and fine art to ski boots and cowboy hats. Located in the shadow of the Gore Range, Vail has a distinctly alpine feel. A free bus traverses the pedestrian area for those who are weighted down by shopping bags. The villages are also home to a growing number of amazing restaurants, including Mountain Standard, Sweet Basil and La Bottega.
Aspen
Synonymous with luxury, Aspen's shopping scene caters to a discerning clientele with an array of international fashion outposts along Galena Street. Couture coveters will find their home here with Dior, Gucci and Prada alongside specialty boutiques and high-end consignment stores. Aspen being a ski town at heart also has plenty of outdoor gear to outfit you for any mountain adventure — summer or winter.
Historic Downtown Littleton
A shopping trip to historic downtown Littleton provides patrons with the opportunity to snag some artisanal buys. Gift, craft and antique shops, galleries, cafes and more are easily found at this welcoming downtown thoroughfare. With fun holiday events like a Halloween zombie parade and Trick or Treat Street, an annual candlelight walk and tree-lighting in November and other annual celebrations, the area is always a festive place to hang out.
Old Town Fort Collins
Fort Collins' historic district is known for its bookstores, galleries, shops and local eateries. It's also a Certified Colorado Creative District, thanks to its artsy and innovative locals. You'll see the city's residents zipping by on bikes and even riding the historic streetcar from boutique to boutique. Several holiday lighting events fill the area's plazas with cheer, and walking tours guide foodies and shoppers to prime locations.
Downtown Colorado Springs
Wide, tree-lined streets and Pikes Peak views welcome shoppers to Colorado Springs' shops, restaurants and parks. The Art on the Streets project lends a whimsical feel to the urban landscape, and there's easy access to the downtown trail system where you can burn off some of the calories acquired between shopping stops. 
Downtown Greeley
Art galleries, gift shops, jewelers, florists, antique stores and other specialty shops line the pedestrian-friendly lanes of downtown Greeley, making it a charming spot for shopping — without the big-box feel. This beguiling town is a place to gather and relax, but ample attractions like restaurants, children's play areas, parks and historic architecture mean you'll find no shortage of amusement after your retail-therapy session has ended.
Want more?
• Denver is home to several neighborhoods with pockets of cute shops, including: Old South Pearl, the Highlands, Uptown and, of course, LoDo.
• Historic Olde Town Arvada has become a hot spot for boutiques, dining and fun events.
• Pedestrian-friendly downtown Golden has dozens of shops, restaurants and restful stops alongside Clear Creek.
• A surprising 500 shops are situated in the small and historic town of Durango.
• Western wear, antiques, gift shops, jewelry stores and art galleries in Steamboat Springs offer Wild West flavor and hospitality.
• Many other mountain towns have walkable strips packed with boutiques and galleries, including Carbondale, Basalt, Salida, Lyons, Glenwood Springs, Evergreen and Ouray.
Photos: Courtesy of Estes Park Convention and Visitors Bureau; Pearl Street Mall, copyright flickr/Lee Coursey; Cherry Creek North, Miles.