Your Winter Itinerary to Colorado's Eastern Plains
Wind your way through the pastoral wonderland that is the eastern plains, stopping at standout cultural centers and sweet-smellin' bakeries as you go.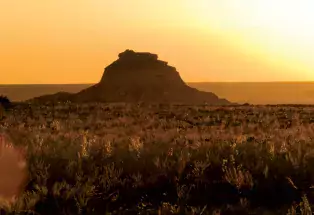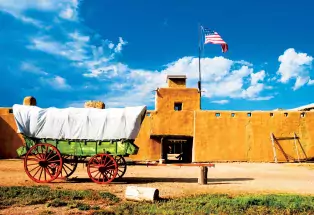 The Works Progress Administration-era Julesburg Public Library, known for its white-stucco facade, and art deco Sedgwick County Courthouse are both stars in this delightfully sleepy municipality.
Making an argument as the best barbecue in the plains, Happy Jacks serves up succulent brisket, fiery hot links and even flavorful smoked bologna.
This fairly new brewery has already woven itself into the fabric of Sterling with sippable, citrusy IPAs and mounds of nachos doused in queso blanco and a smattering of crushed pineapple.
Postcard-worthy buttes — jutting up amid thick, mustard-colored grasslands — are best viewed at sunrise or sunset when they turn a golden hue.
Geese sit atop the sparkling snow, bathing in the bright Colorado sun at Andrick Ponds, a stop along the Colorado Birding Trail. You need a valid hunting or fishing license to be in the area. Purchase one here >>
You have to snap a photo of the 1863 Mountain Howitzer Cannon or in the replica general store that's inside the museum to celebrate the rich and vibrant history of Brush. This heritage spot is open Friday through Sunday.
Plop down on one of the pews in this shop that dishes out "I never would have thought of this!" flavors — think gingerbread and kiwi — in their frothy coffees.
Focusing on the history of Wray, this museum is filled to the brim with artifacts of Wray's past, from Ice Age mammoth bones to late 1800s general-store merch, and is home to one of the only permanent Smithsonian exhibits outside of Washington, D.C.
Pop into the Old Town Museum's historic site, which includes 21 fully restored buildings, complete with turn-of-the-century relics. Then quench your thirst with big-as-your-head margaritas at Tequilas Mexican Grill.
Locals flock to this emerald-roofed building on the outskirts of Stratton for thick milkshakes and crinkle-cut fries.
A strawberry-iced, sprinkle-bedecked doughnut is calling your name from this tiny, pink-striped bakery in downtown Limon.
Pick up a creamy latte and peruse the nooks and crannies of Main Street Mama's. You'll absolutely need that wicker rocking chair.
Watch thousands of snow geese take flight on their way to warmer weather at this can't-miss February festival. They also have keynote speakers, live raptors — yes live! — and a craft fair.
In the middle of rich farmland rises an adobe-style castle of the plains, Bent's Old Fort, now a National Historic Site. Snag a spot on a guided tour and learn about the 1840s fur-trading post.
Established in the early 1930s, this market hawks the freshest, in-season produce year-round along with jams, jellies and smoky jerky.
Pressed-tin ceilings and a horseshoe-shaped mezzanine are just the background to this museum's collection of Western paintings, American Indian blankets and historic photos.
WANT MORE?
Plan a getaway to some of Colorado's less-traveled locales with winter-specific itineraries >>
Explore Colorado's top eastern plains birding trails >>
Find eastern plains family attractions, good for kids 10 and under >>
Photos courtesy of Miles Partnership.