By Beth Buehler
Colorado specializes in the extraordinary, and venues for groups and tours are no exception. Discover the many mountain and city options, ranging from hot springs, distilleries, restaurants and cabins to attractions, ranches and museums.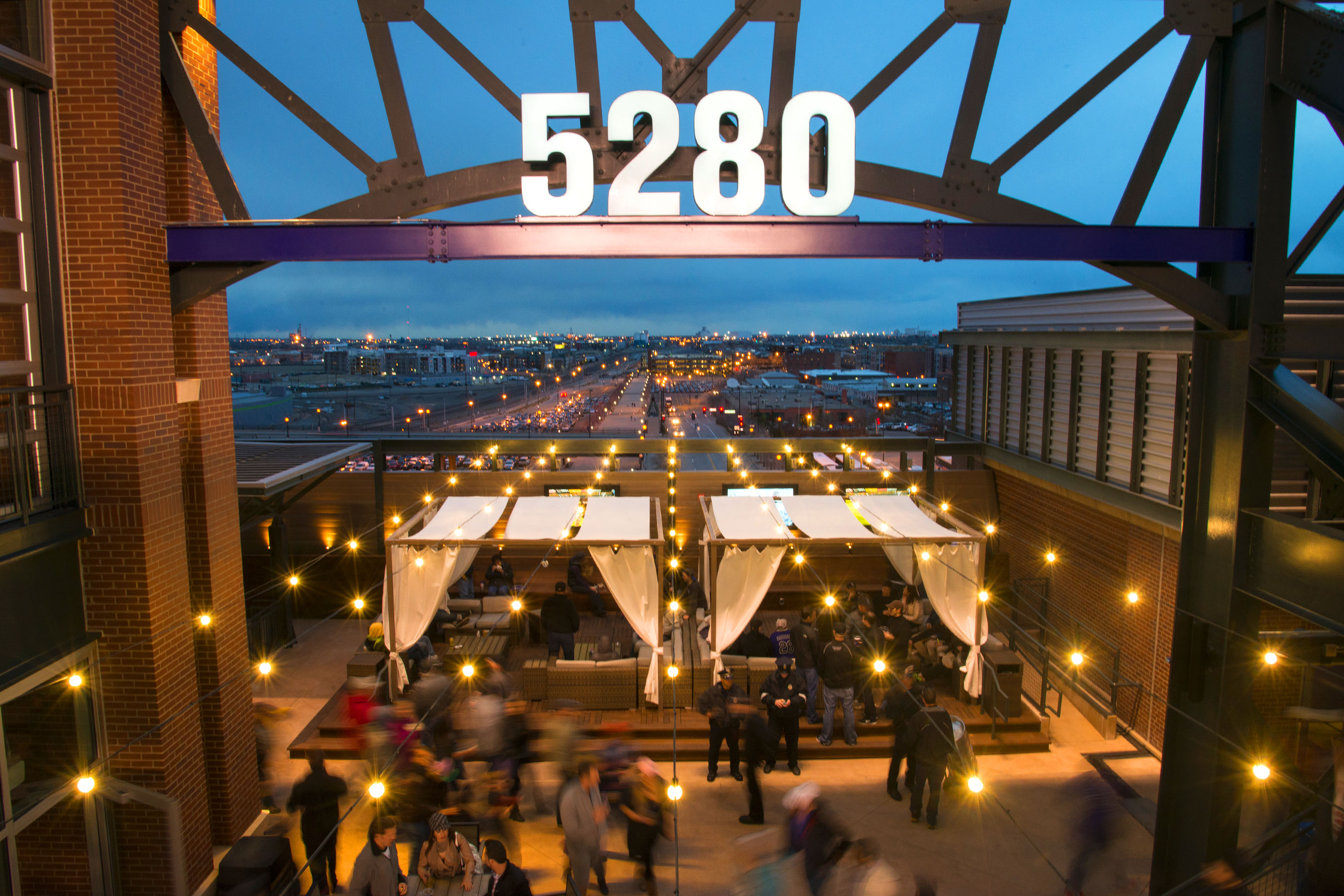 Coors Field Rooftop, courtesy of VISIT DENVER
Hot Springs, Helicopters & Spirits
Mount Princeton Hot Springs Resort conference room, courtesy of Chaffee County Visitors Bureau

Make a stop on western Colorado's new Historic Hot Springs Loop in Nathrop, check out the mountain rum crafted by Karen and Brice Hoskin, stay at the Distillery Inn in Carbondale and take advantage of an experience that includes a helicopter, a ranch and local spirits.
Savor local food and spirits, two unique venues and a helicopter ride during "Distilled Flights" offered by Marble Distilling Company in Carbondale. Available from May 1 to Nov. 1 for groups of up to six participants, the adventure begins at a family-owned ranch less than a mile from the distillery and tasting room. Tour the ranch where grains used by Marble Distilling are grown, then used in the distilling process and eventually returned to Nieslanik Beef for livestock feed. Get whisked away by Aspen Heli Charter's Eurocopter 130B4 to Marble, home of the marble used to filter the company's spirits, build the distillery's bar and create national monuments like the Lincoln Memorial. Upon return, enjoy a farm-to-table culinary feast featuring Nieslanik Beef and other local ingredients and sip spirits paired with the meal. Complete the adventure at the tasting room, where the entry patio, rooftop deck and barrel room can be reserved by groups and lodging added by booking the five-suite Distillery Inn located on the upper floor.
Just over Kebler Pass during summer and fall months, Montanya Distillers in downtown Crested Butte specializes in rum tastings, distillery tours, handcrafted cocktails and tasty small plates. With distribution now in more than 40 states and seven foreign countries, take a cocktail class from master mixologist and President/CEO Karen Hoskin and book the upper-floor mezzanine, back patio or the whole distillery for a group event.
On the other side of the mountain, Mount Princeton Hot Springs Resort is the perfect meeting place for business or touring pleasure in Nathrop. Located in the center of Colorado, along the Continental Divide of the Rocky Mountains between the towns of Buena Vista and Salida, the resort offers diverse meeting and event spaces, views of the Chalk Cliffs and relaxation in the 100% natural hot springs. There is lodging for up to 250, including a variety of cabins, as well as fitness classes, mountain bikes and fat bikes (for snow) that are included with a stay.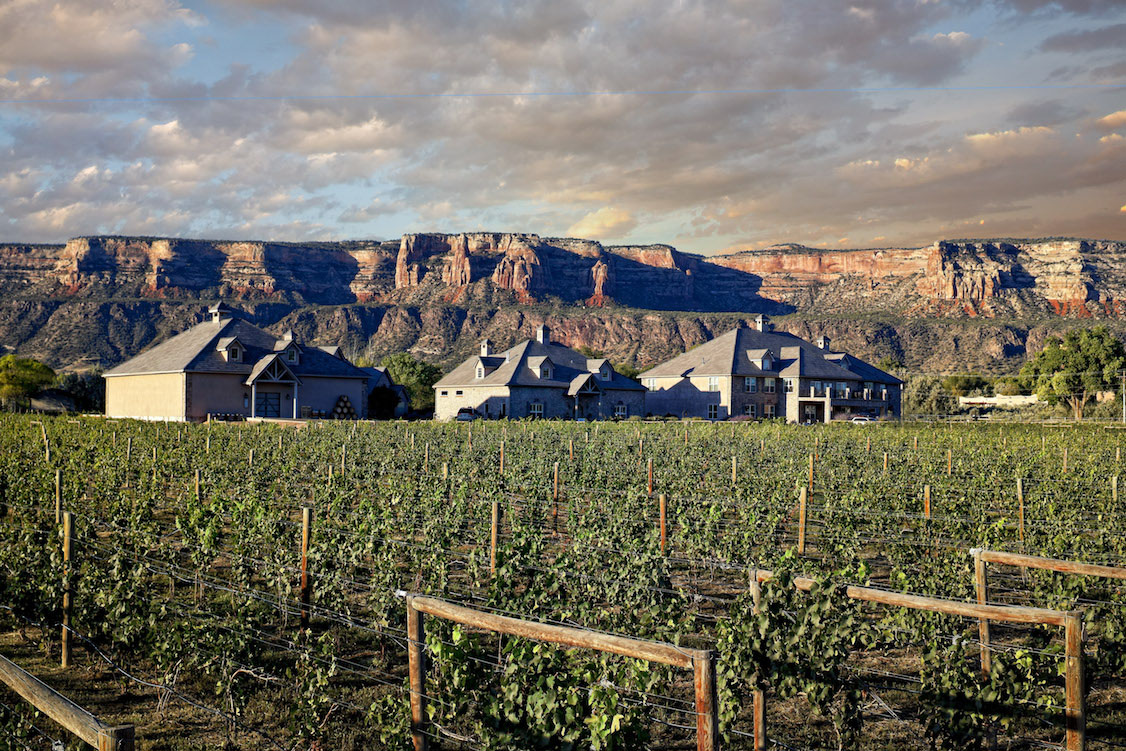 Two Rivers Winery & Chateau, courtesy of Grand Junction VCB
Dinner is always more fun when there is a unique element to getting there like a gondola, snowcat or snowshoes. Or perhaps it's the venue itself, like a winery and chateau or a restaurant built to resemble a 1830s fort.
Located midway up Snowmass, the architecturally unique Elk Camp Restaurant is ideal for planners and tour operators seeking an on-mountain dining experience in winter or summer. Every Friday night and on select Tuesday nights in the winter, groups can take a star-filled, evening ride up the gondola to Elk Camp for Ullr Nights, a celebration dedicated to the Norse god of snow, with activities ranging from ice skating and sledding to snow biking and fireside s'mores. Snowshoeing up to the festivities and riding the gondola down adds to the adventure. Dining at Elk Camp Restaurant also is a memorable mountaintop experience in summer.
Also with majestic scenery and nestled against the base of the Colorado National Monument in the midst of a vineyard, Two Rivers Winery & Chateau in Grand Junction has several areas to host groups and memorable events, as well as 10 guest rooms. The Wine Tasting Room and Board Room allow for small, intimate gatherings, while the Great Room can hold up to 150 for a reception. Two outdoor spaces, the terrace and pavilion, are perfect for sipping the winery's Chardonnay, Merlot, Cabernet Sauvignon, Riesling, Syrah and port, and for hosting Music in the Grapevines concerts from May through August.
The Fort Restaurant in Morrison is a full-size replica of a 1830s adobe fur-trade fort and has served award-winning historical dishes including buffalo, elk, quail, beef, salmon, poultry and vegetarian entrées since 1963. The distinct early-West cuisine offers groups the chance to experience meals in one of six private dining spaces, including The Tower Room, Bent's Quarters and The St. Vrain Council Room.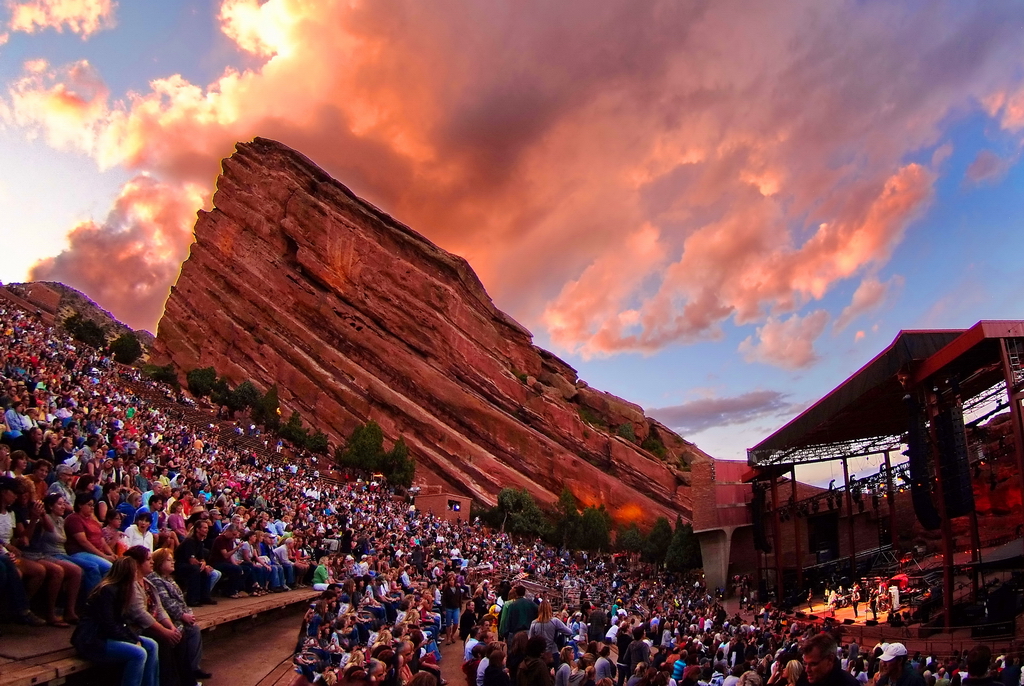 Red Rocks Amphitheatre, photo by Stevie Crecelius/courtesy of Denver Arts & Venues

Two of Colorado's iconic places, Red Rocks Park and Amphitheatre and Coors Field in the Denver area, are sure to impress, along with the mind-boggling Royal Gorge near Cañon City. For others, the speed and sound at a raceway or the peacefulness of a ranch may speak volumes.
Built around two massive boulders, Red Rocks Visitor Center houses several group meeting spaces and Ship Rock Grille, the official restaurant of Colorado's iconic Red Rocks Park and Amphitheatre in Morrison. Business and tour groups can spend a sunny afternoon relaxing on the outdoor patio surrounded by breathtaking vistas and even the occasional wildlife, a cozy evening dining indoors near a roaring fire, a few mega-memorable hours attending a concert in the amphitheatre and a soothing morning at Yoga on the Rocks on select summer days from 7–8am.
In the heart of Lower Downtown Denver (LoDo), Coors Field Rooftop is a 38,000-square-foot destination on the upper right-field deck that provides the ultimate event space for groups and lofty views of the Colorado Rocky Mountains and Front Range. The Rooftop VIP Cabana and Jack Daniel's Terrace Loft both accommodate groups of 40 to 50+ guests, whereas the 5280 Rooftop Terrace Picnic Area can host 200 to 300+. The Cabana and Picnic Area are available pre-game only, providing a two-hour window to socialize and get ready to cheer on the Colorado Rockies baseball team!
From company picnics to organized team-building, Royal Gorge Bridge & Park near Cañon City and an hour from Colorado Springs pairs stunning views from North America's highest suspension bridge with amazing activities like the Cloudscraper Zip Line, Royal Rush Skycoaster, Tommy Knocker Playland and a gondola. Get a little business done while enjoying views that rival desktop wallpaper by scheduling a corporate gathering at the 1,500-square-foot Bighorn Mountain Top Lodge, with a spacious great room and three bedrooms that convert into smaller breakout spaces.
Pikes Peak International Raceway facilitates fun 365 days a year as a motor sports and entertainment venue located in Fountain, just south of Colorado Springs. PPIR offers a variety of event facilities and racing surfaces and is able to accommodate events and groups of many types. Get more smiles per gallon with offerings like the Drive365 Group and Corporate event program, Performance Driving Xperience, Time Attack & Drift series, and more.
In Gunnison, I-Bar Ranch has Burgers & Brews and the Classic Colorado summer concert series that groups can tie into or book the Western heritage event center with seating for up to 515, open May through October. Situated on a 10-acre hay meadow near Tomichi Creek at the base of W Mountain, I-Bar Ranch has a converted hay barn with stage, lighting, sound and open sides that provide both fresh air and scenery and curtains that can be closed during inclement weather.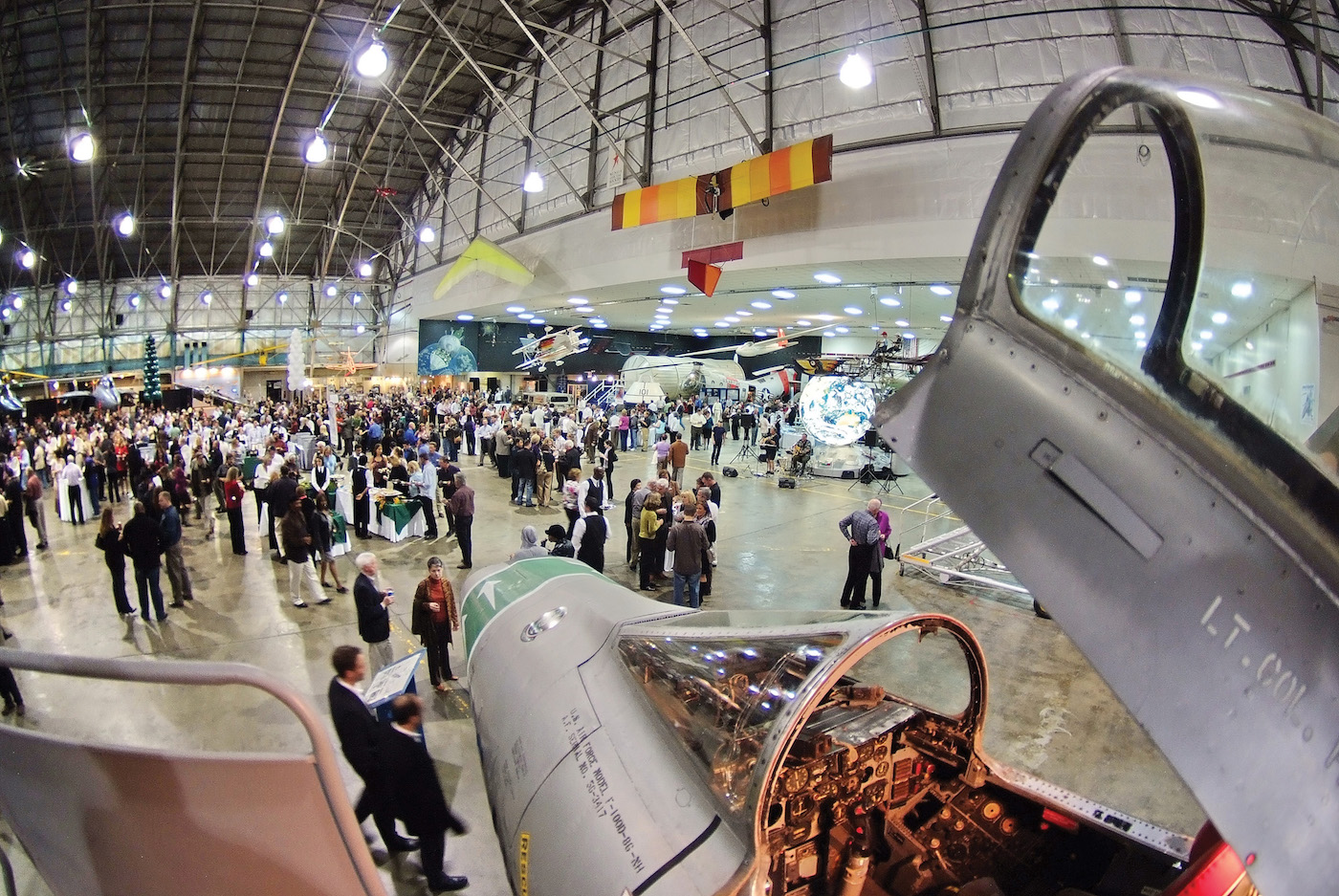 Wings Over the Rockies Air & Space Museum, courtesy of VISIT DENVER
Some of the state's best locations for groups to gather and explore casually intertwine history in the form of historic structures that have been carefully restored and treasured artifacts and aircraft that have played important roles in world history.
Another place for big scenery, but this time in downtown Grand Junction and looking at the surrounding landscape, is at the Avalon Theatre Rooftop Terrace. This new space at the historic theatre accommodates more than 300 people reception style and provides unobstructed views of all three of the Grand Valley's iconic mountain ranges: Colorado National Monument, Grand Mesa and the Book Cliffs. Avalon Theatre has three additional meeting spaces indoors and offers concerts, performances and movies.
The beautifully restored El Paso County Courthouse blends French and German Renaissance architecture and is now the Colorado Springs Pioneers Museum, with more than 60,000 objects, including nationally significant collections of quilts, Van Briggle art pottery, a regional art collection and hundreds of items representative of the Ute, Cheyenne and Arapaho cultures. Available for private use, the Colorado Springs museum can host up to 400 people.
Tucked away in the heart of the Lowry neighborhood, Wings Over the Rockies Air & Space Museum brings groups back in time at a Denver WWII-era hangar. On a beautiful Colorado evening, the hangar doors can be opened to let the cool breeze and fresh air into an event. The museum's collection of aircraft not only serves as a special backdrop for any gathering, guests can explore the cockpits of military planes like the A-7D Corsair II and FB-111A Aardvark and enjoy the observation tower and patio that overlooks a B-52 Stratofortress and the mezzanine.
Watch Videos >>