14 Romantic Colorado Places to Steal a Kiss
Love is around every corner in the Centennial State, with so many gorgeous views, outstanding adventures and intimate experiences to choose from. Use our ideas to inspire a little Valentine's Day romance (or any day!) on your next Colorado excursion. Here are some top romantic places in Colorado to sneak a smooch.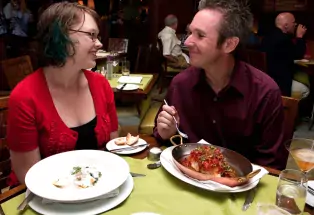 1. On the Royal Gorge Bridge
The Royal Gorge Bridge near Cañon City is America's highest suspension bridge, hanging 1,250 feet above the raging Arkansas River. Cling to one another as you walk (or drive) across the bridge to enjoy the stunning views and sneak a kiss right in the middle. Find other things to see and do at the Royal Gorge >>
2. Soaking in a Hot Spring
What could be more romantic than soaking in hot springs while a gentle snow falls around you? Choose a place that offers private tubs for optimum romance. The historic Wiesbaden Hot Springs near Ouray, the Dunton Hot Springs in Dolores and Indian Springs Resort in Idaho Springs make perfect secluded getaways. Find more Colorado hot springs >>
3. In Loveland (of course)
Located along the north Front Range near Fort Collins, Loveland (the town, not the ski hill) is known as Colorado's "Sweetheart City." Aside from its popular volunteer-powered Valentine Re-mailing Program, the city is known for its thriving local art scene and events.
4. On the "One Mile" Step in Front of the Colorado State Capitol
While sightseeing in Denver, be sure to note your elevation: One of the steps in front of the Colorado State Capitol building is marked with a plaque signifying that it is exactly 5,280 feet, or one mile, above sea level. A perfect opportunity to snag a memorable smooch in the Mile High City — "mile-high club" jokes totally optional. More things to do in Denver >>
5. On a Scenic and Historic Train
Colorado is known for its historic railroads, and trains are known for romance. Book a wine dinner trip on the Royal Gorge Route Railroad in one of their scenic Vista Dome cars. Or, make a day trip of the Cumbres & Toltec railroad in southern Colorado, which winds its way through landscapes unreachable by any other motorized transport.
6. At a B&B
No matter where you want to go in Colorado, you're sure to find a bed-and-breakfast nearby. Many bed-and-breakfasts offer romantic amenities like in-room hot tubs or fireplaces to complete your stay. Try the Cliff House at Pikes Peak, outside Colorado Springs, which was named one of Travel + Leisure's Top 100 Hotels in the World.
7. Over a Glass of Colorado Wine
Book a private wine tasting at one of Colorado's wineries for an educational and delicious event you'll both remember. Although the majority of Colorado's vineyards are located on the Western Slope in and around Grand Junction and Palisade, wineries can be found all over the state, including in Denver, Boulder and Cañon City.
8. By the Fire
One of the hottest (pardon the pun) trends in Colorado hotels is an outdoor fire pit to cozy up to when the weather is frosty. From big hotels, like the Ritz-Carlton, Bachelor Gulch in Beaver Creek to small bed-and-breakfasts, rooms with a roaring fire offer choice cuddling — don't forget the s'mores. Read Only-in-Colorado Places to Stay >>
9. In Formal Wear
For many ladies and gents, there's just something about formal attire that gets the heartstrings stirring. Book a night out in Denver with Opera Colorado, the Colorado Symphony or the Colorado Ballet for an excuse to dust off the dinner jackets and ball gowns.
10. In the Dark
Cave of the Winds, outside Colorado Springs, offers lantern tours that replicate the flickering flames early explorers used to light their way. Just make sure your sweetie isn't too afraid of the dark!
11. In a One-Horse Open Sleigh
Where there's snow, you'll find sleigh rides in Colorado. Search for operators near you and opt for all the extras, like warm beverages for the trip.
12. On Top of the World
Whether you ski or not, Colorado ski resorts can be some of the most romantic places in the world: Imagine a winter wonderland viewed from a peak that seems to touch the sky. Ride the lifts to the highest peaks, or just snuggle by the fire in the lodge.
13. On a Scenic Overlook
Take your better half sightseeing in a whole different way by following one of Colorado's scenic byway driving tours. Any of these routes will provide you with ample photo opportunities, and every time you pull over to admire the view, you can take a moment to admire each other, too.
14. Over a Fine Meal
Colorado has no shortage of amazing restaurants to inspire warm feelings. You might opt for the latest offering from a local celebrity chef, such as Alex Seidel, of Fruition and Mercantile in Denver, who was voted one of Food and Wine's best new chefs in 2010; or Jennifer Jasinski of Bistro Vendome, who impressed judges in season 5 of "Top Chef Masters" and also won the James Beard Award for Best Chef Southwest in 2013. Or, you might choose a destination restaurant like Ragnar's in Steamboat Springs, where getting there is half the fun — guests can arrive only via skis, snowboards or snowshoes.
More Colorado Romance