5 Things to Experience Before Winter's Over
We know you're looking forward to spring's warm, sunny days, but there's still a few weeks of winter left. Here are a few ideas to keep you busy until that Colorado snow is completely melted.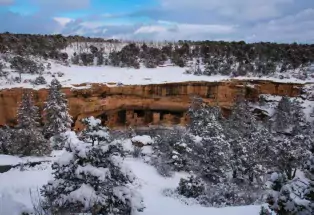 1. Afternoon Tea
You can have fancy tea service year-round, but there's something a little more special about that warm tea feeling when it's cold outside. Find dainty tartlets, warm scones, clotted cream and other tasty tea treats at these places around the state:
• Brown Palace Hotel in Denver
• The Boulderado in Boulder
• Glen Eyrie Castle in Colorado Springs
• Cherokee Ranch & Castle, Sedalia
• The Lodge at The Stanley in Estes Park
• The Lumber Baron Inn and Gardens in Denver (ask about the magical tea!)
• Boulder Dushanbe Teahouse
• Queen's Parlour Tea Room at Miramont Castle, Manitou Springs
Explore more unforgettable winter dining in Colorado >>
2. National Parks Service in Colorado
Colorado's four national parks fill up with thousands of visitors from May to October. Take advantage of the national treasures in our backyard before the rush of summer begins:
• Discover solitude atop one of North America's tallest dunes at Great Sand Dunes National Park.
• See why Black Canyon of the Gunnison is considered a dark-sky site with very little light pollution, perfect for winter-sky stargazing.
• Imagine what life was like for the Ancestral Puebloans who called Mesa Verde National Park home — and see how their ingenious cliff dwellings shielded them from winter storms.
• Take a ranger-led snowshoe ecology walk through Rocky Mountain National Park's subalpine forest (January through March).
Read more about our four national parks, nine national monuments, national grasslands and more >>
3. Special Museum Exhibitions
When March deals out a blustery day, head inside for limited-time museum exhibitions. Four prime options include rotating art shows at Aspen Art Museum, Loveland Museum, Museo de las Americas, the Denver Museum of Nature & Science and the Denver Art Museum.
Check out our winter art scene >>
4. Mountain Mud Season Specials
The end of March and beginning of April typically offer some of the most economical stays in the high-country resorts. Squeeze in a thrifty mini-vacation at a luxe, mountainside hotel you might not otherwise consider during the peak season. With all the cash you're saving, throw in a get-yourself-ready-for-summer (read: exfoliate!) skin treatment.
5. Ski & Snowboard in Short Sleeves
This time of year is also great for scoring amazing deals on gear. If we're graced with some late-season snow, you won't have to wait until next year to try it out. Plus, you can savor that blessed end-of-season snow by swishing down the slopes in short sleeves — and shorts, if you're that kind of hardy Coloradan. Many resorts celebrate this time of year and late-winter/spring-ish weather with concerts, kids activities and other merriment:
• Bud Light Spring Jam at Aspen/Snowmass (March)
• Skitown Breakdown at Crested Butte (March)
• Best Spring Break at Purgatory (March)
• Powderhorn Pond Skim (March)
• Amazing Giant Easter Egg Hunt at Loveland, Annual Easter Egg Hunt at Ski Cooper, Golden Bunny Classic at Winter Park
• Breck Spring Fever in Breckenridge (March–April)
• SpringFest in Beaver Creek (April)
• Spring Back to Vail (April)
• Sunsation at Copper Mountain (April)
• Annual Cardboard Classic at Steamboat (April)
• Spring Splash at Winter Park (April)
• Spring Concert Series at Arapahoe Basin (April–June)
Learn about all 28 Colorado ski resorts >>
Want more?