5 Things to Experience Before Winter's Over
We know you're looking forward to spring's warm, sunny days, but there's still a few weeks of winter left. Here are a few ideas to keep you busy until that Colorado snow is completely melted.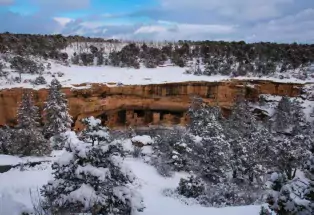 1. Afternoon Tea
You can have fancy tea service year-round, but there's something a little more special about that warm tea feeling when it's cold outside. Find dainty tartlets, warm scones, clotted cream and other tasty tea treats at these places around the state:
Explore more unforgettable winter dining in Colorado
2. National Parks Service in Colorado
Colorado's four national parks fill up with thousands of visitors from May to October. Take advantage of the national treasures in our backyard before the rush of summer begins:
Read more about our four national parks, nine national monuments, national grasslands and more
3. Special Museum Exhibitions
When March deals out a blustery day, head inside for limited-time museum exhibitions. Some prime options include rotating art shows at Aspen Art Museum, Loveland Museum, Museo de las Americas, the Denver Museum of Nature & Science and the Denver Art Museum.
Check out our winter art scene
4. Mountain Mud Season Specials
The end of March and beginning of April typically offer some of the most economical stays in the high-country resorts. Squeeze in a thrifty mini-vacation at a luxe, mountainside hotel you might not otherwise consider during the peak season. With all the cash you're saving, throw in a get-yourself-ready-for-summer (read: exfoliate!) skin treatment.
5. Ski & Snowboard in Short Sleeves
This time of year is also great for scoring amazing deals on gear. If we're graced with some late-season snow, you won't have to wait until next year to try it out. Plus, you can savor that blessed end-of-season snow by swishing down the slopes in short sleeves — and shorts, if you're that kind of hardy Coloradan. Many resorts celebrate this time of year and late-winter/spring-ish weather with concerts, kids activities and other merriment:
Learn about all 28 Colorado ski resorts
Want More?