Explore Family-Friendly Colorado This Fall
When autumn comes to Colorado, it brings more than cool breezes and bright leaves — you'll also find an array of fall happenings and activities, from picking your own apples and taking hayrides at festivals to stopping for fresh farm-stand peaches on the way to a family hike.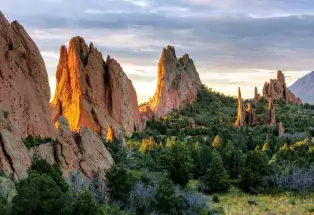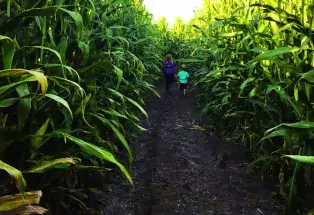 Let these itineraries, built for petty much anyone in your life, inspire your travels.
Fuel up for the day at Garden of the Gods Market and Café, where farmhouse decor and genuine hospitality will have you feeling the area's warmest welcome. The seasonally inspired Pumpkin Bread French Toast is a menu favorite that comes with Chantilly cream and toasted pepitas, all topped with real maple syrup. After breakfast, head south to Cheyenne Cañon and the Seven Bridges Trail for a moderate 3.7-mile hike featuring a waterfall and — you guessed it — bridges. Good news: Leashed pups are welcome on the trail. 
In September, make a beeline to Pueblo's Chile & Frijoles Festival to celebrate the city's harvest of its best-loved crop: the Pueblo green chile. Cooking demonstrations, musical performances, frijole-spitting and jalapeño-eating contests all provide fiery entertainment. Visit the farmers' market to find green-chile creations that you can take back home. 
Head west on Hwy. 50 to Penrose, a town that's become synonymous with apples and where you can fill your afternoon with all kinds of deliciousness. Stop at Third Street Apples (September–October) to pick plump peaches, pumpkins and apples (of course). If you're visiting on the weekend, pop into Apple Valley Cider Co., which brews up no-sugar-added delights in peach, cherry, honey-cinnamon and black-currant flavors. Each fall, the town celebrates Apple Day (October) with free slices of apple pie, a parade and a homemade apple-pie contest.
Next up is Florence, known as the Antique Capital of Colorado. The quaint downtown touts lots of dining options — Papa's Restaurant for one. Get the family's mouths watering with a garlic-knot teaser, then order a pizza or two to share. Settle down for the night at The Victorian Church Inn, where the windows are stained glass and, for once, it's acceptable to sleep in church. 
With its farmhouse theme, The Garden Gate Cafe in Longmont is a delightful place to start the morning. Join the town's residents for breakfast as you plan out the day, chowing down on scrambles, pancakes, crêpes and benedicts. Visit Ya Ya Farm & Orchard for good times packed with draft horses, peacocks, tractor-drawn hayrides (Saturdays and Sundays, September–October) and harvesting fruit fresh from their 1,000 trees. At the Rocky Mountain Pumpkin Ranch, weekends are when the fun happens. Carnival rides, petting zoos, pony rides, arts and crafts, a hay maze and a cornstalk tunnel are just a few of the things you can do before picking out your soon-to-be jack-o'-lanterns.  
At the Timnath Fall Festival & 5K (September) families can take on the Scarecrow Fun Run, groove to live music, whoop it up on wagon rides, decorate pumpkins and sample authentic German cuisine. Adam's Apple Orchard & Country Store in Ault, 20 miles east of Fort Collins, offers autumn apple picking and a year-round country store that boasts jams, jellies, salsas and ciders made straight from the orchard. The Bartels Farm in Fort Collins is family run and grows a variety of vegetables, herbs, fruits and flowers throughout the year. In the fall, visit Bartels' pumpkin patch for memory-making times that include a mini straw maze for the little ones and hayrides for the entire crew. 
With your car full of apples, pumpkins and happy youngins, stop for dinner at Wellington Grill (where kids' menu entrees come with ice cream) before turning in for the night. The Elizabeth Hotel in Old Town Fort Collins offers music-themed amenities like in-room record players and a chic rooftop jazz lounge with mountain views.
Along the Grand Mesa scenic byway, the 20-plus original and reconstructed 19th-century structures of Cedaredge provide a peek into the town's past. Snag breakfast at the unassuming Lost Mesa Grill for a taste of the area's local prized harvest — apples! Creekside's scrumptious cinnamon-apple pancakes are a fan favorite and will get you rarin' for a day of fruit picking at a nearby orchard. Each autumn, Cedaredge hosts its annual AppleFest (October) where festivalgoers can tour a classic car show, unwind in the beer garden, jam to live music and kick up dust in a 5K family fun run. Just south in Austin, you can pick peaches (and buy cherries) at family-owned and -operated Antelope Hill Orchards before you hit the road toward Hotchkiss. 
In Hotchkiss, stop in Farm Runners Station for fresh, western Colorado produce, like fuzzy peaches, plump cherries and leafy greens. Bring some of your bounty along to snack on while hiking the Needle Rock Natural Area. Or, stock up on picnic fixins and head to Paonia River Park to enjoy lunch with a soothing river soundtrack. 
From there, take Hwy. 133 to Big B's Delicious Orchards, where you can taste their organic, local juices and hard ciders. In the fall, all kinds of vegetables and fruits are available for picking, including apples (surprise!), carrots, chilies, squash and more. At Orchard Valley Farms & Market, taste wines and scoop up scrumptious souvenirs in the form of jams, sauces, salsas, chutney and salad dressings. Close the day with the locally sourced experience at nido, where you'll find homemade tacos and tamales brimming with flavors like jerk chicken with mango and apple pickles. Rest at the ranch-style Redwood Arms Motel off Hwy. 133, known for its clean, cozy rooms and welcoming hospitality.
Northeast of Denver, the surrounding plains of Wiggins are laden with orchards and farms that put out delectable crops like sugar beets, corn and cucumbers in the fall. Make your first stop the Prairie Ranch House for a hearty breakfast. This quintessential mom-and-pop establishment serves up house-made pies (grab one to go!) and warm, homey vibes. Next, make your way to Pope Farms Corn MAiZE & Pumpkin Patch for myriad fall family activities held every weekend in October. Navigate a 10-acre corn maze, play cornhole and sit around a campfire singing silly songs while making vacation memories.  
Pop into the town of Brush during the Brush Oktoberfest and Car/Motorcycle Show (September), where classic cars, live music and German fare are the standard and a dog show (complete with costumes and tricks) is the icing on the strudel. Stop at Latte Da' coffee shop in Akron for an afternoon pick-me-up. We guarantee you'll be hard-pressed not to try one of their homemade goodies. 
About 30 miles west on Hwy. 34, Weathers Family Farms has the freshest corn and popcorn around. Or, opt for Pumpkins and More A-maiz-ing Farm in Holyoke where, in September and October, seasonal festivities ramp up with chili cook-offs, cornhole tournaments and Denver Broncos watch parties. 
In Atwood, Baseggio Pumpkin Patch and Corn Maze is a local hot spot ripe with games, a family corn maze and, of course, pumpkins for days. Back in Brush, enjoy dinner at the Drovers Culinary Cafe where home-cooked dishes are served in a friendly neighborhood atmosphere. When it's time to call it a day, Boarders Inn & Suites is the place to go for sweet dreams (and free breakfast the next day). 
Want More?
10 places to see Colorado's fall color