Sweet Colorado Road Trip Stops
It's no secret that the ingredients to a successful family road trip include a hefty stash of snacks, an inventory of crowd-pleasing playlists — and a well-thought-out list of potential road stops.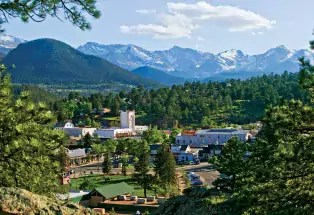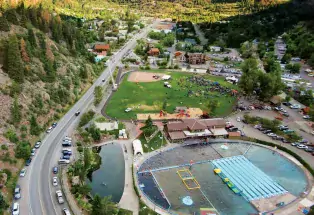 While we can't promise everyone in your group will dig your jams, the following family-friendly itinerary add-ons can help minimize the occurrence of travel-induced temper tantrums (from both kids and adults). Hit the gas, baby!
Hot Springs
Hot springs satisfy the desires of all ages, whether you're a slider, diver or soaker. 
Ouray Hot Springs Pool & Fitness Center
Ouray
Three waterslides and an inflatable obstacle course keep younger audiences splashing, while the 95-degree soaking section and poolside massages soothe sore road-trip muscles.
Waunita Hot Springs Ranch
Gunnison
While the hot springs pool at the ranch is divine, Waunita's guests enjoy additional bonuses, including well-sourced meals and unique experiences like square dancing, hayrides and softball.
Salida Hot Springs Aquatic Center
Salida
This publicly operated indoor facility has a lap pool, aqua fitness classes and plenty of room for floating. Craving a solo soak? Reserve a private pool. 
The Springs Resort
Pagosa Springs
Posh resort accommodations and more than 20 soaking pools, including the world's deepest geothermal spring, make The Springs a destination in itself. Look for playfully named pools like 104-degree Lobster Pot and 101-degree Clouds in my Coffee. 
Learn about all of Colorado's hot springs >> 
Colorado Ghost Towns
Lend your ears to echoes of spontaneous gunfights, hopeful prospectors and rowdy saloons at Colorado's intriguing abandoned boroughs. Snap as many photos as you'd like (pack those cowboy hats for posin'!), but be cautious and respectful — many of the buildings are privately owned or protected by a local or state historical society.
St. Elmo & Tin Cup
About 20 miles from Buena Vista
Timeworn wooden storefronts preside over a dusty main street in Colorado's best-preserved ghost town. Rent ATVs for the trek to nearby Tin Cup, where tales of the frontier's hearty souls are best uncovered at the once-gritty town's cemetery. 
South Park City
Fairplay
While it isn't a true ghost town, this petite village's more than 30 authentic buildings transplanted from deserted mining camps make up a faithful representation of a 19th-century mining boomtown. Glimpse inside a dentist's office, barbershop and pioneer home — all packed with authentic artifacts — to acquire a new appreciation for modern conveniences.
Ashcroft
10 miles from Aspen
Ashcroft bustled in the early 1880s — with 20 saloons, two newspapers and a school — but went bust before 1900. Take a self-guided tour of numerous buildings maintained by the Aspen Historical Society, including a saloon, post office and store.
Animas Forks
12 miles from Silverton
Rent a 4x4 or ATV in Silverton to make the bumpy-but-scenic journey to nine standing structures in Animas Forks, est. 1877. The two-story abode with an impressive bay window is touted to be the home of Thomas Walsh, a gold miner who was so wealthy he gave the famous Hope Diamond to his daughter as a wedding present. 
More about ghost towns in Colorado >> 
Main Streets
Tempting sweet shops, nifty boutiques and memorable eats — there's something for every member of your posse on these main drags. 
Frisco
Grandiose 13,000- and 14,000-foot peaks rise above Frisco's Main Street, a prime place to browse works by local artists and grab a snack. The ice cream at Foote's Rest Sweet Shoppe has the power to silence the fussiest little ones, while Butterhorn Bakery & Café's bloody marys hit the spot for cranky adults.
Estes Park
Estes' Elkhorn and Moraine avenues are an easy pit stop before entering Rocky Mountain National Park. Discover more than 200 shops and eateries, including an incredible lineup of confectioners selling everything from giant cookies and fudge to caramel corn and taffy. 
Telluride
Cradled by the craggy San Juan Mountains, Telluride's main thoroughfare and surrounding avenues embody the town's unmistakable brand of Colorado cool. Plan your visit during one of the hamlet's many fun-for-all summer festivals like the Telluride Balloon Fest in June or the 4th of July bash.
Fort Collins
Old Town Fort Collins' stately turn-of-the-century buildings inspired the architecture of Disneyland's Main Street, U.S.A. Ride the historic 1919 trolley from City Park to Old Town, then claim a spot on a sunny restaurant patio on nearby Mountain and College avenues.
Wildlife Sanctuaries & Refuges
Behold our beloved bounty of untamed creatures. 
Colorado Wolf & Wildlife Center
Divide
Learn about wolf hunting, howling and hierarchy — and participate in a group wolf howl on a tour at this sanctuary for wolves and foxes. 
Rocky Mountain Arsenal National Wildlife Refuge
Commerce City
Take the Wildlife Drive Auto Tour for a mini safari through the habitats of mule deer, bison (our national mammal), hawks and shore birds, just a wee sampling of the more than 300 animal species that roam freely on the 17,000-acre refuge. 
Mission Wolf
Near Westcliffe
Visit for educational tours of the donation-funded rescue, where you can learn about wolves while soaking up the scenery or even spend a day volunteering.
Monte Vista & Alamosa National Wildlife Refuges
Monte Vista and Alamosa
The chirps, tweets and honks of dozens of species of feathered darlings can be heard at these two San Luis Valley refuges, where a mix of habitats provides a haven for songbirds, waterfowl, raptures, beavers, mule deer, coyotes and other critters.
Find more places to spot Colorado wildlife >> 
Want More?
A 7-Day Colorado Family Road Trip
Quirky Roadside Attractions in Colorado
Colorado Family Attractions for Kids 10 & Under