29 Colorado Hot Springs: A Quick Guide
Colorado's mountains have plenty of activities to get your heart racing, but they're also perfect for kicking back. Dip into our many hot springs, where you can soothe sore muscles after a long day of hiking or skiing. Many also offer water slides and kid-friendly amenities.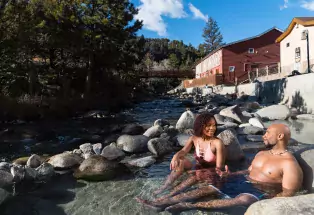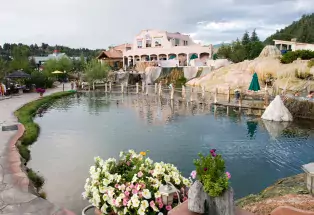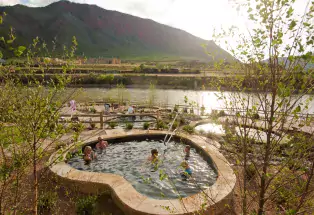 1. Strawberry Park Hot Springs
At Strawberry Park Hot Springs in Steamboat Springs you can stay in a tent or rent a rustic cabin, and make sure to book the signature watsu treatment: a bodywork massage that takes place in geothermal waters. Get back to nature by going au naturel — the hot springs become clothing optional after dark. Watch a video of the daylight hours at Strawberry Park.
2. The Springs Resort
This luxury resort in Pagosa Springs boasts more than 20 soaking pools (including the world's deepest geothermal spring), a full-service spa and salon and a separate luxury suites hotel, which is LEED-certified for its environmentally conscious design. Unwind in one of the five adults-only pools, which have sweeping views of the San Juan Mountains at The Springs Resort.
3. Waunita Hot Springs Ranch
Surrounded by Gunnison National Forest, Waunita Hot Springs Ranch in Gunnison is an ideal getaway for horseback riding, fishing and swimming in the hot-springs-fed pool. This family-friendly ranch also includes kid-appropriate activities like hayrides, horseshoes, fishing and more.
4. Glenwood Hot Springs Resort
The Glenwood Hot Springs Resort is perfect for the entire family, boasting the world's largest hot-springs pool with relaxation areas, a splash/aquatic park, swimming lanes and a diving board. A poolside restaurant and athletic club complete this experience in Glenwood Springs.
5. Avalanche Ranch Cabins & Hot Springs
Stay in a private log cabin overlooking the Rocky Mountains and enjoy 24-hour access to three secluded hot-springs pools at the Avalanche Ranch Cabins & Hot Springs. This pastoral 36-acre ranch in Redstone also features hiking trails, a stocked fishing pond and private riverfront access.
6. Old Town Hot Springs
The Old Town Hot Springs complex in Steamboat touts eight geothermal pools, water slides, a fitness center, tennis courts, massage services and childcare. Book a private cabana on the upper deck to make a full day of it.
7. The Historic Wiesbaden Hot Springs Spa & Lodgings
Book one of the historic accommodations in the European-style Historic Wiesbaden Hot Springs Spa & Lodgings in Ouray and take a breather with an Aveda spa treatment and a dip in the therapeutic hot springs. Unwind in the natural vapor cave, which includes a 108-degree soaking pool.
8. Ouray Hot Springs Pool & Fitness Center
Surrounded by towering mountains and lush forests, the series of natural hot-springs pools at the Ouray Hot Springs Pool & Fitness Center are an inspiring place to bring your whole family. The shallow pool is ideal for young swimmers and features a water volleyball area, while the activity pool boasts an inflatable obstacle course. For more relaxation, seek out the hot pool or the infinity-edge overlook pool.
9. Indian Springs Resort
Variety rules with geo-thermal caves, private baths, outdoor hot tubs and a mineral water pool, not to mention lodging options that range from campsites to resort rooms at the Indian Springs Resort. Visit the spa in Idaho Springs, where you can get the Maize Salt Glo Treatment, a massage and exfoliation with corn maize, magnesium and castor oil.
10. Mount Princeton Hot Springs Resort
The luxurious Mount Princeton Hot Springs Resort mountain resort boasts numerous geothermal springs. Nathrop's proximity to Monarch Mountain and Ski Cooper ski areas makes a perfect aprés-ski muscle relaxant. Thirty small pools are located right in Chalk Creek, which runs alongside the property and adds a super-natural feel to your soak.
11. Hot Sulphur Springs Resort & Spa
Hot Sulphur Springs Resort & Spa's waters, which run in the town of the same name, have been flowing from seven natural springs for hundreds of years and were used for healing by the Ute people. Hop from pool to pool to try out different temperatures and views.
12. Orvis Hot Springs
Seven pools in Ridgway's Orvis Hot Springs paradise range from 98 degrees to the very steamy — and appropriately named — Lobster Pot, which can get up to 114 degrees. The unique gravel-bottom "pond" is known for Mount Sneffels vistas and massaging waterfalls.
13. Dunton Hot Springs
Dunton Hot Springs, an all-inclusive resort set in a restored ghost town near Telluride, features private log cabins, mineral-rich hot springs and long-table dinners held in an 1800s saloon. Enjoy the soaking pool inside the restored 19th-century bathhouse or venture to Colorado's only geyser, which is located nearby.
14. Overlook Hot Springs Spa
Overlook Hot Springs Spa's roof-top tubs, five indoor pools and one completely private tub give you options for any weather or occasion. Tucked inside a Victorian-era storefront in Pagosa Springs, these springs are a great aprés-ski option just half an hour from Wolf Creek Ski Area.
15. Healing Waters Resort & Spa
With lodging options spanning an RV park to rooms and suites with full kitchens as well as a spa, Healing Waters Resort and Spa makes sure you don't need to leave the grounds for a relaxing getaway in Pagosa Springs. Consider an Aquastretch treatment in one of the warm-water pools to soothe weary muscles.
16. Box Canyon Lodge & Hot Springs
Situated in a peaceful courtyard beneath a scenic mountainside in Ouray with 360-degree views, the Box Canyon Lodge and Hot Springs' tubs are available only to overnight guests. Frequent guests recommend taking in a San Juan Mountains sunrise on the lodge's bench swings.
17. Durango Hot Springs Resort & Spa
Relax in Durango Hot Springs Resort and Spa's sauna, swim laps in the massive naturally heated mineral pool, picnic and sunbathe poolside and soothe the body and soul with massage treatments. There are a couple of lodging options for those who just can't tear themselves away from the geothermal waters.
18. Valley View Hot Springs
This nonprofit, clothing-optional, off-the-grid spot is a unique way to experience the land of the Mystic San Luis Valley in Villa Grove. Several all-natural soaking ponds are found along wilderness trails, while a hot tub and sauna are heated geothermically and hydroelectrically. Reservations are strongly recommended at Valley View Hot Springs.
19. Joyful Journey Hot Springs Spa
The Joyful Journey Hot Springs Spa in the San Luis Valley (Moffat) pulls its 140-degree artesian mineral waters from beneath the Sangre de Cristo Mountains. Pools are gravity-fed and cooled to a comfortable and relaxing 98 to 110 degrees. Unique lodging options can be found in the yurt and a tiny tipi village.
20. Aqua Hot Spring & Cabin
The Aqua Hot Spring and Cabin in Buena Vista has it all. With a private hot-spring tub next to burbling Chalk Creek, this cozy three-bedroom vacation rental is as peaceful as it gets — when the sun goes down and the stars come out, there's a remote, majestic feeling you can't shake.
21. Antero Hot Springs Cabins
Right inside San Isabel National Forest along Chalk Creek in Nathrop, Antero Hot Springs Cabins's three chalets each come with their own hot-springs-fed pools and spectacular mountain views. Schedule a visit with the massage therapist and sign up for a hot herbal wrap or private yoga instruction.
22. Salida Hot Springs Aquatic Center
Salida's Salida Hot Springs Aquatic Center is a publicly operated indoor pool with room for laps, fitness classes, arthritis pool therapy, a water slide and other activities. There are also private soaking pools, which can be reserved in advance.
23. Cottonwood Hot Springs Inn & Spa
Stay on site in a Cottonwood Hot Springs Inn and Spa creek-side cabin or the lodge right in the Collegiate Peaks mountains or just come to Buena Vista for the day. Several pools range in temperature from 94 to 110 degrees and spa services are available, as are the sounds of the creek rushing by.
24. Iron Mountain Hot Springs
Iron Mountain Hot Springs is located on the site of the historic Iron Springs Spa on the banks of the Colorado River in Glenwood Springs. The resort offers a freshwater family pool with an elevated whirlpool spa and 16 smaller mineral hot-springs soaking pools that complement the scenic hillside landscape next to the river. Plus, the hot springs offers a wheelchair-accessible ramp for users' own wheels, or an aquatic-specific wheelchair.
25. Twin Peaks Lodge & Hot Springs
With a mountain-view outdoor pool and two soaking tubs — one indoors, adults-only and one outdoors — you can choose the perfect atmosphere for your float at Twin Peaks Lodge and Hot Springs in Ouray. With amenities like spectacular breakfast, a tiki bar and easy access to Jeep rentals, this is the perfect Ouray retreat.
26. Juniper Hot Springs
Juniper Hot Springs, 20 miles west of Craig in Lay, has been warming the area's residents for centuries. Its waters contain 24 beneficial minerals — only two others in the world can boast of this richness. The pools range from 80–103 degrees, and camping and day-use shade tents add to the relaxing, low-key vibe.
27. Splashland
With a name like Splashland, how much more fun could it get? This geothermal outdoor swimming pool in Alamosa is popular with families in the San Luis Valley near Great Sand Dunes National Park and Preserve, with slides, a diving board, floats, a snack bar and grassy area for picnics.
28. Desert Reef Hot Spring
Just a half hour's drive from the Royal Gorge in Cañon City, the Desert Reef Hot Spring spot is a little gem in Florence that feels as if it's in the middle of nowhere — which tells you something about the unfettered views.
29. Great Sand Dunes Swimming Pool
Open year-round, the Great Sand Dunes Swimming Pool outdoor facility in Hooper features a family pool and therapy pool just 20 miles from Alamosa. There's also an indoor adults-only greenhouse with a variety of pools, plans and adult beverages.
Want More?
Find 16 of the best things to do in Colorado
Unwind on Colorado's best beaches (you read that right)