11 Must-Visit Colorado Food Towns
As more people declare themselves "foodies" and Bravo's 15th season of "Top Chef" highlighted why chowhounds call Colorado heaven, it only makes sense that dining has become an even larger part of the travel experience. If planning a trip around where you want to chow down sounds like a good time, here are some stops for your Colorado food-forward itinerary.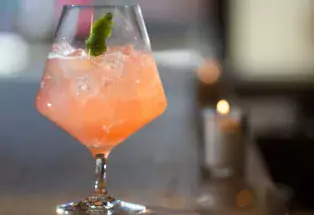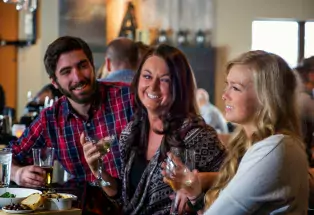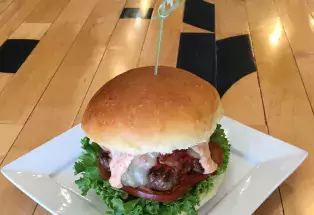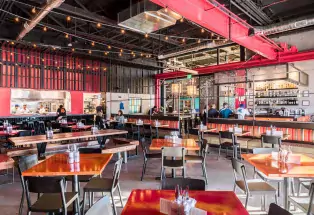 Denver: Food Hall Feasts 
One of the latest trends in the Denver dining scene is the rise of a more sophisticated version of a food court, offering variety, convenience and a convivial atmosphere. 
BREAKFAST: Don't snooze on the most important meal of the day at Stanley Marketplace (technically in the neighboring suburb of Aurora) — Denver Biscuit Company serves its namesake creations stacked with goodies like buttermilk fried chicken and sausage gravy, while Rosenberg's Bagels & Delicatessen recreates New York-style bagels by using a system that adjusts the water's mineral content to mimic that of the Big Apple.
LUNCH: Billed as a "collective eatery," Avanti Food & Beverage rotates dining concepts in and out periodically. Try the pabellon arepas from Quiero Arepas or a piled-high beef patty from Knockabout Burgers.
SIPS & SNACKS: Inside The Denver Central Market, belly up to the Curio Bar for a cocktail or select a glass of wine to pair with an artisan board from Culture Meat & Cheese.
DINNER: The Source was the first food hall to emerge in Denver. Its lineup includes adventurous Israeli flavors at Safta, plus Reunion Bread's delicious loaves and pastries.
The state's second-largest city has a culinary scene that runs the gamut between nostalgic greasy spoons and high-end sophistication.
BREAKFAST: Have a meal fit for a king at the Costilla Street location of King's Chef Diner, housed in a purple castle. Be sure to try some­thing smothered in the famous green chile.
LUNCH: Known for smashing onions into its burger patties, the Green Line Grill is an old-school eatery that recalls lunch counters of yesteryear.
SIPS & SNACKS: It's fitting that a haunt called The Rabbit Hole would occupy a sleek, subterranean space, where signature cocktails are an ideal match for the creative nibbles.
DINNER: From Pepper Tree Restaurant's dining room, the breathtaking views of city lights twinkling below set the tone for steaks and specialties prepared tableside. 
The heart and soul of this community in western Colorado is its inviting downtown corridor, where the eateries are plentiful.
BREAKFAST: Specialty pancakes and cinnamon rolls baked fresh daily are just a few of the delicious items that await at Dream Cafe.
LUNCH: Tacoparty's offerings include tacos in rotating, seasonal flavors like mushroom confit and beer-battered wahoo and gourmet soft serve.
SWEET STOP: A fourth-generation family business, Enstrom Candies' downtown retail shop is just the place to pick up some rich, buttery, almond-toffee goodness.
DINNER: The modern American fare at 626 on Rood is the perfect complement to the extensive wine list — and you might find some picks from the surrounding Grand Junction-area wine region. 
Petite nosheries and intimate dining rooms will leave you feeling cozier than the hot springs that give this scenic town its name. 
BREAKFAST: Homey diner The Rose may be small, but the portions certainly aren't — get your fill of biscuits and gravy, huevos rancheros and other A.M. specialties.
LUNCH: At lunchtime, The Peak Deli offers hand-crafted sandwiches and burritos with house-made spreads. Try their freshly baked oatmeal-chocolate-chip cookies while you're there.
SWEET STOP: Take a break at Pagosa Baking Company for all things flour-filled. There's always an artisan bread of the day, not to mention tasty cookies, cakes, scones and other delights.
DINNER: Tucked into a restored 1912 cottage, Alley House Grille oozes warmth. Ask for a table by the fireplace and enjoy crispy pork belly or Colorado lamb chops.
When Bon Appétit dubs you the "Foodiest Town in America," you know you're in for a culinary treat. Find something divine from a multitude of cultures in Boulder.
BREAKFAST: Lucile's brings a slice of New Orleans to a yellow Victorian house. Don't miss the Eggs Sardou, a combo of creamed spinach, shrimp, poached eggs and hollandaise.
LUNCH: Seek out Cafe Aion for innovative, farm-to-fork Spanish tapas and other Mediterranean-influenced dishes.
SIPS & SNACKS: Though Japango is open daily for lunch and dinner, this sushi restaurant's happy hour draw the crowds. 
DINNER: Thanks to its impressive wine program, expertly prepared northern Italian fare and attentive service, Frasca Food & Wine has earned numerous accolades.
Montrose: Fuel For Adventure
Well positioned in southwest Colorado for a bounty of outdoor pursuits, meals in Montrose will power you through any adrenaline-pumping activity.
BREAKFAST: Whether it's an egg, bacon and cheese sandwich or a bagel with schmear, grab breakfast on the run at Backstreet Bagel & Deli.
LUNCH: If you want to load up on carbs, Colorado Boy Pizzeria & Brewery is the place for it, known for artisan pies (try the barbecue chick­en with Shishito peppers) and award-winning craft beer.
SIPS & SNACKS: Enjoy your nibbles with a side of mystery at Phelanies speakeasy. Grab the password off their site to gain access to charcuterie, duck wontons and a divine cocktail menu.
DINNER: Southwest flavors are the main focus at Camp Robber, a contemporary-casual restaurant that aims to please palates with mainstays like green chile chicken and pota­to soup and blackboard specials.
Pueblo: Spice Up Your Life
If there's one thing to know about southeastern Colorado, it's that the Pueblo chile reigns supreme — but it's not the only way kitchens in town bring the heat.
BREAKFAST: Beef enchiladas before noon? You won't object to B Street Cafe's version topped with two eggs and smothered in flavorful green chile.
LUNCH: Robust Pueblo chiles are mixed right into the beef at Bingo Burger. Luckily, hand-spun shakes and malts are available to cool tingling tongues.
SIPS & SNACKS: Plan a late-afternoon nosh around Bistoro's roasted Pueblo-green-chile bruschetta, which is served on olive-oil-brushed crostinis.
DINNER: The modern interpretations of classic Indian dishes at Mr. Tandoori Urban Bar & Grill put a different spin on sweat-inducing eats.
Staples are just that for a reason — they're dependable and comforting, and you'll find plenty of spots for them in this central Colorado town.
BREAKFAST: Buena Vista Roastery's high-altitude coffee-roasting process lends itself to the perfect cup of joe, which you can savor at its cafe location along with breakfast burritos, quiche and pastries.
LUNCH: A menu of healthy, from-scratch sandwiches, soups, burgers, bowls and burritos is the draw at House Rock Kitchen — the bocce-ball court and giant Jenga are a bonus!
SWEET STOP: Located in a Shell station, Stedman's Sodas, Sweets & Treats is the place to go for vintage candy, homemade fudge, an ice-cream counter and more than 200 kinds of glass-bottled sodas.
DINNER: Wood-fired pizzas and entrees like barbecue ribs go hand-in-hand with Crank Yanker IPA and other brewed-on-site beers at Eddyline Restaurant at South Main.
Vail: Treat Yourself 
Home to some truly world-class destinations, ritzy Vail is the right mountain town to splurge on a fantastic meal — or four.
BREAKFAST: Westside Cafe isn't a spendy option, but you will likely go for broke on your calorie count indulging in chicken-fried steak or bananas Foster pancakes.
LUNCH: Nab a spot on The Blü Cow's cozy patio and chow down on Swiss-style hot dogs while enjoying a refreshing cocktail. 
SIPS & SNACKS: Root & Flower's extensive wine list, including more than 50 by-the-glass pours, pairs nicely with charcuterie and cheese selections in this sleek Vail Village wine bar.
DINNER: While slightly more casual than sister restaurant Sweet Basil, Mountain Standard is still an upmarket establishment with rustic yet refined food prepared over an open flame. 
With the Yampa River flowing through town, there are plenty of opportunities for captivating — and in some cases, waterside — dining. 
BREAKFAST: Come hungry to Winona's so you'll be ready to take on the legendary, big-as-your-face cinnamon rolls.
LUNCH: Watch Yampa Rivertubers float by from the patio at Sunpie's Bistro, while devouring po'boys, gumbo and other Cajun favorites.
SIPS & SNACKS: Wash down Jamaican jerk-spiced chicken wings with a cold pint that's brewed right on-site at Mahogany Ridge Brewery & Grill.
DINNER: High elevations call for elevated meals, and Aurum won't disappoint with its New American cuisine right on the riverfront.
Sterling: High Plains Hospitality
As a community with deep roots in the Colorado prairie, there's a sense of welcoming in Sterling that extends to its eateries. 
BREAKFAST: J&L Cafe is a friendly diner that turns out breakfast hits such as steak and eggs, piping-hot griddlecakes and chicken and waffles.
LUNCH: As the first brewery on Colorado's eastern plains, Parts and Labor Brewing Company found a home in a former car dealership to build its ales, along with iron-pressed paninis and loaded nachos.
SWEET STOP: After you've ordered an ice-cream sundae or a steaming cappuccino, settle into Simkins Parlour's oversized chairs and challenge someone to an old-fashioned board game.
DINNER: Hootenannies offers a little bit of everything, from tasty sand­wiches, pastas and grilled entrees to a robust craft beer list. 
Surprising Small-Town Eats
Sometimes it's the unexpected meals that turn out best. Here are dining highlights in places you might not have thought to look.
Want More?
Top Chef Comes to Colorado
9 Must-Eat Foods in Colorado
Colorado Culinary Camping Guide
Fresh Look at 6 Colorado Farmers' Markets  
Check out our Colo-Road Trip itinerary inspired by "Top Chef" season 15 in Colorado >>
Photo Credits: Mediterranean-influenced fare, Café Aion in Boulder; cocktail, Root & Flower in Grand Junction; Comida at The Source in Denver; cocktail hour, Aurum in Steamboat Springs; steak tartar, Aurum in Steamboat Springs; burger, Bingo Burger in Pueblo; burger and fries, American Grind at Avanti F&B in Denver.