24 Hours in Denver
Denver's airport-to-downtown rail line makes it easy to explore the city without a car: fly into DEN, hop the train to Union Station, then explore downtown by foot, the free 16th Street Mall Shuttle, pedicabs and even scooters.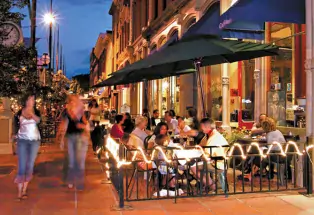 Before you get started, check out the Denver CityPASS or Mile High Culture Pass, which get you into attractions for a great price.
Morning
First, check out the beautifully restored Union Station, a destination in and of itself. This vibrant gathering place bursts with history, shops and places to grab a bite.
Next, the city's 800-plus miles of paved and off-road trails are a testament to how easy Denver makes it to get around on two wheels. Rent a scooter via the Lyft and Lime apps for easy cruising (just be sure to wear a helmet).
Grab a cup of coffee in Larimer Square, in the heart of Denver's LoDo (short for "Lower Downtown"). Walk north a block and turn right onto the 16th Street Mall. Here you can take the free MallRide up and down the 1-mile shopping and dining area.
Next, make your way to the History Colorado Center. The Denver A to Z exhibit will show you the essence of what makes this city great, and an interactive 44-by-60-foot topographic state map allows you to pick a spot and travel back in time to learn about Colorado's history and where to plan your next adventure. Before you go, check out their online Early African-American History in Colorado exhibit and then seek out related artifacts when you're there.
Afternoon
Next, make your way to the Denver Art Museum. The Daniel Libeskind-designed Hamilton Building has become an icon in the art world thanks to its sharp edges and gleaming metallic surfaces. Inside, you'll encounter an unparalleled selection of Old West art, contemporary masterworks and an array of rotating exhibits.
Nearby at the Colorado State Capitol, take a moment to pose for your obligatory Mile High City photo op: Stand at exactly one mile high on the Capitol's steps (there are "Mile High Markers"). Then, take a free tour of this 24-karat-gold-domed building's magnificent interior.
If you're visiting on a summer Wednesday or Thursday, stroll to Civic Center Park for Civic Center Eats, where the city's best food trucks, live music and fresh air make for the perfect urban eats.
You will need a bit of cash for your next stop: Denver's Cherry Creek neighborhood. With nearly 500 stores, spas and galleries, Cherry Creek is the largest shopping district between San Francisco and St. Louis, including Cherry Creek North's wide array of only-in-Denver specialty shops and Cherry Creek Shopping Center's upscale stores, like Neiman Marcus, Coach and Tiffany & Co.
Evening
Denver is a serious sports town. From September to January, join the faithful at Mile High Stadium as they cheer the Denver Broncos on to their next Super Bowl Championship. From October to June, the NBA's Denver Nuggets and the NHL's Colorado Avalanche share Ball Arena, so there's a game nearly every evening. In the spring and summer, cheer on Major League Baseball's Colorado Rockies at Coors Field or Major League Soccer's Colorado Rapids at Dick's Sporting Goods Park, just a short drive from downtown.
Perhaps the only thing that brings out more passion in Denver than the sports teams is local beer — and there are plenty of brewpubs to prove it. From LoDo's multilevel Wynkoop Brewing Company to the tap room at the Great Divide Brewing Company, you'll finish off your whirlwind day in Denver with handcrafted beers, great food and friendly vibes. You can also sample local brews at Vine Street Pub & Brewery, River North Brewery, Renegade Brewing Company, Prost Brewing, Epic Brewing, Strange Craft, Copper Kettle, Berkeley Alley Beer Co. or Denver Beer Co. Crooked Stave is located at The Source, a repurposed warehouse filled with local-centric food vendors, artisan meat and cheese shops, a bakery and other vendors that are making the marketplace a hub to those in the know.
Denver also has an exploding distillery scene; stop in for a taste at Stranahan's Colorado Whiskey, Leopold Bros., Downslope, The Family Jones or Mile High Spirits, or taste test at Williams & Graham, Retrograde, B&CG and Millers & Rossi speakeasies. For a sip of a different kind, the new Colorado Sake Co. tasting room has 12 flavors on tap (we like Green Machine).
And the evening is the perfect time to explore Denver's distinct neighborhoods. One favorite is LoHi, home to some of the city's most innovative restaurants and bars, and incredible views of downtown. More Denver neighborhoods >>
Denver Day Trips
Want more? 
Check out our Colo-Road Trip itinerary: Fitness & Fun in Denver & Cities of the Rockies >>
Photo: Downtown Denver, courtesy of VISIT DENVER, The Convention & Visitors Bureau/Stan Obert.