4 Colorado Footwear Brands Made to Explore the State in Winter
These Colorado footwear brands are crafting high-quality soles meant for exploring. So, take your new kicks for a spin on a winter adventure.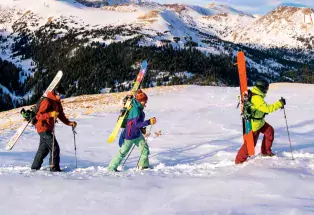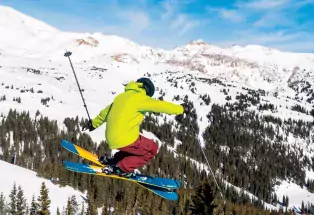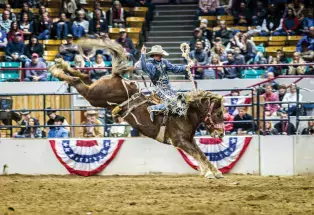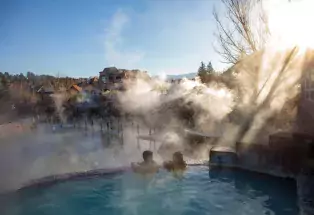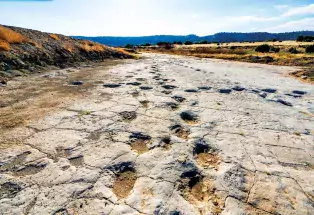 Apex Ski Boots, Golden
Nothing screams frosty fun like skiing all day in a pair of Apex. This ski-bootery's warm-and-walkable design allows you to maintain control on the slopes, then comfortably wear them off the hill (like to your car or even an après happy hour!). Pair them with a heat-moldable liner, and you've got what feels like cozy log cabins on your feet.
Where to try 'em:
Close to the Source: Eldora Ski Resort in Nederland is known for its rugged terrain just as much as its rolling greens and blues. The area offers double-black-diamond glades and a Woodward experimental action-sports area, where you can learn how to be the next Olympic freestyle skier.
Go Farther Afield: Snowcat skiing and lessons that'll help even those with two left feet make Loveland Ski Area near Dillon perfect for the whole fam bam. That's why you'll see "Ski Loveland" bumper stickers peeling off cars up and down I-70. Plus, the area has incredible, jagged-mountain scenery that'll make you feel like you're touching the sky.
Crocs, Broomfield
Classic Crocs took the globe by storm in the early 2000s, and the company continues to produce the hippest hypoallergenic clogs. These feet whips are ideal for Colorado hot springs because they come with slip-resistance technology. Don't forget to bedazzle your pair with colorful Jibbitz™ Charms — think mountain peaks and binoculars.
Where to try 'em:
Close to the Source: Located just off I-70 in Idaho Springs, Indian Hot Springs' barrel-roof structure is home to tropical banana trees and a 95-degree aquamarine pool. The 112-degree temps in the underground geothermal caves beckon you to soak your weary muscles. Or slather yourself in mineral-rich mud for skin as smooth as butter.
Go Farther Afield: Put those Crocs in sport mode (by placing the strap across your heel) and motor down to The Springs Resort in Pagosa Springs. The world's deepest geothermal hot spring fuels 25 mineral-rich pools, each with its own personality. Sit under the waterfall at "Top O' the Mornin'" or turn red in the "Lobster Pot," the hottest lagoon on site.
Lucky Bastard Custom Boots, Denver
Feel like Rooster Cogburn as he pushes his way through Chen's in "True Grit" (filmed in Ridgway) when you don custom-crafted cowboy boots from this third-generation cobbler. Each shoe goes under a 40- to 60-step process to ensure you receive precisely what you want — from the type of leather to the hand-stitched decorative flairs.
Where to try 'em:
Close to the Source: For 16 days each January, the best-of-the-best in rodeo, livestock and horses descend on Denver for the National Western Stock Show. Grab a seat to watch mutton bustin' before snacking on saucy ribs. Afterward, head to Rockmount Ranch Wear for Western apparel like their classic snap-button shirts worn by rockstars like Eric Clapton.
Go Farther Afield: Once snow coats Silverton's Blair Street, usually a weekend in mid-February, skijoring begins. What's this? To paraphrase Silverton Skijoring, this Western sport features brave skiers being pulled by horses at high speeds over snow and ice. The skiers fly off jumps and catch rings while attempting to get the fastest time. So, yeah, this is a can't-miss event if there ever was one.
SOM Footwear, Montrose
To help alleviate his back pain, the SOM Footwear founder took off his running shoes and set out on a dirt road barefoot. In doing so, his vision for SOM was born, resulting in sneakers so light your feet will feel like the wind. Pop by the factory and outlet store to purchase a pair.
Where to try 'em:
Close to the Source: Ridgway State Park's Enchanted Mesa Trail is a moderate 2.6 miles. Do it at sunset for panoramas that look coated in powdered sugar. As you make your way around the partially frozen reservoir, your jaw will drop at the dusty orange vistas of craggy fourteener peaks (mountains more than 14,000 feet tall).
Go Farther Afield: Outside La Junta on Colorado's storied southeastern plains, take an educational hike through Comanche National Grassland's Picketwire Canyonlands for North America's largest dino tracksite. This more-than-11-mile, round-trip trek will take you past nearly 2,000 prehistoric footprints — some from apatosaurus and allosaurus — spanning 130 different track paths.
Want more?
Kick back in Colorado's best hot springs
Photo credits: Apex Ski Boots, Apex Ski Boots/Casey Day, Flickr/DT, Colorado Tourism Office, Adobe Stock/Nick