Colorado Winter Getaways
Coloradans leave hibernation to the bears in the wintertime, for our state has cold-season activities to satisfy the likes of every traveler. Whether you're headed to Colorado to shred some serious powder, bond with gal pals or frolic with the family, we have no doubt that you'll find plenty of opportunities for Colorado winter fun.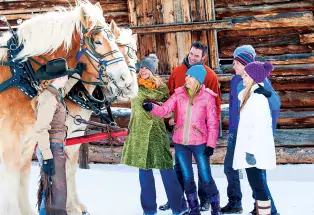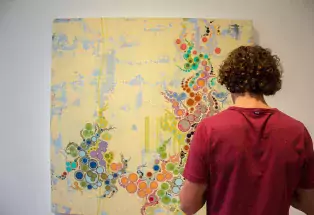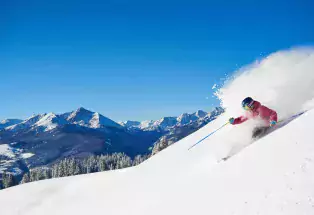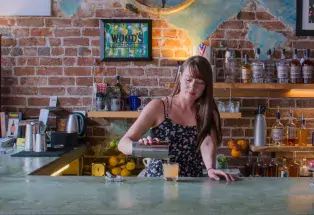 Skip to: Seasoned Ski Bunnies, Snow Newbies, Those With Little Ones in Tow, Food-Focused Travelers, Hand-Holders, Wellness Seekers, Besties Looking to Bond
Seasoned Ski Bunnies
Veteran downhill skiers can cash in on Colorado's wealth of advanced terrain at 28 ski resorts across the state. Here are just a few ideas for powder hounds to consider.
Those craving the ultimate bumpy ride can hike to 12,392 feet in altitude to the summit of the famed Highland Bowl at Aspen Highlands or trek to Vail where the resort's back bowls span more than 7 miles.
Venture to ski resorts in the southwest to explore territory outside of your comfort zone. Silverton Mountain isn't afraid to limit its steep terrain to advanced and expert-only riders, while Telluride's Plunge and Spiral Stairs trails facilitate thrilling vertical drops.
Those who get a thrill from practicing their Spiderman tendencies on frozen walls can "have an ice day" at Ouray Ice Park, which is home to more than 200 ice and mixed climbs. If you're into congregating with other ice-climbing extremists, be sure to check out the Ouray Ice Festival in January.
Other Colorado towns that are popular with ice climbers include Vail, Grand Junction, Glenwood Springs, Redstone, Boulder, Telluride, Lake City and Silverton.
Snow Newbies
Whether you're 9 or 99, many of Colorado's ski resorts have highly rated schools and beginner areas suitable for skiers of all ages. Besides, Colorado ski resorts supply plenty of alternative activities for those who need a break from the slopes.
Beginners can plow down Buttermilk's wide and gently rolling trails, learn to cruise downhill with confidence from pros at Breckenridge Ski & Ride School or rub elbows on lifts with more advanced peers at Ski Granby Ranch, a family-friendly ski area where all trails begin at one point and end at the base. And Amtrak's Winter Park Express train, which runs between Denver's Union Station and Winter Park Resort's base area is a great way to get the whole crew on the slopes after a relaxing ride. Learn about other family-friendly programs at Colorado ski resorts.
If you start referring to your skis or snowboard as arch nemeses (or other fun words) after a couple tumbles in the powder, don't be afraid to take a break to explore other activities available at the resorts and the towns that surround them.
Keystone, Breckenridge, Beaver Creek, Winter Park and Crested Butte are great places to show off your amateur triple axel, while Frisco Adventure Park and Copper Mountain's tubing hills have lifts to sustain your stamina for winter fun. Find other activities off the slopes in Colorado ski towns.
While you're in town, why not take the opportunity to celebrate all things cold at one of Colorado's winter festivals? The festivities and twinkling lights of the Grand Junction Winter Festival, 12 Days of Aspen and Steamboat Springs' Winter Carnival are just a few events that will banish the harshest Grinch-like attitude. Discover more winter events and celebrations in Colorado >> 
Those With Little Ones in Tow
The wits of tenacious tots and lasses are no match for the kid programs offered by Colorado ski resorts. Here are a few things to do with the kids in Colorado in cold-weather months.
Steamboat Ski Resort has five kids' lifts and a special area for new skiers to roam freely called Rough Rider Basin. For parents who need some time off, Aspen/Snowmass Treehouse Kids' Adventure Center offers childcare services for children ages 4 and under in Colorado-themed, interactive play rooms.
For wildlife lovers, there are plenty of opportunities to spot furry residents in their natural winter habitats. Head to Dowd Junction Elk Viewing Area (near the city of Minturn on Hwy. 24) to catch hundreds of elk hanging out at their winter range or to State Forest State Park (along County Road 41 in Walden) for a chance to spy on the 600 moose who live there year-round. Also, more than 100 bald eagles can be found roosting on the branches of cottonwoods in the wintertime along the South Platte River Trail (on Hwy. 34 between Fort Morgan and Kersey).
Colorado has dining options that will silence picky eaters and leave a long-lasting impression. Keystone's Dinner Sleigh Ride is a once-in-a-lifetime experience, not to mention a photo op for next year's holiday card. Take a ride on a sleigh pulled by 2,000-pound draft horses to a rustic cabin, where you'll tap toes to cowboy tunes and gobble up favorites like smoked ribs, barbecue chicken and apple pie a la mode … Yee-ha!
Food-Focused Travelers
Denver's critically acclaimed restaurants and the recognition of Boulder as a prime destination for "foodies" by magazines like Bon Appétit and Forbes prove that Colorado has developed a reputation for good grub. However, there are opportunities to sample tasty creations made by talented Colorado artisans all over the state.
During Delicious Denver Food Tours outings, you can sample the delights of Denver eateries, learn about the city and chow down on tastings expertly paired with cocktails and wines.
Denver, Boulder and their surrounding cities offer endless options for culinary adventures, but don't be afraid to travel off the beaten path. For example, in Salida, you'll find only-in-Colorado beverage companies such as Wood's High Mountain Distillery, Elevation Beer Company and Mountain Spirit Winery & Gallery, as well as restaurants highlighting menu items made with local ingredients.
Schedule a behind-the-scenes look at our tastiest exports at establishments such as Hammond's Candies and Stranahan's Colorado Whiskey in Denver, and Haystack Mountain Goat Dairy Creamery in Longmont (five-course technical cheese tasting included). Read more about Colorado's beer, wine, spirits and signature dishes >>
Hand-Holders
Breathtaking views and many intimate activity options make Colorado the perfect destination for couples seeking a lovey-dovey hideaway.
Melt away the hassles of everyday life at Mount Princeton Hot Springs Resort in Nathrop, which has a relaxation pool reserved just for adult guests. For a more rustic romantic getaway, Joyful Journey Hot Springs Spa in Moffat offers stays in yurts and hot spring pools with views of the Sangre de Cristo Mountains. Read more about hot springs in Colorado >>
Duos can initiate warm conversation while sipping sophisticated cocktails at intimate bars, where the only interruptions come from friendly mixologists. The Dogwood Cocktail Cabin in Crested Butte is known for its adults-only atmosphere and inventive drinks designed to excite the palate such as the Romeo y Julieta (rum, hibiscus, mint and fizz).
Laundry Restaurant in Steamboat Springs dishes out classic and contemporary pick-me-ups, while The Bitter Bar in Boulder cuts its thick ice cubes from long slabs of ice, so they won't dilute your drinks as you gaze into each others' eyes.
Woo your sweetie with an out-of-the-ordinary meal at atop the peaks at one of the ski resorts. Alpino Vino in Telluride has a five-course, Italian-themed dinner at 12,000 feet that's only accessible via enclosed snow coach, while Element 47 in Aspen is a hot spot that blends Colorado fare with indulgent ingredients like Wagyu beef (from pampered Japanese cows) and foie gras to serve up dishes resembling works of art. Find other mountaintop dining spots in Colorado >>
wellness seekers
Looking for sparks of inspiration? If you happen to be in town on the first Friday of the month, many galleries in Denver's Santa Fe art district participate in the First Friday Art Walk, which offers free entry to galleries, the opportunity to rub elbows with local artists and access to tasty food and beverages. Locales such as Old Colorado City, Pueblo and Fort Collins also host First Friday Art Walks during winter months in their creative districts. Locate other Colorado art walks >>
If retail therapy is what you need, score a deal at Colorado's outlet malls in Golden, Castle Rock, Silverthorne and Loveland. Boutique lovers will find comfort in the shops located on the main streets of Breckenridge, Telluride, Aspen, Durango, Vail and Steamboat as well as in Denver's Cherry Creek neighborhood, on Boulder's Pearl Street and in downtown Grand Junction.
Only-in-Colorado spa treatments can help you melt those worries right away. The Deep Forest Detox Treatment at The Peaks Resort & Golden Door Spa in Telluride includes exfoliation with a volcanic pumice blend, while The Vail Marriott Mountain Resort & Spa's hydrating facial nourishes dry skin after a long day on the slopes. Discover more ways to enjoy winter indoors >>
bESTIES LOOKING TO BOND
There's no doubt that bonding is more fun when it involves beer, giant hot dogs and supportively screaming in unison at athletes. Score tickets to see pro teams such as the Denver Broncos, Colorado Avalanche and Denver Nuggets, or surround yourself with excited Colorado Buffalo football fans at the University of Colorado's stadium in Boulder where the stunning view of the Flatirons rivals the scoreboard. Read more about pro sports in Colorado >>
Colorado's Western roots will surely lure out your inner wranglers, so embrace the arrival of your cowboy-hat-wearing self. Head to celebrations of Colorado's Wild West heritage like Denver's National Western Stock Show or Steamboat Springs' Winter Carnival. Rodeos, obstacle-course races, night ski-jumping events and sight of adults on shovels being pulled down main streets will make for the vacation memories you'll talk about forever.
Many of the state's authentic watering holes are still serving up stiff drinks, as well as tales of Colorado's past. Head to Lucha Cantina in Georgetown for a mix of Mexican and American comfort food (bonus points if you can handle their ghost-pepper salsa); a favorite of mountain-town locals, be sure to ask about the historical building's haunts. Other old saloons worth checking out include the Diamond Belle Saloon in Durango, a former ragtime piano bar where visitors can find costumed bartenders and servers, and Gold Coin Saloon and Millie's Restaurant in Central City, an establishment named after its old madam with the ambiance of an old-timey brothel. Find other rough-and-tumble saloons in Colorado >>
Want more?
Get the full list of Colorado winter activities >>
Check Out the Sleep Somewhere Cool Blog >>
Explore adaptive winter adventures in Colorado >>
Photo credit: Bob Winsett