Aspen Viewing: Drives to See Fall Leaves in Colorado
The beautiful aspen is the quintessential Colorado tree. We've named towns, streets, dogs and our beer after this glorious tree. In the summer, the aspens provide shade for our state flower, the columbine; and when fall foliage comes on the scene, Coloradans rejoice as the aspens' gently tinkling leaves turn a vibrant shade of gold.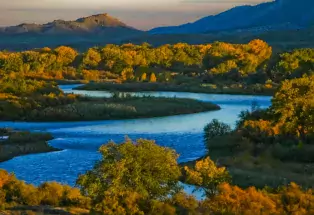 The month of September is the ideal time to witness a gilded aspen spectacle on a scenic drive in Colorado, but you have to time it right: The color lasts only about a week in most places. It's difficult to predict when exactly the leaves will turn in any given location. The best strategy is select travel dates in advance, but not destinations. Then go wherever the color is. Here are a few road-tripping routes, sorted by region, that have become fall-color pilgrimages for aspen lovers:
Northwest Colorado Fall-Color Drives
Maroon Bells: Quite possibly the most photographed mountains in North America, the Maroon Bells are situated southwest of the aptly named town of Aspen. These peaks are an ideal spot to capture the glory of fall color on film. At scenic Maroon Lake, the golden trees frame a reflection of the purple-and-white-striped peaks, making for the pic of a lifetime. Reservations are required to visit the Maroon Bells Scenic Area in fall. And to help protect this beautiful place, separate (and nominal) camping permits and fees are required for certain parts of Maroon Bells-Snowmass Wilderness.
Grand Junction to Grand Mesa: This route boasts spectacular stands of aspen along with other varieties of turning trees. From Grand Junction, head east on I-70 through Palisade and along the Colorado River, where riverside cottonwoods slowly phase into yellow. At Colorado 65, head east and then south through more canyon country and up to the top of Grand Mesa, where glowing aspens stretch for as far as the eye can see.
Other favorite routes:
Southwest Colorado Fall-Color Drives
Dallas Divide and Lizard Head Pass: Begin your journey in the town of Ridgway. Head west on Colorado 62 over Dallas Divide. Lining the route are unimpeded views of the Sneffels Range, an apron of aspen trees at its feet. At Placerville, head southeast toward Telluride on Colorado 145. All the way to Lizard Head Pass you'll drive through dense groves of white-barked aspens with panoramas of Wilson Peak.
Kebler Pass: Head west out of Crested Butte over this improved dirt road (County Road 12) and you'll be inundated with autumn glory. The ruddy colors of the Ruby Range make for a radiant contrast with the golden aspens below. At Colorado 133, you can head north toward McClure Pass for more, or return via the way you came for a repeat performance.
Other favorite routes:
South Central Colorado Fall-Foliage Drives
Cottonwood Pass: As you head down Cottonwood Pass Road west of Buena Vista, the massive Collegiate Peaks rise on all sides. As you pass beneath the mounts Princeton and Yale, you'll enter one of Colorado's most aspen-laden valleys. And you'll see firsthand the fickleness of fall color — one slope all gold, another patch still a shade of summer green.
Colorado 17 from Antonito to the New Mexico border: As you head up the serene Conejos River Valley, stands of pinyon give way to the white trunks of aspen. Some of the oldest and tallest aspens in the state can be seen, photographed and enjoyed near La Manga Pass. For an even more unique experience, ride the Cumbres & Toltec Scenic Railroad for views not seen on any highway.
Other favorite routes:
Front Range Fall-Color Drives
Peak to Peak scenic and historic byway: From Black Hawk to Estes Park, this highway meanders through valleys and skims the top of ridges. Take Colorado 119 from Black Hawk north to Nederland then follow Colorado 72 to Raymond. From here, proceed on Colorado 7 past the 14,255-foot Longs Peak to Estes Park. Quaking aspens pop up in surprising places along the entire route.
Guanella Pass scenic and historic byway: Take this rambling route south out of the historic town of Georgetown and you'll find pockets of blazing aspen. Once you reach the town of Grant, you turn right on US 285 and take the highway for 15 minutes to the top of Kenosha Pass, where the aspen thrive on the rim of the gentle slopes that encircle South Park.
Other favorite routes:
Colorado 14 through Poudre Canyon west of Fort Collins to the top of Cameron Pass
Fall River Road from I-70 (Exit 238) to St. Mary's Glacier
Boulder County Road 130 from Nederland to the Fourth of July Trailhead (dirt road)
Southeast Colorado Fall-Foliage Drives
Frontier Pathways scenic and historic byway: Head west out of Pueblo on Colorado 96 to begin this aspen-laden drive. The route climbs into the Wet Mountains and descends into the Wet Mountain Valley, passing aspens blazing in autumn color along the way. Return the way you came until you reach McKenzie Junction. From here, head south on Colorado 165 to see two other Colorado fall favorites, cottonwood and scrub oak, as they turn brilliant colors beneath rugged rock formations.
Highway of Legends scenic and historic byway: This route wraps around two of Colorado's burliest mountains, West and East Spanish Peak. Along the way, the highway passes beneath ancient volcanic walls that rise over tracts of pine, scrub oak and aspen. Nearly the entire route from La Veta to Trinidad on Colorado 12 begs to be photographed.
Want more?
Find more places to see Colorado's fall color >>
Spice up the season with these cool fall festivals and events >>