9 Wild Ways to Love Winter in Colorado
The weather gods have blessed Colorado with enough fluffy snow and ice to make Queen Elsa swoon — and we wouldn't have it any other way. It's easy to love the coldest season of the year when there are so many classic things to do, but there are also many alternative approaches to making the most of our frosty wonderland.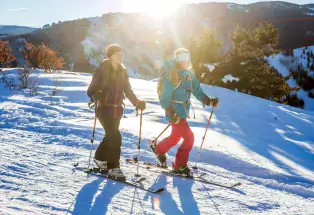 1. Heli-Skiing
Opt for a heli-skiing adventure and fly beyond old-school lift-accessed terrain for the outing of a lifetime. Encounter the purest untracked powder on the high-alpine basins, cirques and summits of southwest Colorado with the state's two heli-skiing providers: Telluride Helitrax and Silverton Heliskiing.  
Tucked in the heart of the San Juan Mountains, Telluride Helitrax has access to more than 200 square miles of territory and hundreds of landing-zone options. Each day of your trip includes six runs totaling about 10,000 to 14,000 magnificent vertical feet. Silverton Heliskiing (at Silverton Mountain) is the only outfitter in the U.S. to offer both single drops (perfect for bucket-list devotees) and all-day tours. Adored by snowy daredevils for Colorado's steepest heli-skiing, the ski area truly lives up to its "all-thrills, no-frills" reputation. The season typically runs December through March or April, depending on conditions.
2. Ski-Mountaineering School
Ski mountaineering combines uphill and downhill skiing with mountaineering and orienteering — sports that require navigational skills (not your map app, the old-fashioned paper-map-and-compass kind). Think you have what it takes? Sign up for the gO SkiMo Academy sponsored by Griggs Orthopedics in January, a three-day program in Crested Butte that will give you all the skills necessary to navigate the wilderness like true skimo, including uphill and skate skiing, nutrition and gear tips and tricks. Many participants are hopefuls for the life-list-worthy Grand Traverse in March, a 40-mile skimo race from Crested Butte to Aspen that starts at midnight, but beginners are also welcome. Learn about uphill skiing in Colorado
3. Snowcat Skiing
Cat skiing, which involves riding in a heated snowcat to unspoiled natural terrain, is one of the best ways for skiers and boarders to seize the finest freshies. A luxury snowcat will lead you to untracked glades, runs and open bowls on excursions with Aspen Mountain Powder Tours, and Eleven Experience near Crested Butte gives diehard downhillers the chance to sink their skis into the area's lauded dry powder and feast on a smorgasbord of open alpine bowls, steep narrow chutes and tight tree skiing. 
Just a few of the many other companies that host cat-skiing trips include: Keystone's Guided Cat Ski Tour, Jones Pass Guides in Winter Park, Vail Powder Guides and Steamboat Powdercats.
4. Colorado Hut Trips
Hut trips exemplify the true essence of Colorado high-country winter, and more than 160 huts and yurts (permanent circular tents) are available throughout the state for multi-day cross-country skiing or snowshoeing adventures. The structures are typically equipped with multiple beds and many essentials, including wood stoves, firewood, kitchenware and, most importantly, outhouses or bathrooms. 
The Grand Huts Association plans to establish nine huts in Grand County, and recently opened its Broome Hut, offering incredible snowy panoramas from the summit of 11,350-foot Berthoud Pass. Situated along the Continental Divide near Lake City at over 12,000 feet, the Hinsdale Haute Route is the highest hut system in Colorado. The route's Wilson Yurt is near a trailhead and a groomed multi-use trail off Hwy 149 — making it ideal for beginner hut hoppers. 
Located between Aspen, Leadville and Vail, the popular 10th Mountain Division Hut System, named for the U.S. Army division of men who trained for combat in the area during WWII, includes 30 huts linked by more than 350 miles of trails. Tip: Book early; huts are incredibly popular and space fills up fast.
5. Snow Boating
Rather than paddling rapids or serene waters, snow kayaking involves launching yourself into snowy banks and bumps (think: super-high-octane sledding). Take advantage of the rare opportunity to try the sport at Kayaks on Snow at Monarch Mountain near Salida in April, when participants strapped in kayaks zoom through a specially designed course featuring berms, banks and bumps, and finish with a splash into an icy pond. Even if you don't have the grit to pilot a kayak on your own (no judgment here), the signature event is fun to watch from the sidelines and a delightful preview for the area's robust summer whitewater season. More Colorado events
6. Ice Fishing
Today's ice-fishing trips are a far cry from the excursions of yesteryear — you can banish the thought of shivering in a plastic chair in front of a hole on a desolate pond. Many companies host adventures that provide you with all the essentials for unforgettable winter angling — huts, heaters, kneepads, snowmobiles, rods and reels, drills and more.
Try your luck at catching yellow perch, kokanee salmon and lake trout on Blue Mesa Reservoir near Montrose and Gunnison with Ice Fish Colorado, which also takes fishers to lakes near Denver and Colorado Springs. Or hook up a local bait shop and head to one of the many other standout ice-fishing destinations, from Twin Lakes Reservoir near Leadville and Chambers Lake near Fort Collins to Trinidad Lake State Park in southeast Colorado. 
7. Ice Climbing
Ice climbers also thrive in our deep freeze. Every year, more than 10,000 climbers flock to Ouray Ice Park in the high-altitude town of Ouray, the state's cold-climbing capital, to ascend the more than 200 routes. With 75 routes, Lake City Ice Park is another place to scale frozen blue tendrils. And near Golden, you can hook up with Front Range Climbing Company to send the wintry walls of Clear Creek Canyon. 
Want to learn the ropes? Apex Mountain School offers ice-climbing courses in Vail, Leadville and Lake City that will have you boldly scaling the stuck-on-pause waterfall of your dreams in no time. More about ice climbing
8. Winter Horseback Riding
Colorado's pimped-out winter backdrops are even more impressive from the back of a friendly steed. Get in touch with your inner cowgirl or cowboy (we know he or she is in there) at a variety of ranches throughout the state. Saddleback Ranch in Steamboat Springs offers trail rides through snow-dusted forests and over peaceful hills to lovely views of lumpy-topped Sleeping Giant and 10,570-foot Mount Werner. 
Sombrero Stables' horseback rides near Estes Park lead to sights of the Rocky Mountains heightened by swirling snowflakes. We also love 4 Eagle Ranch in Wolcott (about 20 miles from Vail), where horseback treks include a trot through snow-packed hay and alfalfa fields, along Muddy Creek and up to a scenic mesa's summit to see the Sawatch Range dressed in white. More about horseback riding
9. Giant Snowmobile Tours
Like the snowmobile's tamer, crowd-pleasing uncle, the Snowfari vehicles at Purgatory Resort's Snowmobile Adventures are basically giant snow chariots that seat nearly a dozen passengers. Embark on a tour of the Durango area's prettiest cold-weather scenes and sip a steamy cup of cocoa with your posse in hut at 12,000 feet.
Or if you prefer to be in the driver's seat, the outfitter also boasts two- to four-hour guided forays in the San Juan Mountains with more than 75 miles of trails and 35,000 acres of terrain to choose from, including open meadows, old mine sites, stagecoach trails and high mountain passes. Helmets are provided, but you'll have to bring your own courage. More snowmobiling ideas
Want more?
Explore Colorado State Parks that are perfect for winter
Find winter activities beyond the ski slopes
Check out the snowy adventures you can have on these Colorado trails
Learn how to steer clear of winter backcountry danger