Colorado's Cool Places to Stay, Splurge & Save Style
From decked-out glampsites and fab treehouses to charismatic tiny homes, Colorado brings the heat when it comes to cool places to stay — whether you're after a sweet deal or lavish indulgence. Here are some splurge-or-save hotspots, with ideas for things to do (and taste!) nearby.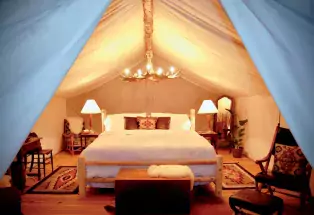 Live the lavish life near the grand Royal Gorge in a tucked-away cabin boasting homey gathering spaces and lofty windows. Or, glamp it up in an opulent tent featuring queen beds, sleek hardwood floors and rugged antler chandeliers.
MUST-DOS: Feel the adrenaline surge with an Echo Canyon River Expeditions' Arkansas River raft trip. Take a rollicking train ride with Royal Gorge Route Railroad where you'll chug past sheer cliff faces and under the famous Royal Gorge Bridge. Pair award-winning chardonnay with Wet Mountain vistas at The Winery at Holy Cross Abbey.
MUST-CHEWS: Treat yourself to deliciously battered cheese curds at World's End Brewing Company. Enlighten your taste buds with ginger-infused chicken tandoori at Nirvana Culinary Paradise. Tuck into creamy fettucine alfredo at DiRito's Italian Cuisine. 
Glamp in understated elegance, surrounded by 1,000 acres of pristine nature, on 4 Eagle Ranch. Tent stays include gourmet meals from Three Peaks Lodge, 1,000-thread-count sheets, wood-burning stoves and artisanal s'mores by the fire. 
MUST-DOS: Revel in Colorado's outdoors with 4 Eagle Ranch's guided horseback rides and fly-fishing excursions. Hike the lesser-known and wildflower-strewn Stag Gulch Trail near Edwards. Stroll Vail and Beaver Creek's beguiling ski villages for a bevy of high-end shopping options.
MUST-CHEWS: Tear into Mountain Standard's sea-salt buttermilk biscuits, pepper jelly and country ham. Or, pile crusty baguettes with baked brie, strawberry compote and tart green apples at Vintage. (Both in Vail Village.)
This one-of-a-kind winery hotel is a gem set on Colorado's golden plains. You'll love the soaring, sun-soaked windows, impeccably cared-for grounds and stately rooms, not to mention an on-site chef and house-made vino. 
MUST-DOS: Book a hotel package that includes a wine tasting and decadent chef's-menu dinner. Motor over to Burlington Old Town Museum for turn-of-the-century artifacts. Play nine holes on Stratton Golf Club's manicured greens.
MUST-CHEWS: In Stratton, indulge with burgers and peanut-butter malts at Handi's. Or, head to Burlington for Guajillo Barbacoa Colorado Lamb with chimichurri-infused potatoes from The Dish Room and Mexican-inspired specials (like green-chili Huevos Burgers) at The Farm Grill & Restaurant.
Located above LoDo's bustling Union Station, this landmark railway hotel delivers it all: extravagant Victorian furnishings with modern luxuries, plus complimentary transportation via a swanky Tesla. Train enthusiasts can book a room crafted to feel like a 19th-century Pullman sleeper car.
MUST-DOS: Explore Union Station's historical artifacts display (including ticket stubs and found wallet photos), then peruse the depot's boutiques and bars. Mosey over to Rockmount Ranch Wear for their signature snap-button Western shirt — it's so famous there's one in the Smithsonian. Soak up mountain air and stunning views of the snow-capped Rockies at Golden Gate Canyon State Park (just 45 minutes from Denver). 
MUST-CHEWS: Don't miss Mercantile Dining & Provision's Fruition Farms Ricotta Cheesecake — it's so good, licking your plate clean is considered perfectly acceptable. Dive into handmade pasta coupled with wild mushrooms and artichoke-goat-cheese mousse at Rioja. Relish scratch-made Southern fare like honey-dusted fried chicken and crispy Brussels sprouts courtesy of Tupelo Honey.
The world's largest tiny-house resort offers big charm on a small scale. Book whimsically named accommodations like The Gnome Home (for its circular door, porthole-style windows and rugged shingles) or The Rocky Mountain High (which sports Colorado flags and our state flower, the blue columbine). 
MUST-DOS: Hike or bike through Hall Ranch and Heil Valley Ranch's scenic open spaces. Shop for handmade bamboo fly-fishing rods at South Creek Ltd. and cast your line on the burbling North Saint Vrain Creek. Savor Colorado Honey Whiskey from Spirit Hound Distillers.
MUST-CHEWS: Get blissed on hops and tangy barbecue wings at Oskar Blues Grill & Brew. Spoil your appetite with fizzy root-beer floats from Lyons Dairy Bar. Delight in Mojo Taqueria's crispy beer-battered shrimp tacos.
With a climbing wall and toasty outdoor firepit, this boutique hotel is pure Colorado. Reserve The Great Indoors Room for a cool take on camping: In the themed accommodations you'll sleep on in-ground beds, marrying the illusion of roughing it with the reality of plush mattresses.
MUST-DOS: Shop Boulder's pedestrian-friendly Pearl Street Mall. Gaze at the jagged beauty of the jutting Flatirons rock formations from Chautauqua Park. Stock up on snacks, like crisp bread boules and local cheeses, from Boulder Farmers Market.
MUST-CHEWS: Devour SALT's deliciously sinful Dark Chocolate Caramel Salt Tart (served with mango curd and espresso ice cream). Sip traditional afternoon tea at the mesmerizingly ornate Dushanbe Teahouse. Slurp spicy pork-belly noodles at Dragonfly Noodle.
This enchanting adobe guesthouse delivers views of placid Lake Meredith from your very own hammock. Pack binoculars to spot pelicans and, if you're lucky, bald eagles. BYO kayak, paddleboard and canoe for on-water fun. Or, curl up with a book in the private patio's Adirondack chairs. 
MUST-DOS: Fish Lake Meredith's glassy waters for largemouth bass and black crappie. Look for pronghorn and rare swift foxes as you drive through Comanche National Grassland along the Santa Fe Trail byway. The route is packed with historic Western and Native American sites. Or, motor down Section 7 of the TransAmerica Trail — a 4,218-mile motorcycle and bikepacking route that traverses the U.S., with nearby Pueblo marking its halfway point.
MUST-CHEWS: Dig into good-as-mama's meatloaf at Lynette's Sugar City Cafe. Head to Ordway for cheesy ravioli at Feeling Saucy Cantina.
Sleep in the trees — literally — at this eclectic, 1970s abode. Nestled in towering spruces 25 feet in the air, you can cozy up by the wood-burning stove or stargaze from balconies as Cattle Creek sings you to sleep. 
MUST-DOS: Shop for antiques, trail-running gear and souvenirs in the adorable and charming downtown area. Feed your creativity (for free!) with a self-guided tour of Powers Art Center's Jasper Johns collection.
MUST-CHEWS: Dip pita in zesty tabbouleh at The Goat Kitchen & Bar. Try Izakaya Carbondale's spicy Carbontail Roll (think avocado, scallion and yellowtail). Pucker up with citrus-and-agave-infused margaritas at Axkawa.
Want more?
Find a treasure chest of lovable lodgings on our Sleep Somewhere Cool blog >>
Here are six places to stay and unplug in Colorado >>
See all hotel & lodging listings >>
Photo courtesy of Collective Retreats