Explore the Backcountry With a Colorado Hut Trip
Looking for an escape with a get-away-from-it-all vibe, limitless adventure and a room with epic views? Check, check and … oh my, check! There's no better way to explore the mountains than a Colorado hut trip, and Colorado's extensive network of backcountry huts (one of the largest in the nation, in fact) offers the awesome opportunity to do both.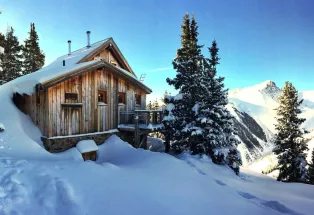 And we're not talking about some rinky-dink shacks here. These cozy sanctuaries range from rustic to refined, letting you spend a night in the wild but with all the creature comforts you need to stay safe, warm and dry. Most huts come with beds, equipped kitchens, wood stoves and bathrooms or outhouses (let's think of them as wilderness restrooms). 
You can ski or snowshoe from hut to hut in the European tradition or set up camp in a single location for a more relaxing getaway. After a day of play, grab a drink, prepare a feast and relive the day's exploits while relaxing by the fire (indoors, no less). But don't just take our word for it — use our roundup of some of the most popular huts to plan your own trip. Be sure to book early, as these places tend to fill up fast!
For a quintessential hut experience, you can't beat these five backcountry ski huts connecting Telluride, Ridgway and Ouray in southwest Colorado. Trek hut to hut — or access any of them individually — along 60 miles of Nordic trails in the jagged Sneffels Range. An abundance of terrain nearby offers additional opportunities for intermediate, advanced and extreme powder hounds. Each hut sleeps eight and range in location from 3 to nearly 10 miles apart. 
Just picture this: a sunny, cozy lodge on the south slopes of 13,661-foot Lookout Peak near Ophir (south of Telluride) in the northern San Juan Mountains. Two wood stoves, in-floor solar thermal heating and indoor plumbing. A large common area with dining space for 16, a reading/snuggle nook and a small reclining area by the fire. Sound nice? It gets better. Three meals are prepared for you daily using quality natural and locally grown products, and beer, wine and spirits are available for purchase. The OPUS is a full-service, European-style backcountry hut for those not quite into roughing it. 
Named to honor the U.S. Army men who trained at Camp Hale in central Colorado during World War II, this network of 30 multi-size backcountry huts between Aspen, Leadville and Vail are connected by a whopping 350 miles of trails. Routes between each average 6 to 7 miles and from 9,700 to 11,700 feet in elevation, making them ideal for high-country skiing and snowshoeing. Edwards-based Paragon Guides also offers custom guided expeditions along this network. Bonus: Because you're only paying for your bed at each location, a hut-to-hut adventure through this system can also be a gloriously inexpensive affair.
Combining spectacular natural settings with a commitment to community, charitable and educational pursuits, Summit Huts operate under a special-use permit from the USDA Forest Service in the White River and Pike-San Isabel national forests, giving you exclusive access to some pretty stellar spots. There are currently four easily accessible huts in the system — sleeping anywhere from three to 20 near Breckenridge and Copper Mountain — with more in the works. All feature solar-powered lights, stocked kitchens and wood-burning stoves; two feature saunas. All four huts are open for winter use from November through May, with two locations open July through September for summer adventurers.
Situated along the Continental Divide near Lake City at over 12,000 feet, the Hinsdale Haute Route is our highest altitude hut system. It offers two year-round yurts — one great for novice backcountry hut users and families with kids and another suited for intermediate and expert Nordic skiers. The Jon Wilson Yurt is a short 1.25 miles from Hwy. 149 south of Lake City, making for an easy journey for folks without a 4X4 vehicle. It offers great views of Lake San Cristobal and the Lake Fork Valley, 14,006-foot Sunshine Peak and the other alpine peaks across the valley. 
The Colorado Trail Friends Yurt offers superb long-distance views of the San Juan Mountains for those hardy enough to make one of three 5-mile treks to get to it (we believe in you!) — one from a steep ascent off the valley floor. But if you need some help, guide and Sherpa services are also available. 
Sitting along the Continental Divide near Pagosa Springs in southwest Colorado, Pass Creek Yurt offers a cozy base for doing it all — or nothing at all — in the surrounding Wolf Creek backcountry. After a day of surveying the surrounding snow-cloaked wilderness, prepare a great meal and gather around the fire for a relaxing evening of games and competitive storytelling. All you need to bring is food, sleeping bags and a desire to be enchanted by the mountains. 
More Colorado huts 
Alfred Braun Huts: The oldest hut system in Colorado connects Aspen and Crested Butte via spectacular Pearl Pass. Rented to only one group at a time, these six cabins offer a more private experience.
Weston Pass Hut: Facing the expansive panoramas of Mount Holy Cross at nearly 12,000 feet, this hut sleeps 20 with a wood-burning stove, foam mattresses, pillows and LED lanterns. 
Creede Mountain Huts: Providing easy access to the San Juan Mountains, this year-round wilderness retreat is near the old mining town of Creede. 
High Lonesome Hut: After traveling just over 2 miles by foot, fat bike, skis, horseback — or any other non-motorized method you choose — this hut in Granby's Arapaho National Forest welcomes guests with space for 12 to eat, sleep and be merry. 
Huts for Summer Camping: Hut touring isn't just a winter activity. Most systems are also available in the warm-weather months as an alternative to tent or primitive camping for backcountry hikers and bikers. 
8 tips for Your Hut Trip
While backcountry hut trips can offer the experience of a lifetime, they're no walk in the park. Physical stamina, map skills and preparedness are all crucial for a good time.
1. Make sure you're fit enough to make the trek required to reach your hut. Stay on established trails and follow recommended hike times to ensure you reach your hut before dark.
2. You'll be spending a lot of time outside, so be sure to pack adequate clothing and layers to protect you from the elements. And bring a first-aid kit, just in case.
3. While most huts provide cookware and utensils, you usually have to BYO food. At most locations, guests obtain water from nearby streams or snowmelt, so treat all water you drink by using a filter, SteriPEN or boiling to kill bacteria.
4. Pack lightly and sensibly, so you don't have to lug a lot of unnecessary weight around. All you really need is food, clothing and a sleeping bag. Most other necessities are provided, but check with your specific hut first.
5. Most huts sleep between two and 20, so it's normal to share them with others using the trails. If you want privacy, look for huts that only book one group at a time. If you're staying with others, pretend like your mom's watching: Clean up after yourself, restock wood and refill snowmelt pots.
6. Bring your confirmation letter with you. You'll likely need a combination to get in and, if any questions arise, it proves you have a reservation for that day.
7. A Colorado backcountry adventure really is as cool as it sounds. Thus, huts fill up fast, so be sure to book in advance!
8. Anyone heading into the backcountry in any season should be COLO-Ready. Check out our brochure to make sure you're raring to go at COLORADO.com/Coloready.
Want More? 
Check out our Sleep Somewhere Cool Blog >>
Learn how to steer clear of winter backcountry danger >>