Get Hooked on Winter Fishing in Colorado
Don't tell any Colorado anglers we let you in on this, but winter is one of the best times of year to fish our rivers, lakes and streams. Whether you want to cast from the shoreline or chill in an ice shanty, the state's many winter fishing options are sure to lure you in.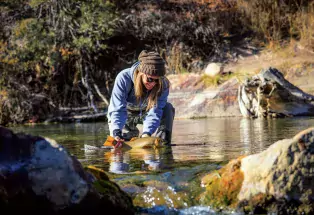 Fly-Fishing
Winter fly-fishing may be the best-kept secret in Colorado. Hook up with a guide to learn about new fishing tricks, local streams and hatches.
A sparkling blanket of snow and uncrowded rivers make the perfect bait for a guided wade trip with Minturn Anglers. Head to the Vail Valley with a veteran fishing guide, where folks of all skill levels have the chance to hook a rainbow trout from slow-moving winter waters. Choose from either the Colorado or Eagle rivers.
Practice your back casts with St. Peter's Fly Shop in Fort Collins. During a part-school, part-fishing trip, you'll build your fundamental fly-fishing skills and get tips on everything from achieving an extended drag-free drift to adding 20 feet to your cast. Some guided trips are offered during the winter.
Walk and wade with 5280 Angler in Arvada. The outfitter has an admitted love affair with Colorado's trout and promotes best catch-and-release practices. Spend a day on the South Platte River with your new best friend/fishing buddy — one of 5280's personable guides. Trips include all the equipment you'll need, from boots and waders to rods, reels, flies, terminal tackle and a cooler.
Serious fishing fans can book a multi-day trip with Colorado Wilderness Rides and Guides. Custom adventures to top fly-fishing destinations in Denver, Boulder and Estes Park are based on a client's goals and skill level. Guided fish-and-float trips include a fly-fishing "school," all necessary gear and access to Colorado's remote streams. You might just luck out and catch a rare greenback cutthroat trout — the official state fish.
Tenkara
Colorado's shimmering streams are the perfect place to try tenkara, an ancient Japanese method of fly-fishing that uses a lightweight bamboo rod, line and fly without a reel.
Frying Pan Anglers in Basalt is happy to take fly-fishing novices under their fins and teach them the art of tenkara. The easy-to-learn style of fishing is great for newcomers and happens to be one of the most effective ways to snag trout. Book a guided trip and fish along the crystal-clear Gold Medal waters at the confluence of the Frying Pan and Roaring Fork rivers.
Build your skills with a Colorado big fish, Royal Gorge Anglers in Cañon City — the oldest outfitter on the Arkansas River. You'll take a guided trip through the southern Rocky Mountain canyons and learn cutting-edge American tenkara techniques, like nymphing, plus traditional Japanese fly patterns.
RIGS Fly Shop & Guide Service in Ridgway casts a wide net as both the first tenkara fly-rod dealer and endorsed tenkara outfitter in the state. Join them for an expertly led adventure in southwestern Colorado's scenic, high-mountain headwaters. RIGS's guides really know their stuff, so expect to get schooled as you go.
Mountain Angler in Breckenridge is Summit County's oldest fly-fishing guide service and the only one to offer area tenkara excursions. To ensure things go swimmingly, all trips are private (with three people max per guide) — and you must make a reservation. Locations include the Colorado, Blue and Eagle rivers along with limited outings on private local ranches.
Ice Fishing
You know it's ice-fishing season when Colorado's mountains are snowcapped and the lakes are solid glass. Join a growing group of hearty winter fishers with the help of an area outfitter.
FishHead Outdoors in Pueblo offers an outstanding fishing experience with heated huts, high-tech sonar and all of the equipment you'll need, including custom ice-fishing rods. Guides can help you find and reel in stealthy trout, salmon and pike.
Tumbling Trout in Lake George is owned by Michele White, a certified professional guide and published author (you can browse her fish tales in the fly shop). During ice-fishing season, which typically runs from late December through mid-February, join a Tumbling Trout guide on the Antero Reservoir's thick ice. An insulated pop-up ice-fishing tent makes things cozy as you keep an eye out for the glistening rainbow trout swimming just below your boots.
You'll have a whale of a time Fishing With Bernie (yes, owner Bernie Keefe is a real guy) or one of his experienced guides in Granby. Keefe has been operating on Lake Granby for more than 25 years and is especially sought after by those in search of trophy lake trout. For ice fishing, Keefe and his guides have been known to drill up to 100 holes to find the best spot.
Bring the whole family for a kid-friendly ice-fishing trip with Blue Mesa Fishing in Gunnison. All group trips take place on the Blue Mesa Reservoir, home to the best Kokanee salmon fisheries in the state. Half- and full-day salmon and trout fishing trips are offered with knowledgeable guides. Just remember to dress your little guppies super warm for their big day on the ice.
Word to the wise: Ice fishing can be dangerous, especially if you're not familiar with the sport or the region. Go with an experienced guide and consult Colorado Parks & Wildlife's ice-fishing safety tips.
Tacklebox Tips
If you're 16 or older, you must have a Colorado fishing license. All of our waters are regularly patrolled, so don't skip this step unless you like stiff fines. 
 
Want to fish Colorado like a pro? Get the inside scoop on fishing locations, fish species and more with CPW Fishing, Colorado Parks & Wildlife's official fishing app.
Want more?
Learn about Colorado's popular ice-fishing spots >>
Find family-friendly fishing excursions >>
Check out fishing hotspots around the state >>
Photo credits: Matt McCannel; 5280 Angler; Fishing With Bernie