Your Ultimate Guide to a Colorado Family Spring Break
You could stay up late reading online travel reviews, start a group email chain with your friends and family for recommendations and listen to your kids whine — er, weigh in — on what to do on vacation, or use our guide to build an itinerary for an easy-yet-unforgettable, choose-your-own-adventure spring break.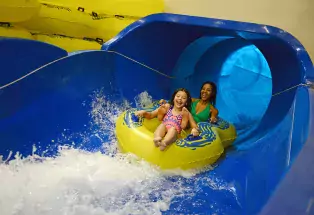 Choose an Adventure
Hit the Slopes for Spring Skiing
March and April are often some of Colorado's snowiest months — plus you'll likely enjoy shorter lift lines, slope-side events and lots of sunshine.
Monarch Mountain, near Salida, is a super-approachable locals' favorite mountain. Lessons are available for everyone and a laid-back vibe will welcome you, as does the occasional spring cookout in the parking lot.
Logging the most snowfall in Colorado nearly every year, Wolf Creek Ski Area outside Pagosa Springs is a reliable springtime spot for some great powder, paired with a super-friendly, down-to-earth personality and terrain for every level.
A short drive (when starting in Denver) and a famously friendly staff make Loveland Ski Area another good choice for families, typically open into early May.
The longest ski season in Colorado usually belongs to Arapahoe Basin (often open into mid-June!), and their epic terrain and family-friendly spring concert series make it a sure bet for smiles.
Grow Their Love of the Outdoors
Experts will tell you that playing outside helps kids bolster creativity, reduce stress and stem aggressive behavior. Colorado's spectacular public lands are the ideal places to get your whole family out exploring.
At Dinosaur National Monument in northwest Colorado, kids get amped to see fossils from the Carnegie Dinosaur Quarry, where approximately 1,500 dinosaur bones are left in place in a cliff wall. Plus, a number of self-guided trails are open for exploration.
Let them climb up and tumble down North America's largest sand dunes at Great Sand Dunes National Park and Preserve in the San Luis Valley. A big spring bonus: The mystical Medano Creek returns this time of year, flowing by the base of the dunes and creating a beachy environment with pulsing, small waves.
Return to simple pleasures with a good, old-fashioned family fishing trip to Eleven Mile State Park, located smack in the middle of the state. The endeavor gets a Colorado-style upgrade with breathtaking mountain views.
Up for an adrenaline boost? Opt for a springtime rafting adventure (when snowmelt makes the rivers run faster). Your family will rely on teamwork to navigate legendary whitewater rapids with the help of a guide on the Animas River near Durango. Find a list of outfitters in the area >>
Discover Watchable Wildlife
You can show them mountains, canyons, rivers and lakes, but nothing makes kids' eyes light up like spotting a furry or feathered critter!
The area around Walden in northern Colorado is considered the moose-viewing state capital, with some 600 of Bullwinkle's buddies roaming free. Wilderness access is easy at State Forest State Park, which even has a moose-themed visitor center.
The Colorado Birding Trail is actually a network of 54 trails renowned for their magnificent landscapes and unique bird species. Our picks for families are on the eastern plains, where you'll find the exotic-looking Greater Prairie-Chicken in April and May (viewing tours recommended) or the springtime migrating beauties on the Playa Trail.
Every March, sandhill cranes migrate through southern Colorado, stopping in the potato fields, prairies and wetlands near Monte Vista. The tall, elegant birds are best spotted in the Monte Vista National Wildlife Refuge — and during the annual Monte Vista Crane Festival, you can join in a viewing tour and an arts-and-crafts fair.
Want to get a guaranteed great view of bears, wolves, lions and tigers? Head to the Wild Animal Sanctuary in Keenesburg. This extraordinary rescue organization has saved more than 1,000 mistreated animals from across the globe and given them new life on the natural plains of Colorado. An elevated walkway lets you closely observe these majestic creatures without invading their space.
Add in Relaxation
Soak & Splash at Hot Springs
Colorado's family-friendly hot-springs retreats are a surefire way to please everyone — not to mention, a beautiful way to enjoy a spring snow while staying toasty.
At Mount Princeton Hot Springs, near the charming rafting town of Buena Vista, your kids can zoom down a 400-foot waterslide into the pool while you blissfully enjoy a soothing spot among the thermals that emerge into the rushing waters of Chalk Creek.
A Colorado family tradition for decades, Glenwood Hot Springs Pool is the largest outdoor mineral hot-springs pool in the world (and there are mountain views from the water, to boot). With slides, kiddie pools and swimming areas, you can all find the right spots to enjoy this warm mineral water.
The Ouray Hot Springs Pool, located in what's been called the Switzerland of the Rockies, is tailored toward families, with slides and shallow areas, picnic-perfect lawns and play areas, too.
A hidden gem tucked away in southern Colorado is the Sand Dunes Swimming Pool, a no-frills collection of swimming and soaking pools about 40 minutes from Great Sand Dunes National Park and Preserve and Alamosa. If your kids are older, sneak away to the grown-ups-only Greenhouse to soak among the gardens and sip an adult beverage.
Make Where You Stay the Getaway
Sometimes where you rest your head can offer as much adventure as the places you go.
Great Wolf Lodge in Colorado Springs is way more than a hotel. It's also a 50,000-sqaure-foot indoor water park. This is one-stop vacationing, where some of the guest rooms have cave-themed sleeping areas and bunk beds for your young ones.
Beaver Run Resort's sprawling property is kid heaven, with a huge game room, an indoor-outdoor pool, several hot tubs and large suites and family rooms available — all in the heart of one of Colorado's mountain playgrounds, Breckenridge.
Popular for family reunions, YMCA of the Rockies enjoys a breathtaking location in Estes Park, the gateway to Rocky Mountain National Park, plus a full menu of activities. Choose to hide away in the fully stocked craft room or try archery, ziplining, yoga, astronomy, hiking or horseback riding — and end every day with s'mores around the campfire.
Finish With a Surprise
Try Something Out of the Ordinary
Colorado's farms are ripe for exploring, and springtime means lots of baby animals to meet! Visit SunCrest Orchard Alpacas in Palisade to see a herd of 50 or so alpacas and learn how their wool is spun into yarn on the fibermill. Another great option is feeding the baby goats or experiencing goat yoga at Growing Gardens, a small farm in the heart of Boulder. Check their website for upcoming events. 
The state's mining heritage left a number of ghost towns dotting the landscape. One of the best preserved and most easily accessible is St. Elmo, which was abandoned in 1922. A lovely, 40-minute drive from Buena Vista brings you to a general store, post office and miners' cabins. The road can be muddy in spring, and weather can change quickly, so be sure to bring water, sunscreen, layers of warm clothing and snow gear.
It's not a true family vacation until you've pulled over at a kitschy roadside attraction or two! Antonito is home to Cano's Castle, a folk-art fortress made primarily of beer cans. Or stop at Estes Park's Seven Keys Lodge for a slice of pie and to see the world's largest key collection (which has a great story to go with it). More options: the UFO Watchtower in Hooper, the Lee Maxwell Washing Machine Museum in Eaton or the largest fork in the U.S. in Creede.
Want more?
Find more family attractions for kids age 10 and under >>
Check out family RV vacations >>