Colorado Outdoor Gear Rentals for All Your Summer Adventures
If we're being completely honest, you're not getting the full Colorado experience unless you're spending some time off the grid in our great outdoors. But not all of us are Bear Grylls, so these shops can help guide you to your perfect offline adventure.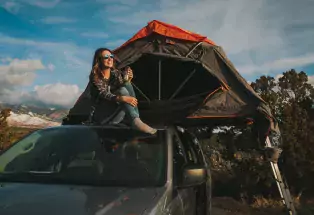 But unless you're Bear Grylls, getting outside requires a laundry list of stuff that's both awkward and expensive to cart around. Luckily, lots of Colorado adventure gear-rental companies are on the case — here's where to start.
Gear Rentals
Mountain Side Gear Rental, Golden
Home to Coors Brewing Co., Golden is just a few miles from Morrison's famed Red Rocks Park & Amphitheatre — and has as some of the best cycling trails in the state. Serious road cyclists with their own wheels can rent a bike pack at Mountain Side Gear Rental for longer paved rides like the Clear Creek Bike Path (38 miles roundtrip) or 32nd Avenue Bike Trail (37 miles roundtrip).
Outdoors Geek, Denver
Colorado gets major festival fever in the summer, when the sultry days and breezy nights are made for grooving in the sun or spinning under the stars. Whether you're headed up to Rockygrass in Lyons (July), Jazz Aspen Snowmass (July and August) or ARISE in Loveland (August), you'll want to stop at Denver's Outdoors Geek on your way up.
Here, you can rent a complete glamping package, including a snazzy canvas tent, overhead lighting, beds/bedding, an oriental rug (because your feet deserve it) and bedside tables/ lamps. Seeking souvenirs? Skip the hoodie and take home some gently used gear from Colorado-made brands like Kelty and Big Agnes; ask the Geeks what's in stock.
Pikes Peak Outfitter, Colorado Springs
For a landlocked state, Colorado is unexpectedly awesome at water sports — and Pikes Peak Outfitter in Colorado Springs is a smart first stop if you're planning to get wet. Pick up a single or tandem kayak, canoe, stand-up paddleboard or float tube (all including life vests) before setting out for nearby Quail Lake or Manitou Lake in the Pike National Forest.
Rocky Mountain Adventures, Fort Collins
It's said that "you never step into the same river twice," and this is especially true in Colorado, where seven major river basins contribute to nearly 160 notable waterways. Rocky Mountain Adventures, based in Fort Collins with offerings statewide, has likely set foot in every single one. If you've already got swiftwater know-how, you can rent a raft, kayak or canoe from them and have at it. But if you'd rather slip into the swirling abyss with an expert at your side (ahem: not the worst idea), sign up for a guided whitewater-rafting, kayaking or fly-fishing expedition.
Ridden., Breckenridge
Pulsing away at the heart of Summit County, the mining-turned-ski-resort town of Breckenridge is an excellent home base for al fresco summer fun. If you can plan ahead with reservations, beautiful camping areas abound, both in the nearby White River National Forest and at a handful of private facilities. 
You can rent a car-camping kit for two to four people (tent, sleeping bags/mats, mess kit, stove, umbrella, lantern, etc.) at Ridden. on Main Street. Nights a little colder than you expected? They also sell name-brand con­signment duds for dirt cheap.
Feral Mountain Co., Denver & Idaho Springs
While you can get incredible new and used gear, gear rentals and accessories you didn't even know you needed, Feral is mainly about a sense of community. The employees and fellow shoppers have a shared passion for the great outdoors and show it. At the Denver shop, you can even book the mezzanine for free to host a meeting, workshop or presentation — that's how kind they are. Pay attention to their calendar as they seem to always be giving a seminar on how to do something that will probably scare you until you try it. 
RIGS Fly Shop & Guide Service, Ridgway
For equipment and expertise, turn to RIGS Fly Shop & Guide Service. Here you'll learn all the best places to fish scenic spots like the Cimarron, Gunnison, San Miguel and Uncompahgre rivers. Plus, you can take advantage of water-lovin' equipment rentals from fly-fishing equipment and kayaks to stand-up paddleboards, helmets, wetsuits and more. Sign up for group outings with RIGS pros to guide you.
Transportation Rentals
Native Campervans, Denver
There are 26 designated scenic byways within our borders, and Denver's Native Campervans has two tricked-out ways to see them: Biggies and Smalls. Each of these custom-built Dodge vans has a fully functional kitchen (sink, stove, cooler, dishes and utensils), a bed that sleeps two, seating for four to five passengers and lots of room for your outdoor gear. 
Take the 82-mile Top of the Rockies scenic byway across the Continental Divide from Minturn to Leadville to gawk at Mount Elbert and Mount Massive, the two tallest peaks in the state. Or head south on the Silver Thread scenic byway to cruise from Lake City to South Fork through delightfully isolated swatches of wilderness. Each route has distinct topography, a unique personality and endless #vanlife photo ops. Find more Colorado scenic byways.
KúKú Campers, Littleton
With 13,000 state, federal and private campsites to choose from, Colorado has a camping escape for everyone — from wilderness warriors to "where can I plug this thing in?" rookies. For the latter crowd, KúKú Campers offers an array of different size camper vans — sleeping up to five — and even Subarus with rooftop tents. 
Colorado Teardrops, Boulder
Colorado Teardrops in Boulder also rents various teardrop trailers — each with a sleep­ing area for two or more guests, cabinet storage, battery-powered lights, electrical outlets and a kitchen galley with a propane stove. Bonus: Teardrops are light enough to be pulled by a variety of vehicles.
Hot Tip
Want to get your hands on some great gear without dropping serious coin? Download the Fluid Market community sharing app to borrow low-cost equipment from a local.
Awesome Colorado Bike-Sharing Options
With such a cycle-centric culture, we literally can't imagine life without bikes. Check out these easy bike-sharing options — perfect for pedaling from point A to B. 
Pick up and drop off killer wheels for making your way around the Roaring Fork Valley at 43 WE-Cycle stations in Aspen and Basalt. 
With 600 bikes and 42 stations in Boulder, B-Cycle makes pedal-powered exploring a cinch.
Pick up a cruiser, brewery map and helmet at the Golden Bike Library to hit the local bubbling beer scene, then return it to any of the town's new bike-share stations.
Want More?
7 Colorado Adventures You Didn't Know About
8 Ways to Love Colorado in Summer
Camping in Colorado: The Basics