Find the Best Colorado Winter Lodging For You
Where you rest your head can make or break your vacation. And if online-review sites have taught us anything, it's that what entirely delights one person can thoroughly vex another. Luckily, Colorado has options to help everyone lodge happily.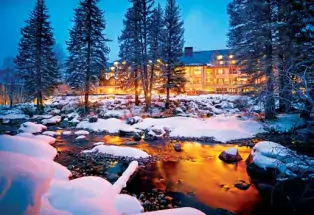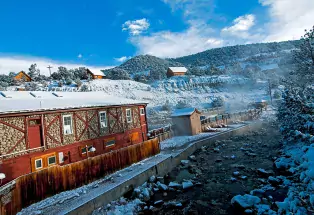 Check out our sampling of winter getaways, grouped by travel style, that might just garner rave reviews from the only person who really matters: you.
Elevated Expectations
If your eyeballs can't stand another beige hotel lobby, The Art is your remedy. The hotel hired longtime Denver Art Museum curator Dianne Vanderlip to treat the space as a high-end gallery, and she has filled it with works by the likes of Andy Warhol and Claes Oldenberg. It's a refreshing approach and one that's entirely apropos for a hotel in Denver's Golden Triangle district, with the Denver Art Museum and Clyfford Still Museum as neighbors.
Tip: Ask for a brochure and take a self-guided tour of the hotel's art collection.
A paragon of historic preservation, the renowned Hotel Jerome just gets everything right. From richly layered décor that evokes a mountain spirit (yet resists tired, log-cabin kitsch) to the bend-over-backward service and proximity to Aspen's celebrity-studded ski slopes, you'll be living the high life in one of America's most buzzed-about ski towns.
Tip: After a day on the slopes, revitalize your skin with a High Alpine Oxygen Lift Facial at the hotel's Auberge Spa.
Oh, hello, views! This high-end hotel leverages a peak-ringed location with its Sky Terrace pool, fire pits on the patio and huge picture windows. But the main draw here is the focus on pampering. I bet you didn't know you needed a "bath barista," but you totally do — and a ski valet and on-site yoga and Pilates studio, too. Those are just a few of the perks that make Madeline one of the "Top 5 Hotels in the West" by readers of Condé Nast Traveler.
Tidbit: A dedicated kids' hangout wins over even teenagers with pingpong, computers, Wii, PlayStation and movie nights.
Family-Friendly Lodging
Parents: You need a great, easy, fun getaway. Grand Lodge is just that. One call to the reservation desk and you'll be able to book your room, ski-equipment rentals, ski lessons and lift tickets. Done. The rooms have kitchenettes (morning lifesaver!) and the heated pool will keep the kids occupied while the grownups put on their "don't bother me" faces and melt into the hot tub.
Tip: Request a mountain-facing room on the fourth or fifth floors for breathtaking panoramas.
You're like, "What? A YMCA?" Trust us; this is not a gym floor we're talking about. Spacious cabins in gorgeous Estes Park can accommodate small to large groups, the views are stupendous and the variety of resort activities is astounding. Play in the game room, give archery a try, glide around the ice rink, swim, visit the on-site library — and weep with joy when you see the massive craft room, stocked with supplies for making mosaics, jewelry, tie-dyed garments and more.
Tip: Many activities are included in guests' Stay Pass, but not all, so be sure to check the website for details.
It'll cost you a pretty penny, but for that special ski trip, it might just be worth it to pony up for Viceroy's renowned service and ski-in/ski-out access to Snowmass' powdery trails. Plus, guests can pick up a free kids' lanyard from the front desk, which has a calendar of upcoming activities — bowling, hip-hop dancing, crafts, karaoke and movie nights — available seven days a week. So you can go ahead and ban the phrase, "I'm bored."
Tip:  Dying for a date night? For an additional fee, sign youngsters up for Kids' Night Out. They'll enjoy dinner, movies, hula hooping, plus board and video games while you can head out for adult bevies and maybe even (gasp) a complete conversation. 
At Nature's Doorstep
At 8,150 feet in altitude the Grand Hyatt Vail is Vail's only true ski-in/ski-out luxury resort. Discuss your ski plans with their world-class ski concierge who can help you rent equipment on site, get lift tickets and insider tips on tackling the mountain. Participate in après ski activities in the fireside lounge while looking out at the snow-covered mountain tops. Looking for the perfect photo of your ski-cation? Gore Creek rushes through the property, creating a lovely wintry scene, with steam rising off the icy water after each snowfall.
Tip: Have the Himalayan Salt Stone Massage treatment at the spa, with its heated stones to warm you up after spending the day on the slopes.
There's no such thing as cabin fever at this no-frills family lodge. That's because an exhaustive list of outdoor winter activities will entertain your crew: tubing, cross-country skiing, ice skating, snowshoeing, dog-sledding, snowmobiling, fat biking, sleigh rides and, most importantly, roasting s'mores over a campfire. Should you wish to venture farther still, you'll be just half an hour from the splendors of Rocky Mountain National Park.
Tip: If you have a group of eight or more, be sure to book your activities in advance. 
Romantic Getaways 
In the unassuming town of Stratton is an elegant surprise, with gracious hosts waiting to pull out all the stops for in-the-know guests. Each room of this opulent bed and breakfast is decorated to the nines in traditional, romantic décor. And the food is just as sumptuous — with multiple courses and the property's own wine to accompany dinner, plus fresh croissants and a full breakfast each morning.
Tip: Sink back with your sweetie into cushy lounge chairs and watch a classic movie in the inn's fully equipped private theater. 
Tucked into the San Isabel National Forest among the towering Collegiate Peaks, you can soak up the vistas of Chalk Cliff and soak in therapeutic mineral waters with your dearest — all from one spot. Should you wish to venture out from your cabin or the soaking pools, options abound. Cross-country ski, go on a backcountry ski tour, snowshoe and explore one of Colorado's beautiful national monuments: Browns Canyon.
Tip: Nothing says "I love you" like a grilled Colorado lamb T-bone and herbed truffle fries; order 'em both at the Princeton Club Restaurant.
Something Different
The Movie Manor is what would happen if a drive-in movie theater and a motel had a baby and named it Awesome. This ultra-well-kept, if humble, motel pipes the sound from its drive-in theater into your room so you can watch the big screen in complete comfort. Venture out into the San Luis Valley by day to visit the Great Sand Dunes National Park and Preserve; or plan to visit around the sandhill crane migration, which brings the majestic birds to the Monte Vista National Wildlife Refuge in March.
Tidbit: As you head to your room, note that each door bears the name of a movie star. 
This Travel Channel-featured inn has character to spare. There's the Steampunk Room, decorated with old gears and optical instruments; the room with the hotel's original 1902 elevator, which has been converted into a hot tub; and the Candlelight Caboose, an old rail car that oozes historic charm and romance. When you're not daydreaming about life in a distant era, explore Silverton's expert-level ski terrain or venture to the nearby towns of Ouray or Durango.
Tidbit: Justin Timberlake and Jessica Biel stayed a couple nights in the Railroad Room!
More Places to Stay in Colorado
Sample Marble Distilling Co.'s crisp vodka and the divine Gingercello liqueur until you feel like retiring to the distillery's own five-bedroom inn. 
Bordered by Medicine Bow-Routt National Forests and offering a staggering 2,000 feet of private river frontage, find solitude and outdoor adventure near Steamboat Springs. 
What's the one thing kids want in a hotel? A pool. Great Wolf Lodge delivers in spades with an 84-degree indoor water park, plus a kid's spa and nightly pajama parties. 
The same team behind the wildly popular Devil's Thumb Ranch designed this value property as a basecamp for skiing, snowshoeing, sledding, biking, hiking and other alpine adventures. 
Want More?
Colorado Ski Resorts: America's Best Skiing & Riding
Colorado Winter Getaways
Top Hotels for a Winter Getaway
Cozy Colorado Winter B&B Getaways
Sleep Somewhere Cool Blog