5 Fall Bike Rides in Colorado
Heavenly Colorado temperatures, quaking aspen melodies and mountainous landscapes saturated with fiery reds, oranges and yellows are just some of the benefits from tuning up your bike this fall.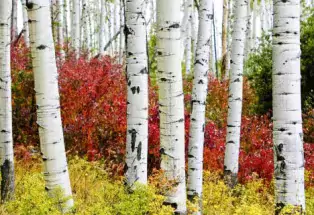 All across Colorado, fall pedal pushers get up close and personal with the season's color spectacle while filling up their lungs with crisp Colorado air. Check out these fall-colorful biking areas to see Colorado at its season's best.
1. Vail Mountain
Jump on the gondola to the top of Vail Mountain and witness fall spreading its yellow fingers across the landscape. A summer and fall hotspot for mountain biking, Vail's single-track trails weave, intersect and zip-zag down the mountain just like ski runs in the winter.
With more than 15 on-mountain trails, choose from beginner to expert terrain; or if road cycling is more appealing, cycle the famous Vail Pass (reaching higher than 10,000 feet) to Copper Mountain or continue on to Frisco's charming downtown.
For an easier route, drive to the top of Vail Pass and get a good grip on your handlebars before flying down the other side.
Just outside of Vail in Eagle sits a mountain biking haven with perfect temperatures and an extended riding season (mid-April through mid-December) due to its "banana belt" position next to the mountain. Choose from 15 trails, which you can preview through reviews and photo navigation on the Town of Eagle's website.
2. Kebler Pass
The crown jewel of fall's magnificence is located where the largest aspen stand in the state conquers the terrain. Aspens have a unique interconnected root system, causing each cluster to turn the same brilliant hue and, in turn, visitors to ooh and ahh. The radiant yellow and red leaves on Kebler create a textured denseness unlike anywhere in the state.
Kebler Pass is just west of Crested Butte. Two biking and hiking trails (Kebler Wagon Trail #606 and Dyke Trail #838) will lead to the scenery in addition to Kebler Pass on CO 12.
3. Steamboat Springs
With an area as beautiful and large as Steamboat, the best and most efficient way to see as much as possible is via two wheels. With one-of-a-kind biking trails on the mountain, choose uphill and downhill trails that are intimately exposed to aspens, scrub oaks, pines, rocky terrain and rustic wooden bridges.
Steamboat's partnership with the Routt National Forest means you're in for a treat  — trails go deep into pristine public land and give you that one-with-nature experience that's not always easy to come by. Make sure to visit The Nature Den inside the lobby of the gondola plaza for information on the local environment and trail recommendations. More information >>
4. Bike the Byways
Colorado's Scenic and Historic Byways meander through breathtaking sceneries and, during autumn, the sights are absolutely magical. Byways are known for driving, but who's to stop foliage-hungry cyclists from taking on a challenge with such glorious rewards?
Check out these color-soaked byways:
Explore all 26 of Colorado's scenic and historic byways >>
5. Fruita
It's nearly impossible to mention Fruita without acknowledging its designation as one of the best biking locales in the country. Excelling in high-desert mountain-biking terrain, this laid-back community has a culture that celebrates all things bicycle with exuberance. 
Fruita's beginner to expert trails wind to enormous flattop mesas that uncover views of valleys speckled with luminous yellow trees. The golden views from the rocky red vistas will make you feel as though you're on top of the world, and the adventurous dirt trails that go there will make you feel like a pro. The best way to plan a biking trip in Fruita is to use the Fruita Tourism website.
Want more?
Check out more of the best things to do in Colorado >>
Find locally loved cycling and running destinations >>
Check out 10 places to see fall color >>
Photos courtesy of: Steamboat Springs Chamber Resort Association; Flickr/Yann Ropars; Matt Inden/Miles; Matt Inden/Miles