8 Ways to Experience Colorado History
These eight history experiences, from museums to dude ranches to walking tours are the perfect Colorado history primer.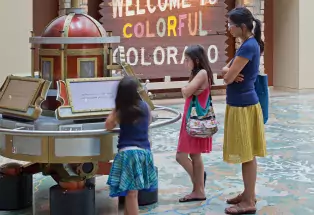 1. Giddyup to a Dude Ranch
Your family will discover cowpokes ready to give any city slicker an ultimate vacation along with a Wild West history lesson. Although horses are at the forefront of any dude ranch experience, even non-equestrian folks will find plenty to sink their spurs into along the backdrop of the Rocky Mountains — fishing, hiking, swimming, campfires, cookouts and more. From working ranches where guests get dirty rounding up cattle to ranches a la resort, expect meals, lodging and daily horse riding to be part of an all-inclusive stay.
Learn more about dude ranches in Colorado
2. Peek into Ancient History
Long before Mesa Verde National Park was named in 1,000 Places to See Before You Die it was home to the Ancestral Puebloans, who left a window of their civilization in the park's cliffs dwellings. Three hours north in Montrose, the Ute Indian Museum connects the storied past of the tribe with contemporary life. 
Traverse the Trail of the Ancients scenic byway, the only America's Byway entirely dedicated to archaeology, to encounter the imprint of Native American, Spanish and European cultures in parks, monuments, cultural centers, museums and gorgeous Southwestern landscapes.
Check out a Mesa Verde National Park sample itinerary
3. Take a Denver Story Trek
Listen to Denver's stories unfold through Denver Story Trek, free audio files to accompany your self-guided walking, biking or driving tours to the museums, homes, parks and landmarks that trace the history of the Mile High City. Enjoy the grandeur of a bygone era on the Shedding the Frontier Rawness trek, which highlights the city's first stately neighborhoods that saw Denver transform from a rowdy frontier outpost to a thriving city. In the same part of town, Denver's newest museum, the History Colorado Center, is the perfect high-tech, hands-on stop to round out a historic overview of the entire state. Meanwhile, free tours are offered on weekdays at the golden-domed Colorado State Capitol.
Take a deeper dive into the history of Colorado's capitol
4. Dig in with the Dinos
From east to west, Colorado was once a Jurassic playground. Whether you hit Picketwire Canyon just south of La Junta to see the largest set of dinosaur footprints in North America; Dinosaur Ridge, just west of Denver in Morrison, where imprints and "outies" — 3-D dinosaur tracks — dot the land; or Florissant Fossil Bed National Monument's prehistoric plant and insect fossils, you can have a dino-adventure. Paleontologists of all ages will dig the Denver Museum of Nature & Science, Dinosaur National Monument and the Museum of the West's Dinosaur Journey Museum (both within driving distance of Grand Junction), and the Rocky Mountain Dinosaur Resource Center in Woodland Park.
Dig into more places to see dinosaurs in Colorado
5. Follow Adventure West
You can't help but wonder what it would have been like traveling in the 1800s in search of adventure, fortune and land along the Santa Fe Trail, a route still marked by the wagon ruts of yesteryear. Some questions can be answered at Bent's Old Fort National Historic Site in La Junta, a reconstructed 1840s adobe fur-trading post that served as supply center, rest stop and social outlet for some of the West's most colorful characters. Continue along the trail to the Trinidad History Museum, where the Victorian era still lives. Back in Denver, the Black American West Museum & Heritage Center tells the story of African Americans role in the settlement and growth of the western United States. The museum is located in former home of Dr. Justina L. Ford — the first licensed African American female physician in the state of Colorado. Call ahead to schedule your visit. 
Explore more of Colorado's Black history
6. Go for the Gold
You'll hit the mother lode of mining history when you stop at North America's highest incorporated city, Leadville. Remnants of its mining days can be found at the National Mining Hall of Fame & Museum and the Leadville, Colorado & Southern Railroad, where passengers wind through the San Isabel National Forest and high above the Arkansas River along old mining routes. Two hours southeast, the town of Cripple Creek claimed the largest gold discovery in Colorado, and today visitors can descend 1,000 feet to the Mollie Kathleen Gold Mine Tour or stay above ground on the Gold Belt Tour scenic byway, which travels the historic route between Cripple Creek and Victor Mining District.
Find a cache of information on Colorado mining tours
7. Drive Our Journey
Your very own GPS-guided scavenger hunt of Colorado's central and eastern plains is available online at ourjourney.info. The area's local historians have plotted a fun and surprising journey for you. When traveling this area, a must-see is the Kit Carson County Carousel, where a 1905 carousel has been spinning since 1928 to its Wurlitzer Monster Military Band Organ. Stop to see the 1910 wood-frame Limon Railroad Depot, one of only three Rock Island depots in Colorado remaining in their place of operation.
Explore more ways to drive through past on Colorado's scenic and historic byways
8. Tour Historic Homesteads
Any historical structure, from Durango's Strater Hotel to Leadville's Tabor Opera House, houses colorful human stories. And what better way to glimpse those who came before us than by visiting their former abodes. Barney Ford, a successful businessman who escaped the shackles of slavery via the Underground Railroad, is honored at the Barney Ford House Museum in Breckenridge. The expansive lifestyle of a silver mining magnate is preserved at the Hamill House in Georgetown. Located in the Byers-Evans House Museum, the Center for Colorado Women's History focuses on the collective memory of the story of Colorado's resilient women. And, no one can forget the Unsinkable Molly Brown, whose house museum in Denver pays homage to her enduring celebrity and contributions to women's rights.
Visit the many historic districts in Colorado
Want More?
8 More Ways to Experience Colorado History
A Day of Life on the Frontier in Colorado