Visit Meeker Colorado Through the Seasons: Where There's Room to Roam
Surrounded by the Flat Tops Wilderness Area, White River and Routt national forests and beautiful Bureau of Land Management lands, Meeker is a gateway to exploring the grandeur of The Great West. There's easy access to peaceful and spacious trails along with uninterrupted family fun.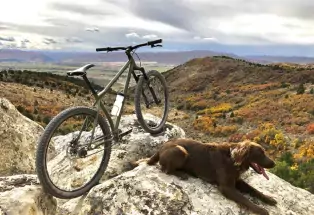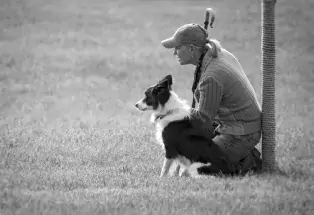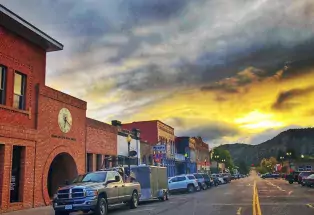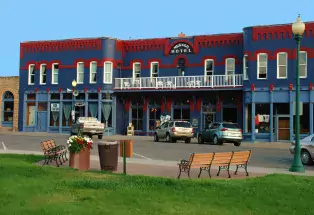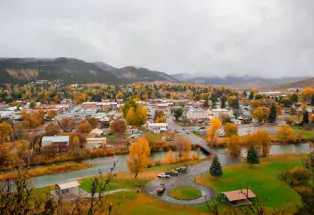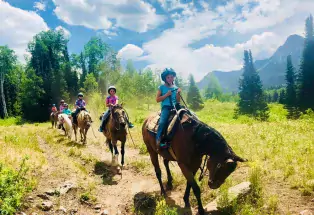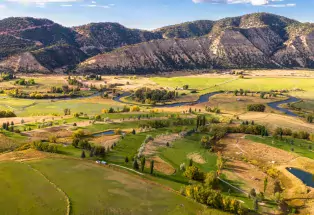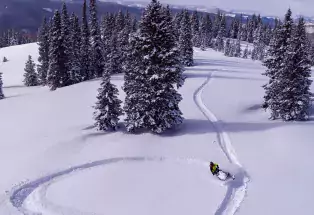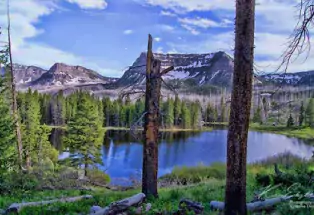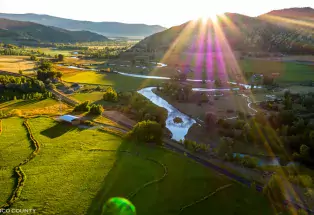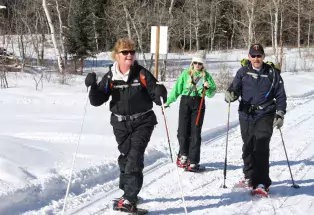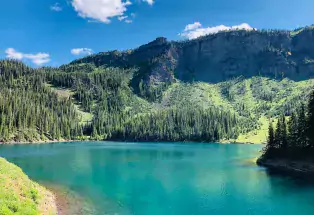 Plus, Meeker offers exciting getaways year-round — with snowmobiling in the winter, horseback riding in the summer and family-friendly events like the Meeker Classic Sheepdog Championship Trials.
FALL
Catch the Flat Tops scenic byway east of Meeker: The remote road (40 miles paved, 40 miles gravel) takes you through lush ranch land and over Ripple Creek Pass, an elevation of 10,343 feet. Pull into the Ripple Creek Pass Overlook for breathtaking scenery like colorful aspens, lodgepole pines and a remarkable panorama of the Flat Tops Wilderness Area.
Detour off the byway, stretch your legs and hike the Arthur H. Carhart Trail, a 5.5-mile route that encircles Trappers Lake. Trappers Lake, the second-largest natural lake in Colorado, is the birthplace of the American Wilderness Movement thanks to Arthur H. Carhart's vision.
The White River Valley is home to the largest indigenous herd of elk in the United States, so Meeker is repeatedly a favorite draw among the hunting community. With help from a local outfitter, hunters will encounter big-game animals like elk, mule deer, black bear, antelope or moose. Whether you hunt with a muzzleloader, longbow or rifle, the diverse elevation range (semi-arid desert plateau to peaks as high as a sky-tickling 12,200 feet) will challenge you. With the thrill of the hunt and the region's richness and solitude, your adventure will become a cherished lifetime memory.
Meeker Classic Sheepdog Championship Trials take place every September following Labor Day. The Meeker Classic intertwines sheepdog trials, education, culture and history into a five-day display of sportsmanship, volunteerism and friendship. Event highlights include an international art show and reception, vending and craft fair, sniffer-dog demonstrations, Celtic traditions and music, dog agility and flyball demonstrations. While you are at the Meeker Classic Trials, plan to attend The Jammin Lamb Festival. Colorado lamb is on the menu, along with all the fixings, cold brews and entertainment.
WINTER
Bask in the remoteness of Meeker as you travel the less crowded trails on your snowmobile. Try traversing the 178 miles of trails in Rio Blanco County — 78 miles are groomed while the other 100 are beautiful, untouched powdery terrain. Rather snowshoe or cross-country ski? The Marvine Snow Trail leads to a cozy warming hut complete with furniture and a propane stove. Warm up with a hot chocolate at the Marvine yurt before heading back down the trail. Along the way, you will see Colorado's beauty at its best and, if you are lucky, a moose!
Schedule your snowy Meeker trip around a special event like the annual Parade of Lights. On the first Wednesday of December, the community gathers downtown for a parade, tree-lighting ceremony, hot chocolate, caroling and fireworks.
Then there's Meeker's annual Skijoring event (Dec.–Jan.). Skijoring features a horse and rider towing a skier down a snow-packed course through a set of obstacles while being timed. The race weekend includes racing, kid-friendly activities and adult evening entertainment.
SPRING
Choose Meeker Golf Course for its beautiful views and challenging play for golfers of all skill levels. The well-groomed, public nine-hole course is high up — about 6,240 feet to be exact — and features three sets of tees for different skill levels.
Jump on your mountain bike or lace up your shoes and hike, bike or run your way across Phillip and Dorcas Jensen Memorial Park. You'll love its 57 acres of open space with groomed hiking and mountain-biking trails for all skill levels. The Memorial Park trail system just north of Meeker also provides access to BLM trails.
Pro tip: While you're exploring, practice Care for Colorado Leave No Trace Principles like packing out what you bring in, including animal waste.
A trip to Meeker isn't complete until you visit its one-of-a-kind White River Museum, open daily (except major holidays). Housed in two of seven original officer's quarters, the museum was built in 1880 by the U.S. Army following the Meeker Massacre and Milk Creek battle. Its collection includes artifacts from the mid-1880s to the 1950s.
Milk Creek Battlefield Park is another must-see historical site. The memorial is dedicated to those who lost their lives in the 1879 Thornburgh Battle of Milk Creek.
SUMMER
During summer, the White River National Forest and the Flat Tops Wilderness Area landscapes thrive with blooming wildflowers, primitive high-altitude lake and wildlife viewing. Horseback riding, fishing, hiking, backpacking, camping, boating and OHV riding make the area a perfect playground for outdoor enthusiasts. Please observe Care for Colorado Leave No Trace Principles wherever you go, like planning ahead, being prepared, camping only in designated areas, staying on the trails and packing out all waste.
White River's clear, untamed waters offer opportunities for all manner of fishing enthusiast, from experienced anglers to families. Cast a line and try your luck, as many of Colorado's largest fish are found in the White River: native cutthroat, brown, brook and rainbow trout as well as whitefish. Before you cast your line, stop by the Meeker Chamber of Commerce-Visitor Center to pick up a public fishing map.
OHV adventures await you in Meeker, too. The area's more than 250 miles of designated riding trails offer one-of-a-kind adventure for off-highway vehicles and adventure motorcycles. Sixteen interconnected loops wind throughout the White River National Forest. Just remember: Stay on the trail, and don't forget — all OHVs must have a Colorado OHV Registration sticker.
Community events mean loads of summer entertainment opportunities for visitors and locals alike.
• The Summer Rodeo Series offers family fun for all ages every Thursday night from early June through late August.
• The R100 is a family-friendly 3-D archery shoot that happens every June in Meeker. The three-day tournament attracts competitors from around the country to test their skills on a 3-D target course.
• Friday evenings throughout summer, downtown Meeker comes alive with the Meekerpalooza Concert Series, boasting family-friendly entertainment, a farmers' market and a beer garden.
• The July 4 weekend is Range Call celebration, the oldest annual rodeo in Colorado that began in 1938. Enjoy a rodeo, parade, live music, a barn dance, a reenactment of the famous 1896 Meeker Bank Robbery, fireworks and much more.
• The Meeker Wild Mustang Makeover wraps up Meeker's summer-event lineup at the end of August. Horse trainers come together to compete for prize money and scholarships after just 120 days of training a wild American mustang. Horses are auctioned off after the event concludes.
Want more information?
Visit meekerchamber.com and visitmeekercolorado.com for ideas on where to shop, stay and play.
Don't forget to stop at the Meeker Chamber of Commerce-Visitor Center. The center is filled with local business information and, of course, a friendly Meeker smile.