Explore Leadville & Twin Lakes, Two Genuinely Historic Mountain Towns
Come to Leadville and Twin Lakes, and discover two genuinely historic mountain towns. Located off the beaten path and full of rich history, they give a glimpse into Colorado's past and offer many things to do.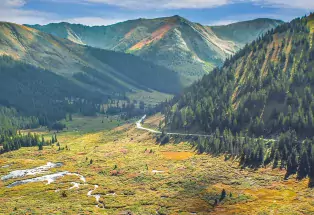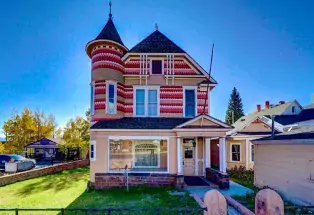 VISIT THE MUSEUMS
Tour these museums to learn more about mining and Leadville's intriguing history:
SHOP LOCAL
Browse the shops in downtown Leadville for antiques, clothes, art, books, gifts and more. In Twin Lakes village, discover a local art gallery and a general store from 1879 that's now full of modern-day souvenirs and supplies.
ENJOY SCENIC DRIVES
All roads to Leadville and Twin Lakes are part of the Top of the Rockies scenic byway. See miles and miles of mountaintops atop Independence Pass, between Twin Lakes and Aspen. Make the twisting drive to the pass at 12,095 feet, and you'll know why they call it the top of the Rockies.
RIDE THE TRAIN
The Leadville, Colorado & Southern Railroad takes you high into alpine wilderness with stunning mountain views. Check out the special tours like wildflower rides, barbeque specials and fall-photo weekends. Reserve a booth in the new heated lounge car or book a leg of your trip in the engine or caboose — or combine your ride with a zipline or whitewater-rafting tour.
TAKE A HISTORY TOUR
Matchless Mine: Hear the riches-to-rags story of the Tabors, peer down the shaft of the mine that fueled the Tabor fortune and see the cabin where Baby Doe Tabor lived out her years.
Leadville Safari, Cemetery and Ghost Tours: Roam downtown Leadville's Evergreen Cemetery and hear fascinating stories of past residents.
Tabor Opera House: See pieces from one of the finest collections of historical stage scenery in North America, which date to 1879 and were discovered at the opera house in 2020.
TAKE A HISTORIC WALKING TOUR
Grab a map for a walking tour of Leadville's National Historic Landmark District and marvel at its late 1800s Victorian architecture. The historic walking tour of Twin Lakes Village takes you to an old schoolhouse, dance hall, hotel and more.
The Leadville/Lake County Visitor Center or the Twin Lakes Red Rooster Visitor Center offer maps, which are also available online.
FOLLOW THE ROUTE OF THE SILVER KINGS
On the Route of the Silver Kings, discover mining treasures. Tour Leadville's East Side Mining District by car, or rent a mountain bike or hike these quiet country roads past original mining equipment from the late 1800s.
EAT & DRINK
Fill your belly with delicious food and drink. Choose from American fare, locals'-favorite pizza, tasty Mexican food, Cuban coffee and sandwiches, Chinese food and more. Dine or sip on a rooftop with mountain and town views, a sunny sidewalk table, a historic diner or saloon, or a renovated Victorian-era building.
ATTEND A CONCERT OR PLAY
See the events calendar for Leadville and Twin Lakes happenings year-round.
Want more?
More about Leadville & Twin Lakes
Find Leadville & Twin Lakes things to do