Buena Vista & Salida's Best Hot Springs
The geothermal soaking spots of Mount Princeton Hot Springs Resort, Cottonwood Hot Springs Inn & Spa and Salida Hot Springs Aquatic Center are located along the Colorado Historic Hot Springs Loop, and the towns of Buena Vista and Salida offer up hundreds of rooms within walking distance to the relaxing and rejuvenating waters.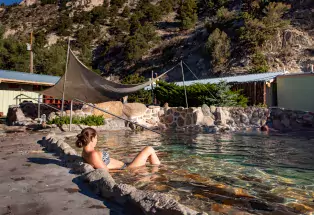 Cottonwood Hot Springs Inn & Spa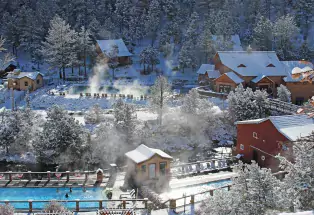 Mount Princeton Hot Springs Resort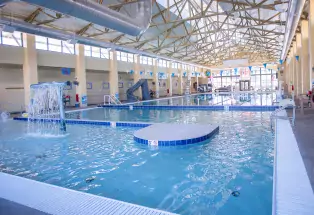 Salida Hot Springs Aquatic Center
Steaming waters at Mount Princeton Hot Springs Resort
Family-friendly Salida Hot Springs Aquatic Center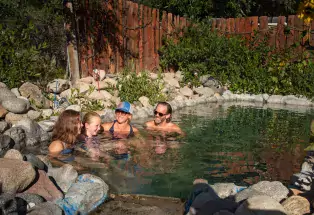 Relaxing pools of Cottonwood Hot Springs Inn & Spa
Tucked between mountains where mineral water bubbles up to the surface, Buena Vista and Salida are the places to be when you need to escape from the world. These towns boast some of the hottest aqua in Colorado — 140 degrees Fahrenheit! The odorless, steaming liquid contains iron, potassium, calcium, boron and more minerals that may do wonders for your skin.
Indigenous peoples and homesteaders used the natural geysers for medicine, therapy and spiritual reasons. So, Chalk Creek, Cottonwood Creek and Poncha Springs have been restoring weary muscles for hundreds of years. Open year-round, but even more special when they're doused in snow with steam rising through the early morning sunlight when they're less crowded, these spas are ideal for couples, families and individuals alike.
Mount Princeton Hot Springs Resort
Named after a famous Colorado fourteener (a mountain reaching 14,000 feet or more in height), Mount Princeton was established in 1879, but the historical bathhouse was built in 1867. The spring-fed pools are included when you book a visit at the main lodge or one of the cabins. Sit for a spell in Chalk Creek's "hot pots," which give a no-frills, pure experience, or wander to the flowing lazy river and 400-foot water slide open each summer. 
Grown-ups wanting to get away can journey to the spa. With a warming sauna and steam room, the full-service health club provides fitness and water-exercise classes. Want to be all alone? Grab a freshly made beverage from the juice bar and rent a personal thermal fount.
For cozy views of the Chalk Cliffs, head to Mary Murphy Steak House for fine dining following a calming day. The succulent prime ribeye comes coated in a chili-espresso rub and the lobster-truffle macaroni and cheese is a mouthwatering thrill.
Cottonwood Hot Springs Inn & Spa
Just 5 miles from Buena Vista proper, Cottonwood's four gravity-fed ponds are ensconced in the dense San Isabel Forest. It's the oldest natural thermal spring in Chaffee County — circa 1878 — and a stay at the inn means you'll have full access. Choose from a spacious room in the lodge, a spot in the co-ed or women-only dorm or a luxe cabin with a private pool.
If you need some space for yourself, the quiet zone has a dry sauna and is adults only in the evenings. It's a superb space for journaling your stress away. Or venture to the spa for Reiki, massages, reflexology, Tarot-card readings and other body treatments. All will have you levitating on another plane of tranquility.
On-site Cathy's Closet has charming souvenirs for the folks back home — think herbal remedies, spiritual tools, local crafts and jewelry.
Salida Hot Springs Aquatic Center
With a top spot on the list of largest indoor hot springs in the United States, Salida's 1937 Works-Progress-Administration-built structure is home to two pools. The vaulted ceiling and massive windows give the space an airy feel that's perfect for 85-degree laps.
The H20 is piped from springs 8 miles away, and the leisure pool is kept around in 97 to 100 degrees. Kiddos (and those young at heart) will delight in the year-round slide and diving board. So, throw a cannonball or perfect your Olympic-worthy dive!
Water yoga, fitness classes and volleyball add a fun twist to your daily movement goals, while kayak lessons can teach you how to roll and recover without capsizing. Or reserve an exclusive soaking pool just to enjoy the vibe.
Want more?
Book your stay in Chaffee County
Order a visitor guide
Explore the water via fly-fising in Salida and Buena Vista