Find Thrill-Filled Whitewater Parks in Buena Vista & Salida
The Arkansas River runs through Salida and Buena Vista, creating a year-round playground for whitewater rafters, kayakers, paddleboarders, tubers and even river surfers.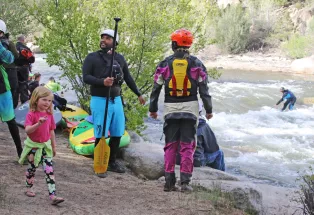 Paddlers along the Arkansas River in Buena Vista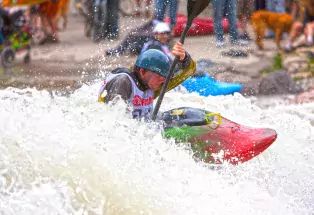 Kayaker at FIBArk — America's Oldest Whitewater Festival
River surfing on the Arkansas
Kayakers taking on a playhole in Buena Vista Whitewater Park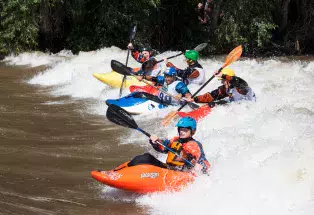 Kayakers taking on a wave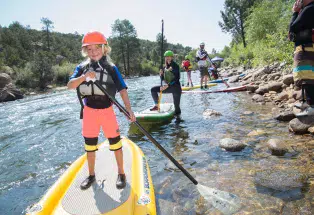 Getting ready for a day of SUP on the Arkansas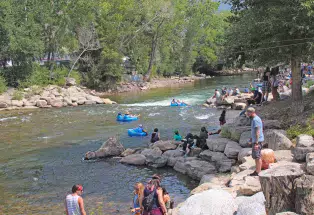 Tubing at Salida Whitewater Park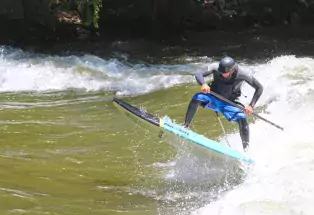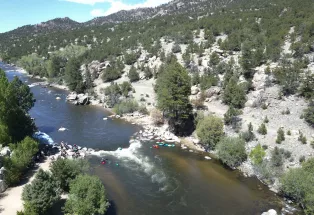 Both towns have harnessed the power of the mighty Arkansas in the form of whitewater parks. Slap on some eco-friendly SPF and check out the wet and wild fun that awaits. 
Where to Make a Splash
Buena Vista
The South Main neighborhood in Buena Vista is a dream come true for water lovers. Within its charming blocks, you'll find shops, eateries and outfitters — all a stone's throw away from the river. And, of course, you'll also find thrills in Buena Vista's Whitewater Park. 
Perfect for water babies of every skill level, this stretch of the Arkansas features five in-stream recreational features — from gentle waves ideal for beginners to playholes where expert paddleboarders and kayakers can catch plenty of air. For a truly unique experience, take a shot at river surfing. Thanks to the Arkansas' swift current, you can ride an endless wave for as long as you can hang in. (Tip: Staircase Wave is one of the best surfing spots in the park.)
Salida
In addition to being Colorado's largest National Historic District and a certified Colorado Creative district, downtown Salida is also a mountain-style beach town. Housed in quaint historical buildings is a bevy of boutiques, souvenir shops, antique stores, art galleries restaurants and more. And the main attraction for aqua enthusiasts is set just off this charismatic downtown on G Street. 
Salida Whitewater Park boasts four humanmade features — two waves and two playholes — that make for a water world of delight. Dip in and out of holes in a kayak, ride the waves on a SUP, surfboard or boogie board, and — when the water levels are just right — experience the wilder side of tubing.
Whitewater Festivals
FIBArk
Each June, Salida celebrates flowing snowmelt turning the Arkansas into a rushing, rapid-filled playground. FIBArk — America's oldest whitewater festival — offers three days of action-packed fun. Expect Olympic-caliber kayak competitions and hardcore SUP comps, along with zany events like the Hooligan Race — where contestants dodge rapids on homemade rafts — and a rafting rodeo with costumed paddlers. Live music, local beer, a parade, and bike and foot races (including a scramble up S Mountain) bring an extra boost of liveliness to this event.
CKS Paddlefest
Brace yourself for a Memorial Day weekend of whitewater adventure at Buena Vista's CKS Paddlefest. In addition to nightly live music around town, you'll also discover an array of exciting whitewater competitions, including a kayaking rodeo, surfing and SUP comps — both downriver and freestyle. Landlubbers can stretch their legs during the disc-golf tournament or singletrack-trail-running races along the river. 
Get Your Gear
Didn't pack your paddleboard? Looking for a lesson? These outfitters can hook you up with whatever you need for a rocking river adventure — including safety gear.
Want more? 
Check out hot springs in the area
Fish for trout on the Arkansas' gold medal waters
Get the free visitors guide