How to Hygge on Your Colorado Vacation This Winter
From candle-lit dinners and snuggly slippers to playtime in the pristine outdoors, planning a "hygge" vacation this winter means reveling in life's simple pleasures.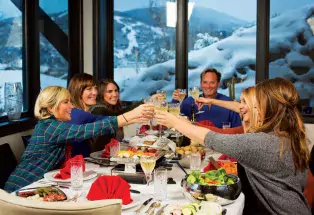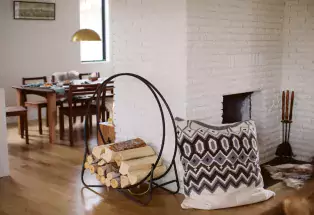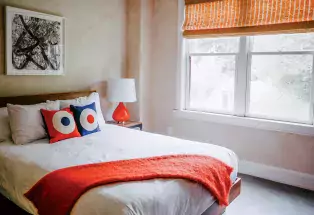 It's embracing the moment, even and especially the small ones, and making warm Colorado memories together.
So, what does hygge mean, really?
The Scandinavian principle of hygge (pronounced hoo-gah), or coziness, is a state of being focused on comfort and wellness with a hearty dose of nature. It's the desire to self-nurture (body and mind), relax (preferably without digital distractions) and venture outdoors — every single day. Being hygge can mean indulging in comfort food and drink, enjoying a spa day, making new traditions or just hanging with the fam. If it's heartening and makes you feel happy, it's hygge!
Here's how to hygge on your Colorado vacation.
STAY IN
From luxury hotels to backcountry yurts and even some quaint B&Bs, finding a truly soothing Colorado home base means you can focus on the important things — like draping yourself in multiple layers of fleecy blankets to devour your new favorite mystery novel. Here are a few of our faves. 
Nestled near skiing in the jagged San Juans, this luxe condo-style escape will make you feel snuggly from top to bottom. From plush accommodations and heated pools to views of the slopes and the cascading river (not to mention ski-in, ski-out access), these seriously sumptuous residences deliver lots of quiet pampering. MUST-DOS: Get toasty by the fire, sip on something warm, host a family dinner and ski, ski, ski some more
Cross-country ski 3 miles through a mountain-cradled snowscape and you'll find yourself charmed. Loved for its simplicity and tranquility, this well-appointed backcountry yurt boasts solar lights and a blazing wood stove. Step off the grid and into total relaxation. MUST-DOS: Nap, snowshoe, ski, catch snowflakes on your tongue, watch the clouds roll by
This pleasing hotel provides everything you need to feel warm and relaxed on a ski trip. If you're traveling with your kiddos, book an apartment for ample togetherness like family dinners (there's a full kitchen!) and movie night. A free ski bus leaving every 10 minutes means lots of added convenience. MUST-DOS: Soothe aching muscles in the hot tub, stroll downtown for dinner, bring your fluffy pup (yes, Nordic Lodge is pet friendly)
Nestled high in the Rocky Mountains (10,500 feet up, in fact), this adults-only retreat promises hearty meals and plenty of R&R. With snow-capped peaks and ermine-dusted pines as the backdrop, you'll appreciate the quiet. MUST-DOS: Take a steamy bath, cuddle up by a picture window, delight in lodge-baked buttermilk biscuits
Situated at 9,000 feet, this high-elevation A-frame is the ultimate chill zone. From its Scandinavian-inspired furnishings and finishes to its nature-saturated surroundings, you'll unwind your tired mind in solitude (while still within an hour's driving distance of Breckenridge). MUST-DOS: Play a board game, grill your dinner, read a book, sweat it out in the new barrel-steam sauna
Let everyday worries melt away with an overnight stay at this secluded winery and B&B. With only 10 rooms to book, you'll enjoy privacy with your vino and a wholesome country breakfast whipped up daily. Book your stay to include add-ons like intimate tastings and opulent chef-made dinners. MUST-DOS: Sample small-batch wine or a freshly baked croissant, gaze serenely out one of the lofty Palladian windows at the bucolic surroundings, catnap
More Hygge-style Lodging Experiences: The Wyman Hotel and Thelma Hut near Silverton, Amigo Motor Lodge in Salida, Beaver Creek Lodge, Mellow Moon Lodge in Del Norte, The Nightingale Motel in Pagosa Springs, Royal Gorge Cabins in Cañon City
FIND JOY
Being hygge isn't just about staying inside in your fuzzy socks. Whether you're exploring the great outdoors, sparking your inner artist or indulging in some retail therapy, there are many paths to serenity.
One thing is certain, to be hygge is to have lots of candles. Crafters at heart should join a candle-making class at Candelaria in Denver. Or for those who'd rather shop, Breckenridge Candle Cabin features waxy-smooth pillars of all sizes and shapes made with non-toxic ingredients and pure essential oils.
Hygge Life in EagleVail, near Avon, also boasts a strong candle game — think tapers, pillars and even the birthday variety. Or peruse numerous other hygge home accessories, like sheepskin rugs, chunky knit blankets and velvety pillows. A latte and scone at the on-site cafe mean you can linger over friendly discussion (they don't have guest WiFi for just that reason) or page through shop co-owner Alexandra Gove's recently published home-design book, Dwell, Gather, Be.
A steaming hot-springs soak as snowflakes flutter around you is yet another way to relax amidst stunning scenery. Mount Princeton Hot Springs Resort in Nathrop, Avalanche Ranch Cabins & Hot Springs in Redstone, Iron Mountain Hot Springs in Glenwood Springs and Strawberry Park Hot Springs in Steamboat Springs, among others, all deliver that only-in-Colorado solace you're seeking. Learn about all 29 of Colorado's beautiful hot springs >>
Hygge outdoors amidst Colorado's dense forests and snow-kissed domes for even more winter peace. Ashcroft Adventures offers miles of trails perfect for snowshoeing, cross-country skiing and sleigh rides in the scenic Castle Creek Valley about 12 miles from Aspen. Or head farther west for Nordic skiing on Colorado's Grand Mesa (the world's largest flat-topped mountain) at Skyway, County Line and Ward trail spots.
More Hygge Activities: Quiet your mind with meditation at Drala Mountain Center in Red Feather Lakes, ice skate on frozen Evergreen Lake (bring a thermos of cocoa for an extra dose of cheer) or indulge your creative side with classes at the American Academy of Bookbinding in Telluride or Maker+Stitch in Edwards.
TREAT YOUR TASTE BUDS
Gathering together for delicious food is yet another super-hygge pastime — it can be sweet or savory, simple or opulent, just as long as you love it.
If you'd rather stay in, consider booking a custom, in-home-away-from-home party with Rocky Mountain Raclette in Vail and Beaver Creek. You'll luxuriate in gourmet Swiss flavors, like Raclette cheese, ciabatta bread and sumptuous potatoes (not to mention homemade baked desserts and delicious wine). Do it as a date night or invite the whole fam.
Make a new family tradition with a sleigh-ride dinner at Wolcott's 4 Eagle Ranch. You'll snuggle under blankets with a spiced cider or hot cocoa while gliding beneath the bright, starlit sky to the sound of trotting hoofbeats. Then tuck into a splendid feast at the ranch (think grilled sirloin steaks or blackened salmon with cheesy mac) before enjoying gooey s'mores by the campfire. 
A yurt dinner at Tennessee Pass Cookhouse in Leadville means you'll work up your appetite first with a 1-mile jaunt into the idyllic backcountry on skis or snowshoes (your pick). Then choose from succulent grilled elk tenderloin or oven-roasted pheasant, served with seasonal roasted veggies. Stay overnight in one of the cookhouse's fully equipped sleep yurts and you'll see stars so bright they look like diamonds on black velvet. Just remember to plan ahead — these winter dinners are by reservation only.
Step behind the weathered wood of The Bitter Bar's front door in Boulder and enjoy a wintry drink like the Hot Buttered Rum or warm-cider concoctions. This neighborhood speakeasy-style establishment offers calm-inducing couches and a toasty wood-burning stove.
With simple decor and lots of mellow lighting, a creamy coffee drink and sourdough waffle at Stowaway Kitchen in Denver will complement your newfound hygge mindset. Try a refined take on a doughnut, too, featuring flavors like chamomile or sweet cherry.
Hotel Jerome's J-Bar in Aspen is a hygge dream come true. Sidle up to the old-time bar for mulled wine and an appetizer under shimmering chandeliers. You can relax here after a long day of skiing and enjoy all the history — cowboys, miners, 10th Mountain Division soldiers and even the late Hunter S. Thompson all frequented Hotel Jerome, opened in 1889. 
Head to the former mining town of Silver Plume for a cocktail at the well-loved Bread Bar. Formerly an 1800s-era bakery with globe-pendant lights and the original front bar, it serves up tasty cocktails with historic-sounding names, like the Baby Doe Tabor (made with vodka, blackberry sage jam, citrus and soda).
A friendly dinner can be shared, family style, at Bin 707 Foodbar in Grand Junction. This western Colorado favorite features seasonal (and often local) ingredients, Colorado-made wine and cheese, along with an intimate, homey feel.
BRING SOME HYGGE HOME WITH YOU
Here are some easy tips to make your life feel hygge all the time:
Live in the Moment: Take time to notice the details — whether it be a colorful Colorado sunset or the frozen tendrils of a winter waterfall — and relish the present, relax your mind and meditate.
Indulge in Self-Care Activities: Treat yourself to a luxurious spa day or pedicure, do yoga, stretch before your morning coffee, light candles and read a real paper book from Frisco's Next Page Books & Nosh (savoring that comforting book smell).
Wear Cozy Clothes: Invest in fleecy slippers, wear your comfiest loungewear, drape yourself in cashmere and cuddle under a blanket. Seek out Colorado brands when you can — like Smartwool socks (based in Denver) — and check out the Hygge Life's warm blankets (EagleVail).
Be Comfy Together: Plan time to just be with your partner, children, parents and good friends. You'll make everyday moments more special by sharing them with your loved ones.
CHARMING COLORADO BOOKSTORES
Curling up with a good book and a warm drink is a wonderful way to find comfort and contentment on a winter getaway. Here are some places to find your next read: Maria's Bookshop (Durango), Shop at MATTER (Denver), The Bookworm (Edwards), Explore Booksellers & Bistro (Aspen), Grand Valley Books (Grand Junction), Boulder Book Store (Boulder), HearthFire Books & Treats (Evergreen), Old Firehouse Books (Fort Collins), The Bookies Bookstore (Denver) and Bookbinders (Basalt).
WANT MORE?
Find more lodging ideas on the Sleep Somewhere Cool blog
Learn about Colorado's numerous winter activities
Plan your trip to a Colorado ski resort
Photo Credits: David Gillette Photography, Hygge Life/Ali Vagnini, Element 52