Summer Cool Downs: Colorado Water Parks, Lakes & More
How best to cool off after a day in the Colorado summer sun? From alpine lakes to rushing rivers to water parks, we've got more than 2,000 splash-worthy watering holes and tons of ways to beat the heat with these summer activities and family attractions.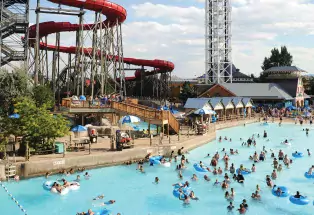 Bridal Veil Falls
Just outside of Telluride, Bridal Veil Falls is no dainty alpine stream, flowing placidly down the mountain. Rather, the water from this waterfall practically hurls itself down an imposing, 365-foot stone cliff. The cloud of chilly mist at the bottom of this veritable torrent is a welcome sight for the hikers who have completed the 8-mile hike to the top of the falls and back.
Find more waterfalls in Colorado.
Hot Springs Pools
If the idea of exhilaratingly cool water doesn't make you reach for your swimsuit, or if you'd like to relax outdoors on a chilly evening, try some of Colorado's famous hot springs. Glenwood Springs, the world's largest mineral pool, delivers several fun amenities along with its minerals, including a massive historic pool, waterslides and a full-service resort. The Ouray Hot Springs Pool is great for families, with shallow sections and a game area for water volleyball. Naturalists can check out the spectacular view of Mount Sneffels in their birthday suits at Orvis Hot Springs. If luxury is in your budget, try The Springs Resort in Pagosa Springs, which offers a full-service spa and lavish accommodations.
Check out more of Colorado's hot springs.
Grand Lake
Colorado's deepest and largest natural lake, Grand Lake lies just 1 mile from the western entrance to Rocky Mountain National Park. Take in the panoramic views while relaxing in the refreshing water of this idyllic mountain lake. Nearby Lake Granby also offers delightfully cool water and boating opportunities.
Explore more lakes in Colorado.
Blue Mesa Reservior 
One of three reservoirs that make up the Curecanti National Recreation Area, the Blue Mesa Reservoir between Gunnison and Montrose is the largest body of water in Colorado. Drawn to its sparkling waters, people flock here each summer to swim, boat and windsurf.
Arkansas River Rafting
Colorado boasts some of the best whitewater rivers in the country, as well as expert rafting guides who can help you make the most of your day on the water. Arkansas River Headwaters Recreation Area, with rapids ranging from family-friendly to adrenaline-spiking, is one of the country's most popular spots for rafting and kayaking. Within the AHRA, Salida Whitewater Park keeps water bugs busy with four wave features. You can raft through one of the state's largest historic districts and witness rafting competitions every June at FibArk, the oldest whitewater festival in America.
Thrill-seekers can't go wrong with the Upper Animas River, which offers Class IV and V rapids, recognized as some of the toughest commercially rafted waters in the country. Those who would prefer to get their thrills from the scenery rather than the ride should try the gentle Uncompahgre River, which winds through the exquisite San Juan Mountains.
Learn more about whitewater rafting.
Water Parks
While there's something idyllic about the idea of splashing around among the trees and the mountains, sometimes nothing sounds better than a good, old-fashioned water park. If you're the type that thrills at rides with names ending with Lagoon, Harbor and Cove, you're in luck. Just north of Denver, Water World is the country's largest water park, and was rated one of America's top 10 waterparks by the Travel Channel. Elitch Gardens Theme & Water Park, Denver's beloved summer attraction, also has a number of worthy water rides, including speed slides, tube rides and a children's lagoon with a five-story tree house. 
Hidden Spots
Surrounded by huge rock formations on all sides, Paradise Cove at Guffey Gorge could be a movie set. Work on your gold-medal cliff jump or paddle around in the swimming hole. While the spot is a little tricky to find (located between Guffey and Cripple Creek), it has become increasingly popular in recent years, so get an early start. Be sure to leave this area as your found it so those who visit after you can discover its magic. 
Known as the "Cradle of Wilderness," Trappers Lake's 302 acres of surface area are a peaceful spot to while away summer days. Drift through the lake's ripples, surrounded by tree-covered mountains and swaying grasses. This lake doesn't allow motorized boating, so the only sound you hear will be your own splashin'. Rent paddle boats, canoes and stand-up paddleboards in Meeker before heading into the Flat Tops Wilderness Area. 
Medano Creek
A popular seasonal creek in Great Sand Dunes National Park and Preserve near Alamosa, Medano Creek is created by melting Sangre de Cristo mountain snow. May to September, enjoy swimming, skimboarding and tubing in the middle of an otherwise desert-like dunefield. As summer wanes, so does the creek, leaving only sand behind until warm weather rolls around again. And the creek appears adheres to nature's schedule, so check the park's dedicated page to make sure it's flowing before you blow up those floaties.
Read about all four national parks in Colorado.
Rifle Gap State Park
The well-maintained swim beach at Rifle Gap State Park is a great place to enjoy pristine water as well as extraordinary Rocky Mountain views. Landlubbers can head to the nearby Rifle Falls to take in the lush scenery, savor its misty spray or explore the limestone caves. With Hahn's Peak in the background, Steamboat Lake State Park has its own incredible view; the regal backdrop, paired with the lake's brisk water, will energize even the weariest souls.
Explore all of our state parks.
Colorado Lakes
With summer temperatures of around 75 degrees, the water at John Martin Reservoir on the eastern Colorado plains outside of Las Animas is ideal for swimming and water sports. John Martin is also a prime spot for birdwatching, with more than 400 species to catalog.
Voted one of the "Top 15 Park Beaches" by Reserve America, Jackson Lake State Park in the northeast has a mirror-like surface, sandy beaches and warm temperatures that so enthralled novelist James Michener that he once referred to the lake as "an oasis of the plains." Jackson Lake was also named an International Dark Sky Park in 2020, so stick around for amazing stargazing after a day of fun in the sun.
Not to be outdone, the waters of Highline Lake, an "oasis in the desert" just outside of Fruita, offer a great way to relax after a long day of tackling the area's famed gnarly mountain bike trails. 
Find guidelines for staying safe on the water.
Want more?
Family Attractions for Summer >>
Colorado Beaches >>
8 Ways to Love Colorado in the Summer >>
Summer Fun in Colorado Ski Towns >>