Your Guide to Camping in Buena Vista & Salida
Camp in Buena Vista and Salida for jaw-dropping Rocky Mountain views and quick convenience to local trails and activities. You'll love waking up with the sun and unzipping your tent to hear birds chirping and the wind rustling.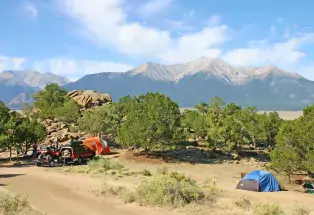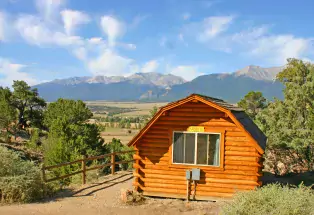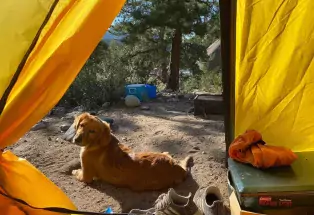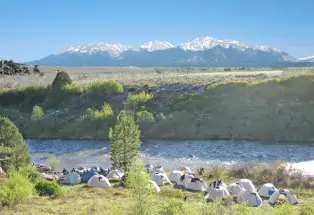 Go with just your tent or park your RV at a campground — the area offers sites with all types of amenities plus off-the-grid backcountry destinations meant for truly unplugging. Reservations are highly recommended for campgrounds, and if you tell them you found their business from Chaffee County Visitors Bureau and use promo code CCVB, you'll receive a discount. 
New to camping? Remember to leave your campsite better than you found it by packing out anything you brought in (that includes human waste and TP). Use an existing campsite rather than making a new one, camp at least 200 feet from any water source, and check current fire restrictions before lighting a s'more. Take Chaffee County's Adventure by Nature Pledge to learn more
Campgrounds
Factors to consider when choosing a campground include amenities and location. They all have sweeping views of the area's many fourteeners, big-blue skies and verdant trees. Here are some of the best spots in the area:
1. BUena Vista KOA Journey
A stay at Buena Vista KOA Journey comes complete with a hiking and mountain-biking trail that leave directly from the parking lot. But that's not all! Hosts can offer tips on the best places to raft, fish and Jeep. Each RV- or tent-site reservation gives access to Wi-Fi, firewood, electricity, propane, pedal carts, a playground, a dog walk and laundry (though some have additional fees). 
2. Chalk Creek Campground & RV Park
Chalk Creek Campground & RV Park is nestled under cottonwood trees with creek access for dropping a line or dipping your toes. Grab a complimentary cup of coffee before playing a game of cornhole or ladder ball — be sure to stay for a rubber ducky race (held on weekends) and candy bar bingo (Saturday evenings). Amenities for RV and tent sites include potable water, a dump station, electricity, a playground, restrooms, hot showers and a camp store. 
3. Snowy Peaks RV Park & Rentals
Just off Collegiate Peaks scenic byway, Snowy Peaks RV Park & Rentals comes with free cable TV, Wi-Fi, laundry, restrooms and a spacious clubhouse. Get that community feel at one of the park's cookouts, campfires and live-music sessions. Aside from RV spots, they have suburban (close to amenities) and primitive tent sites that are a perfect basecamp for your Chaffee County escapades. 
4. Arrowhead Point Camping Resort
Home to an original 1800s Pony Express stop, Arrowhead Point Camping Resort feels like a step back in time. But they also have Wi-Fi, an espresso bar, a playground, restrooms, a camp store and laundry, so you'll have those modern amenities as well. Choose between RV sites, cabins, yurts and tents before challenging your family members to a game of volleyball, horseshoes or badminton. 
5. Mt. Princeton RV Park & Cabins
This centrally located park is an excellent jumping-off point for exploring Leadville, Twin Lakes and Browns Canyon National Monument. But that's not all! Mt. Princeton RV Park & Cabins have guided four-wheeling, hiking, fishing and golfing trips — not to mention the full hookups, restrooms, showers and laundry. 
6. Arkansas River Rim Campground & RV Park
The Arkansas River Rim Campground & RV Park is the only site in the upper river valley that gives true access to the river. Hop on a trail to hike, mountain bike or four-wheel the day away. Or go hunting, kayaking, skiing and rafting nearby for more thrilling escapades. You'll have Wi-Fi, laundry, restrooms, a dump station and amp service — plus, you can go gold panning! What other campground offers that? 
7. Valley RV Park
Just 2 miles north of Buena Vista, Valley RV Park boasts patios, lawns and full hookups. Other amenities include showers, laundry, clotheslines and free Wi-Fi. Want to make some new RVing friends? Attend the Tuesday morning coffee hour or Sunday evening campfire gatherings. 
8. Cottonwood Hot Springs Inn and Spa
Five primitive campsites at Cottonwood Hot Springs Inn and Spa are complete with fire pits and the chance to be visited by wildlife. Tent-site fees include passes to the hot springs' soaking tubs and RV spaces have hookups, so you really are golden when spending a few nights here. 
Backcountry
With fewer amenities but the same breathtaking mountain views, backcountry camping is meant for those that genuinely want to be one with nature. Get your adventure scout on and pitch your own tent, pack everything in and be alone with your thoughts in these public-land areas. 
1. Pike-San Isabel National Forests — Salida Ranger District
There are 16 ranger-district campgrounds at Pike-San Isabel National Forests — Salida Ranger District, and each comes with different amenities including RV camping at six of them; while the 10 dispersed campsites are perfect for pitching a tent in the rough. Just imagine waking up to a sunrise view atop a mountain. Don't forget to pack out whatever you bring in. 
2. Arkansas Headwaters Recreation Area
Located inside one of the nation's most popular whitewater-rafting and kayaking spots, the campgrounds at the Arkansas Headwaters Recreation Area are fairly primitive (no hookups or potable water) — but they offer so much recreational opportunity, it won't matter! Drop into Browns Canyon National Monument's chilly waters early on summer days to avoid crowds. Or stay at one of the developed campgrounds with vault toilets, changing areas and tent pads. Dispersed camping is also available if you're more of a get-in-the-car and figure-it-out kind of camper. Just don't forget to recreate responsibly. 
3. Fourmile Recreation Area
A hundred thousand acres of wilderness await with unique rock formations — think something out of "Star Wars" — and plenty of camping opportunities. From primitive to campground sites, you can pitch a tent with a campfire ring or drive up to an RV site at the Fourmile Recreation Area. Fourmile is near Buena Vista and Salida but it's more of a hidden gem, so you'll feel a sense of calm here like no other spot nearby. 
Want more information?
Plan your next trip to Chaffee County
Book your stay in Buena Vista and Salida